Krunker FRVR APK 3.0.1
Do you want to experience a shooting game with the graphics of Minecraft? Install Krunker FRVR APK for free to play in custom maps, many modes and more.
| | |
| --- | --- |
| Name | Krunker FRVR |
| Updated | |
| Compatible with | Android 5+ |
| Last version | 3.0.1 |
| Size | 31 MB |
| Category | Action |
| Developer | FRVR. |
| Price | Free |
Download Krunker FRVR APK – FPS Multiplayer
We're able to enjoy many FPS games today but Krunker FRVR delivers a different experience. It's a shooting game with the graphics of Minecraft which makes it an exciting game to play.
What you can look forward to the most is the multiplayer aspect here. This game doesn't want you to be playing with bots! Engage with real people using user-created maps that number in the thousands.
The game is from Yendis Entertainment, and they allow you to play against others in multiple modes. We can enjoy quite a lot of maps from the desert to the islands to the forest and more.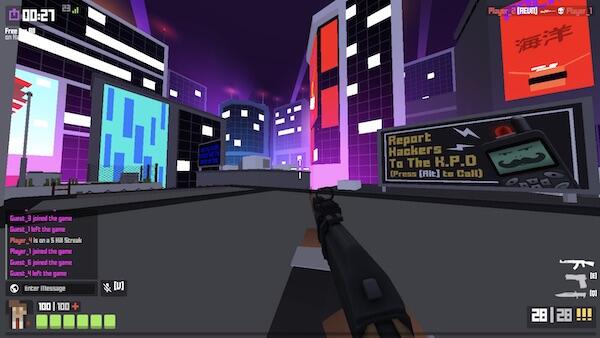 Here, there are a ton of weapons for you to choose to use and a layout editor. What's more is that it's a cross-platform game meaning you can fight against all types of users. Enjoy a different experience now by reading what it has to offer below.
Why is Krunker FRVR Different?
FPS has paved the way for many subgenres in the shooting one. Now, there's Krunker FRVR which is a new game which lets players enjoy FPS to the max.
The biggest difference of this game from a typical shooting is that it provides many modes. Essentially, you can play a classic FPS, battle royale and it even adds elements from Minecraft and Roblox here.
At the outset, we can see that the graphics aren't the usual ones we see on shooting games. It seems to be a combination of graphics from Minecraft and Roblox.
It's in 3D and the game even lets you customize a lot of things. The game has been downloaded more than 500 thousand times and it has a fair share of positive reviews.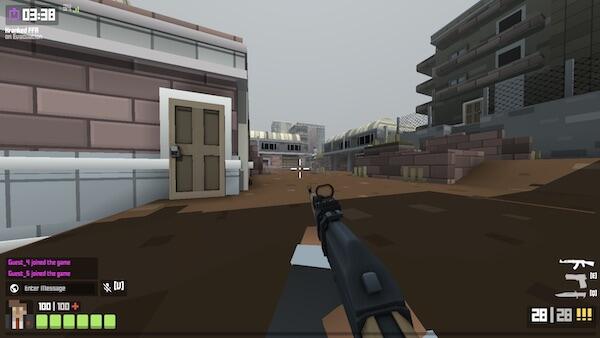 Lastly, it's different because it combines so many different games together to create a unique one. Therefore, you can effectively enjoy a new experience unlike downloading a generic shooting game.
6 Compelling Reasons to Download Krunker FRVR
At this point, you may still have reservations about whether you should play the game. Worry not, we've come up with the best reasons why you should play it now!
It's got multiplayer
It's not a surprise that Krunker FRVR has a multiplayer aspect since many shooting games has this. But the game is adamant to let you play against real people as there's no AI here.
It's a game that lets you play against real people worldwide even in different platforms. Even if you play on PC, Android, iOS, Mac, or Chromebook, you can jump right in.
A ton of modes to choose from
When we say that this game has a ton of modes – we mean it! This game literally lets players create various maps and game modes for us to enjoy. The most popular ones include:
Parkour

Infected Zombies

Free for All

Classic FPS

Party games

Team deathmatch

Capture the Flag
Some of the most popular games that you can play are Zombie Bulwark, Bhop VIP, Tower War 2, Krunk Plaza, AIM Room, LegoTown, Death Box and more.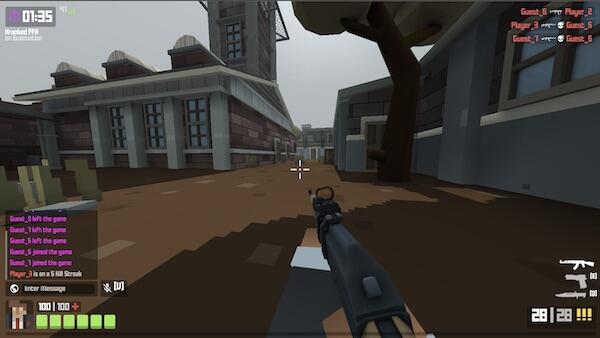 A lot of in-game items
Krunker FRVR features thousands of items for you to buy in the shop! They're categorized in different items like backs, collectibles, combat knife, map drops, pets, shoes, skins, sprays, waist, hats, and more.
What's even more amazing is that there's a virtual market for players to buy, sell and trade their items. The game features a virtual currency called KR so you can use your real money to buy them.
Then, you can browse the market for some of the best customized items that users created. These include melee items, sniper rifles, and body customizations.
Shop
Speaking of the shop, you can also buy some packages suitable for everyone. These include the Starter Spin, Elite Spin, and Heroic Spin.
For the price of the in-game currency, you can refer to these:
300 KR - $0.99

600 KR - $1.99

2,000 KR – $7.49

7,000 KR - $17.99

20,000 KR -$35.99

60,000 KR - $99.99
If you want to buy these, you can use your debit, credit card or your money mobile wallet through the Google Play Store.
Customization for the controls and layout
To make your shooting experience better, the game allows for customizations. This means that you can customize the layout of the different buttons on your screen.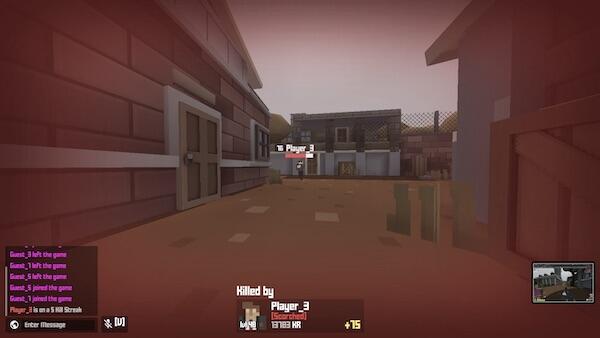 This includes the buttons for jump, aim, shoot + aim, crouch, shoot, reload and the movement button. The controls are easy and they're like battle royale controls.
You can also adjust the aim sensitivity, crosshair and more in the settings!
6. Krunker leaderboards
Like a true multiplayer game, this one also features a leaderboard for players to climb onto. The more games you play, the more EXP you earn. The highest-level players can be seen in the leaderboards!
Download Krunker FRVR APK – latest version
If you like Minecraft, Roblox and shooting games, try Krunker FRVR now which combines all of them into one!