Kinja Run APK 1.9.1
Enter a mystical world endowed with many magical creatures to defeat. Run like crazy in Kinja Run APK and defeat enemies on the way in many stages.
| | |
| --- | --- |
| Name | Kinja Run |
| Updated | |
| Compatible with | Android 5.1+ |
| Last version | 1.9.1 |
| Size | 354.70 Mb |
| Category | Action |
| Developer | Habby |
| Price | Free |
| Google Play Link | com.habby.kinjarun |
Download Kinja Run APK – Ninja Cat
RPG games are a lot of fun for they always find a way to make things interesting. The level up system also makes sense as players would want to face stronger enemies.
In Kinja Run, the game will provide you with many stages to run where there are enemies along the way. Fighting them is easy thanks to the auto-fight feature.
Running as a ninja cat is fun because you just need to choose the direction you want to head. It's a roguelike runner game that has many progressions to choose from.
Dodge enemy missiles and fight your way through the stages to get rewards. It's a runner game that has glorifying graphics and simple controls but addictive gameplay.
An Analysis of Kinja Run
What makes a game exciting is a combination of a lot of factors. For Kinja Run, it's the combination of the roguelike RPG gameplay plus the stages available.
One of the most exciting games of this generation is this one for it presents many stages to conquer. In every stage, a player will have to go through a series of obstacles with many monsters to kill. The player will automatically shoot the monsters.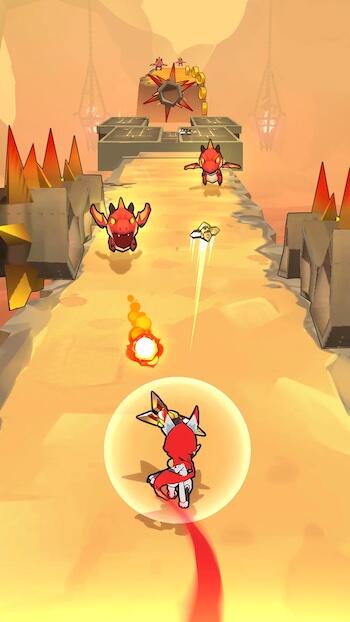 Moving sideways is as easy as sliding your fingers in the screen. Perform combos, move on to the next stage and unlock more skills. The game has unlimited fun for players to enjoy.
There are quite a lot of monsters with different skills here, so you need to avoid them. Conquer bosses and go through different stages to enjoy many maps.
Fight Enemies Along the Way
Games have evolved tremendously over the years. The first arcade RPG games were Galaga which was set in space. Kinja Run is a modern rendition of these games which provides the ultimate fighting experience.
It's an RPG game that's played like a runner game. In the game, players will fight monsters along the way without stopping. It then creates a sense of action as players will automatically shoot the enemies.
There will be many enemies in each stage and each of them require different skills to be killed. At the end, there's a boss waiting for the player and fighting back with all its might. There's also a life span that the player will be able to see. Survive all the waves and move on to the next stage!
Challenging Stages
Facing many enemies in each stage is the norm in Kinja Run. There are a lot of stages to fight in the game where players will face danger at every stage. At the end of each stage, there's a boss monster that's bigger than ever.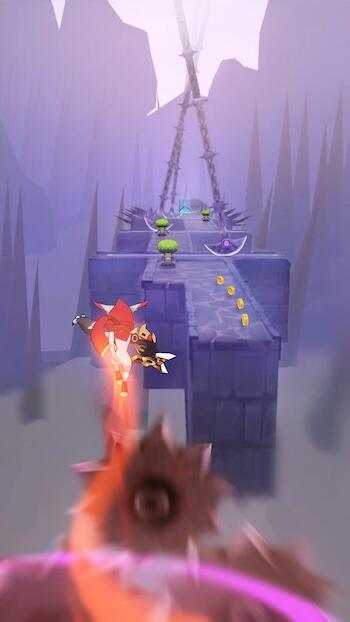 It will keep at you until you run out of HP so you must dodge while hitting it. Performing combos will yield you more rewards and more attack damage.
RPG games like Kinja Run provides many fun times as you progress as the level will only get harder. Keeping up with the stronger monsters is the exciting part in the game.
Unlock Powerful Skills
At the end of each stage, players can unlock new and powerful skills. The game will provide three new skills to select from. Only one can be selected, and it will be immediately used in the next level in tandem with your current skills.
Aside from the normal shooting attack, the skills will add more variety and power to your offensive arsenal. There are a lot of skills to unlock throughout the game, these include:
Shadow Warrior – Heaven's Fire

Offhand – Kunai

Offhand – Boltstrike

Heal-S

Pronged Shot

Offhand – Flame

Revive

Bloodthirst

ATK UP-L
Skills are one time use only and you'll get a random selection at the completion of each level. There are many skills in the game in different categories like attack, defense, and healing.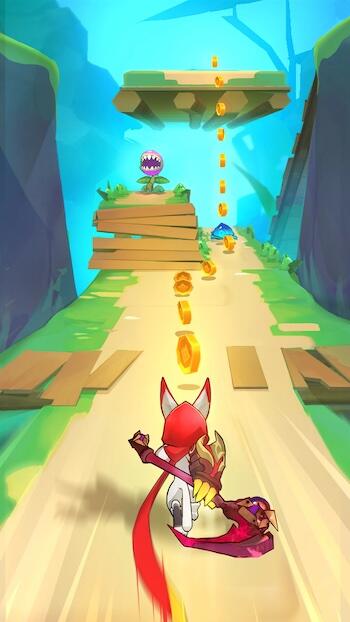 For instance, the Revive skill will allow the player to revive once when he's defeated in a level. Then, there's the Combo skill with each attack causes weapon to attack twice.
Easy to Play
Kinja Run is super easy and fun to play. The player controls the character by moving it left and right by swiping the fingers. There's no way to stop or to move forward as it's automatic.
Attacking is also automatic. The player just needs to align itself in the monster ahead to automatically launch the skills. The skills will also be applied automatically, and it will trigger when certain requirements are met.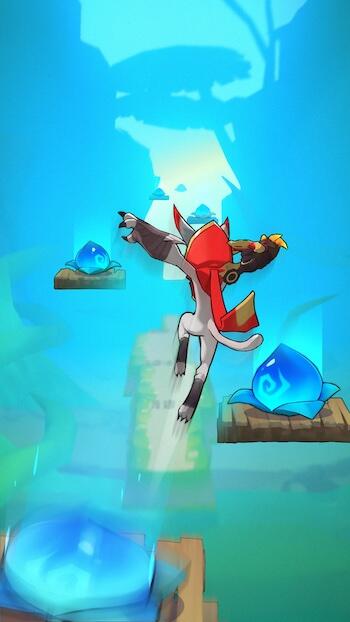 There are no complex controls and combos to master but you just need to evade the attacks of the enemies.
Masterful Graphics
Kinja Run features 3D graphics that's easy on the eyes. The game is in the RPG genre so there are elements which makes it stand out. The attack and skill effects are on full display as well as the character designs.
Download Kinja Run APK – latest version
Run for your life and defeat enemies standing on your way! Enjoy Kinja Run and get all the best skills.