Idle Superpowers APK 1.2.5
There are a lot of superhero games out there, but have you heard of one where you are idle? In Idle Superpowers, you get to collect different superpowers now!
The world is always looking for the next best superhero content. We love superheroes and the heroes themselves. This is why we have Marvel and DC as well as iconic characters such as Superman, Batman, Ironman, Hulk, Spiderman and many more. But what if you want a simple superhero? Then you can play Idle Superpowers!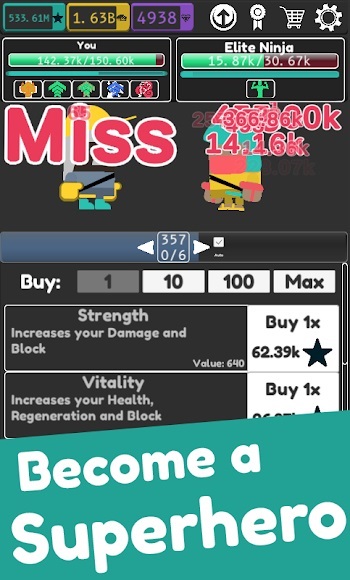 Unlike other superhero games, this masterpiece from Lutsgames is very different. For one, you don't need to control your character so much. You just need to unlock different superpowers and face against different enemies. What's more is that you can combine different superpowers to generate more powerful ones. There are plenty of room for upgrades as well as enemies to face. Can you dominate in this game of strength? Read our full guide below.
Become a Superhero Instantly
Most kids have dreamt of becoming a superhero at one time. After all, who doesn't want to have superpowers and destroying enemies instantly? Who doesn't want to save innocent people and the city from potential threats? Plus, you'll become more popular and powerful all in an instant.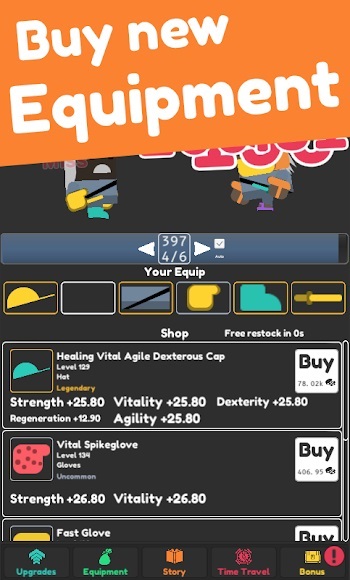 But although that dream won't become a reality anytime soon, it can be in Idle Superpowers. In this edgy yet entertaining game, you can unlock over 99 superpowers! Each of them is unique so you won't get bored with every enemy you face. Then, you can also upgrade your characters core vitals such as strength, vitality, agility, dexterity and so on. Overall, there are plenty of enhancements you can make so you can enjoy a superhero game such as this!
Why Download Idle Superpowers?
Idle Superpowers may seem like a boring game for some but it's not. It has a unique gameplay and features like you've never seen before. Here's why you need to download this game.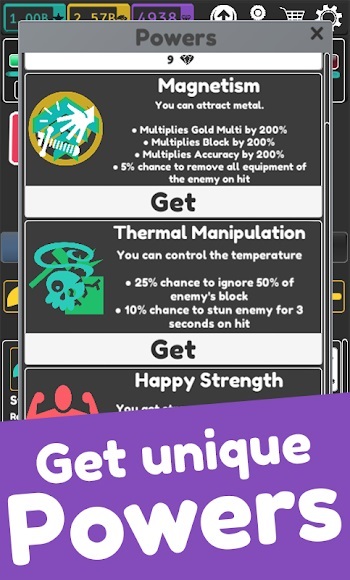 A Unique Experience – There are probably a ton of unique games being made every day. But if you're want a superhero one, you can't miss Idle Superpowers! This new game brings you a unique experience like you've never seen before. Here, you can create an avatar, get superpowers and generate a ton of powers! There are so many things to do in this game that it even runs even when you're not playing it. It's an idle game so you don't need to do any manual labor. Overall, this is a great game for every age.
Unlock A Ton of Superpowers – If you've ever wanted to become a superhero, you'd need superpowers! But in Idle Superpowers, you won't just unlock one but over 99 superpowers can be yours. There are a ton of powers such as Magnetism, Thermal Manipulation, Happy Strength and many more. Collect all of them and become the strongest hero there is!
Buy new equipment – You can also buy various equipment here to help you. There are swords, hats, gloves, and many more you can buy. Each of this equipment will yield you different added stats. You can increase your overall stats by equipping more powerful equipment to fight enemies! Try to collect a bunch of equipment now.
Upgrade and combine powers – You can also upgrade your stats so you can excel. Try to add your Strength, Vitality, Agility, Dexterity always so you can outpower all your enemies. The more you upgrade the more powerful you become! But of course it costs money to do so.
Beat challenges – There are also challenges in Idle Superpowers that you can do and receive rewards. Usually, the challenges are easy to beat but some are hard. This will allow you to unlock many things within the game! Beat all the challenges and become the strongest now.
Great graphics and simple controls – Although the graphics are in 2D, you'll certainly enjoy the game and the overall experience. The controls are as simple as touching the screen and nothing more.
Download Idle Superpowers APK – Latest version
Idle Superpowers is an awesome idle action game for all! Download the latest version so you can unlock all the superpowers now.