MARVEL Future Fight APK 9.3.1
Marvel Future Fight APK Download - latest version - free to get access to this awesome Disney Marvel Superhero fighting game, with all your favorite characters.
MARVEL Future Fight is one of the top-rated games on the Play Store, with millions of downloads and a strong 4+ rating. This blockbuster RPG game gives you the chance to dive into a world of MARvEL superheroes, including all your favorite heroes, from Hulk to Doctor Strange. Get to know the Avengers, laugh alongside the Guardians of the Galaxy, and check out the X-men's awesome fighting skills. It's up to you to assemble a team, send them out into action, and help save the world from evil villains and dark mysteries.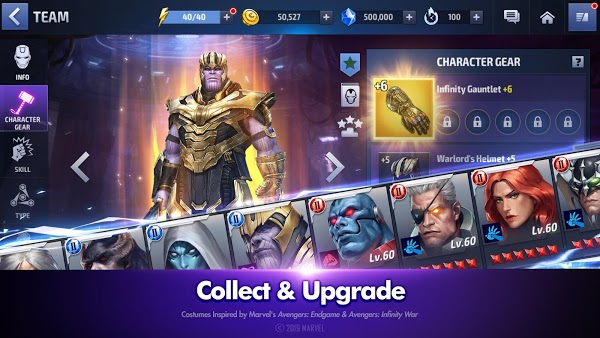 With over 200 heroes from the official MARVEL universe, this is one of the largest mobile games of its kind. There is no shortage of impressive characters to play through, and if you have a unique favorite you're bound to find them here. No matter if you're after an obscure hero or one of the extremely famous ones, you can jump into the suit of Iron-Man or use the Hulk to smash the living out of a bunch of bad guys. RPG elements make the game's progression super smooth and addictive, and there are lots of different items of gear and upgrades to work your way through.
Best Features of MARVEL Future Fight
There's no doubt that MARVEL Future Fight is one of the most successfully ambitious mobile games of its type, with hundreds of characters and a very well-developed gameplay story and mechanics. Recruit a team of incredible Marvel characters, as if you were the famous Nick Fury, and take part in compelling combat with a range of enemies, and compete worldwide with other players to become the top future fighter! There are over 200 Marvel characters to collect and master - here are some of the other best features.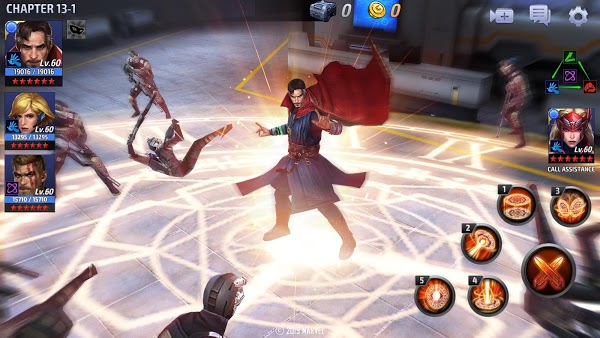 Super Heroes and Super Villains
Who said you have to be the good guy? In the roster of 200 characters you'll also find plenty of powerful Super Villains who have decided that the force from the future is worth fighting! Fight as Magneto or Mystique and use their abilities to destroy your opponents. You can level up your characters as you go to learn new skills and unlock powerful combo abilities that are simple to chain together and even more powerful when mastered. You'll soon be wrecking chaos in the frontlines of the evil Convergence forces.
Team Boosts - Assemble Teams to Unlock Character's Full Potential
SuperHeroes and Villains work best when they work as a team. Build a roster of X-men legends or Avengers super heroes to unlock the full potential of your build, as abilities work well together and get special boosts if they're working alongside each other. Once you've assembled your team you can use a wide range of uniforms to make your team look unique and special to you. There are hundreds of different uniforms to unlock as you play the game, which one will you go for?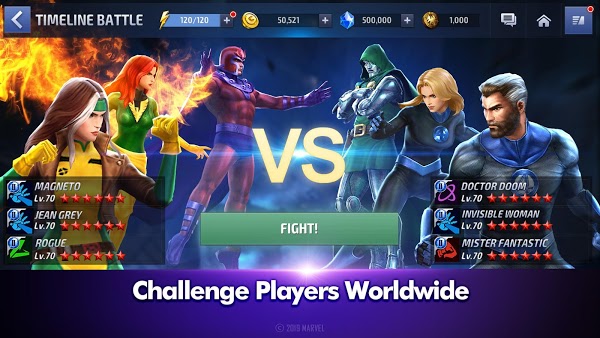 Different Game Modes to Explore and Enjoy
Future Fight is shaped around lots of different game modes to enjoy, the main of which are its storyline Epic Quests. Complete these missions to unlock new characters, boosts, gear and uniforms, following a well-written and gorgeously animated campaign story mode. Once you've developed your team to a point you're confident of their abilities, you can head to the online PVP arena mode. Tackle real life players and try to overcome and outwit your well trained opponents - it gets much trickier here on out!
Online Community With Your Pals
One of the best features of Marvel Future Fight is the ability to play online with friends and strangers from across the world. As well as the competitive PVP arena combat, you can also create clans with your buddies and help each other out with packages and points. Compete with other clans to earn bigger bonuses! If your friend is offline, you can also enlist their hero or villain to help you out, or to boost their experience to help out your friend as well. This creates a great sense of community you can access from your Android phone.
Unique Marvel Stories
Keep up with the world of Marvel as more unique stories are added to Future Fight that complement the canon movies and TV series. Play with your favorite heroes, villains and other characters from the Marvel universe and create your own thrilling tales. These are never seen before stories that differ from the original stories, and there are plenty more surprises, action and awesome Marvel scenes to experience right from your mobile phone. New special missions include the Avengers, Spidey's Foes and much more. Download today to jump into a brand new world of adventure.
Updates from the Development Team
Though the game is getting on, now a few years old, there are still updates and patches launched by the development team. Sure, in recent months the game has received less attention, though that is because the game has aged quite a lot. There might be a brand new Marvel game around the corner, but for now you can still jump into Future Fight to have a great time. Remember - there are microtransactions in the game, and while you can earn heroes, this is the main way of accruing new members of your team.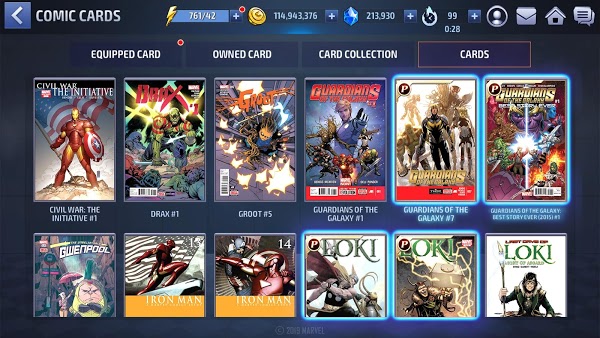 Tips and Tricks for Future Fight
There's a wealth of tips and tricks to improve your gameplay in Future Fight, making your team stronger and your battles easier. Number one, keep your team varied to make the most of team boosts. Use a good variety of different villains and heroes to activate special abilities, reading the tooltip for each character carefully to analyse which work best together. In Future Fight, each character has their own special 'type' - you need to counter enemy bosses with your own character, so carefully check which counters which.
Marvel Future Fight APK 2021
Don't want to spend lots on characters and upgrades? Instead download the Marvel Future Fight APK to get access to everything for free, unlock all and play on!