Idle Mafia Tycoon Manager APK 7.8.5
Download Idle Mafia Tycoon Manager APK – latest version – free for Android and become the city's most wanted criminal in the mafia! Think you are strong enough?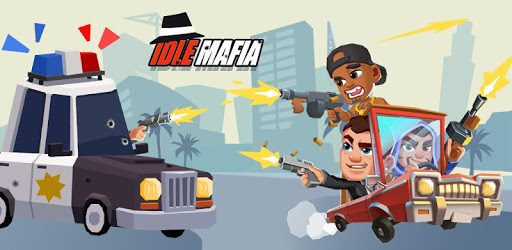 Almost all of us knows what the mafia is all about. They might be bad but some people wish they can become one because they're so badass. However, that's not recommended in real life. But simulation games have given us numerous games today that give as a lot of enjoyment.
Idle Mafia Tycoon Manager by Century Game allows you to build your own mafia in the city. With this opportunity, you'll learn that mafias run just like businesses – except that the former is illegal. However, we can't deny that this game offers entertainment to the next level. So, if you're craving for some action and want to bust down some people, read on all about this gem!
What is Idle Mafia Tycoon Manager
Simulation games have come a long way from the Sims. Nowadays, there seems to be more and more games revolving a certain theme. Idle Mafia Tycoon Manager is one of those games as this revolves around creating your very own mafia that will rule in the city.
Idle Mafia Tycoon Manager is a very popular game which has over 500 thousand downloads in Google Play Store. In this game, you can do anything because you're the mafia. You don't need to be scared of the police because you can just buy them using your money. But nothing ever comes easy even when you're the mafia. You need to build your reputation first if you want to be respected around the city.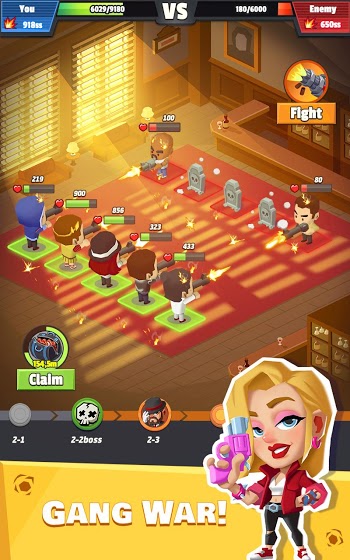 In this game, all you have to do is manage a business and collect capos. These capos will do as you tell them to because you're the boss. And as you go along, you'll get more chances to conquer new territories. Use any means necessary to overrule these territories, that's what it means to be the mafia. In this game, you're allowed to do the illegal things that you can't normally do in real life. This means you can rob, steal or even kill people. Live the life you want and be prepared to take on the city as the only mafia around! Read on to know more about the game's features!
Idle Mafia Tycoon Manager Features
Idle Mafia Tycoon Manager is not just your average simulation game. This has already won the hearts of many mafia lovers and it may win yours too! To know more about this awesome, game here are the features of Idle Mafia Tycoon Manager:
Exceptional graphics – This game has the modern 3D graphics that you'll see a lot of games have nowadays. However, Idle Mafia Tycoon Manager excels in the designs as it has one of the smoothest gameplays you'll ever play. Every building is designed beautifully as well as the characters. You can't expect anything less from this game as it has everything you need. And even though the game only allows you to control it on a bird's eye perspective, the elements are still coming together to create a coherent and consistent game.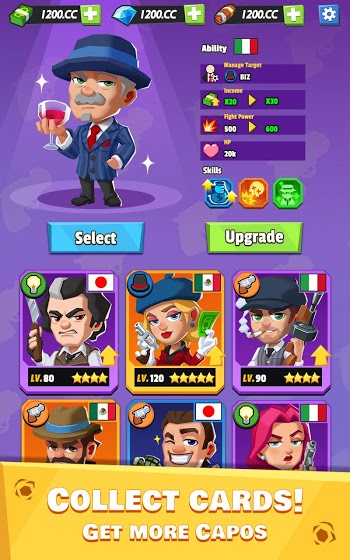 Easy controls – In Idle Mafia Tycoon Manager, there really isn't any controls. The controls are pretty straightforward as with any simulation games – just tap the screen accordingly. If you want to collect the money from your businesses, just tap the buildings. If you want to participate in fights, you just select it. That's how incredibly easy the controls of this game. You don't need to memorize any complex moves or micromanage your capos to fight other cartels. They will do it automatically once you've ordered them to. Your job will be just to oversee everything and make sure that business is going smoothly.
Manage businesses – In this game, you'll find that mafias generally put up businesses to make more money. This means you can use your money to put up casinos, a gentleman's club, or even an adult studio counter. All of which are necessary if you want to expand your territories and hire more people. That's what it means to be an international crime syndicate. You'll do whatever it takes to generate more money.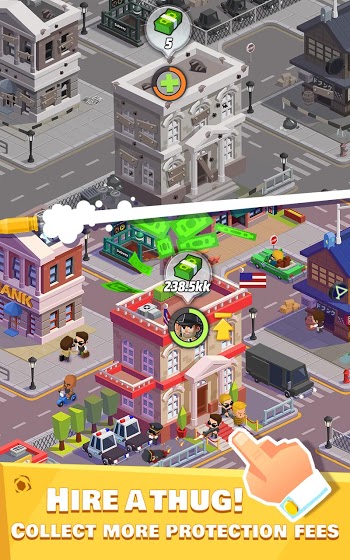 Collect capos – In this game, you're allowed to collect capos. If you don't know, capos are infamous criminals from around the world with special abilities. Think of them as one of your most prized assets that will help you conquer new territories. They will help you realize your dream of becoming an international crime syndicate if that's what you're after. But above all, they are your right-hand guys, that will take care of your things for you while you oversee the whole organization.
Do what you want – In this game, you're welcome to do whatever you want. Take protection fee, rob anyone, and fight on the streets. Be a gracious leader or a ruthless one. Whatever you want to do in this game, there's no one to stop you. You are free to commit crimes to whatever extent in order to expand your territories.
Idle cash – In this game, once you've acquired and made businesses, your only job is to collect idle cash. Let your guys handle all the dirty work as you sit at the top of the building collecting all the cash. Do everything you want to collect as much money as you can as you'll use these to hire more capos and establish more businesses. Scale up your productions to gain new heights and etch your name across the country as the number one crime syndicate.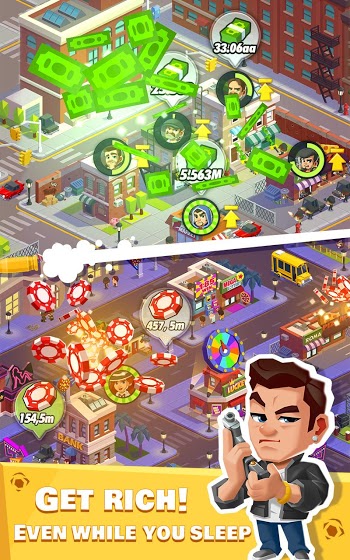 Expand your territory – In this game, one of your objectives is to claim new territories. It doesn't matter if another mafia already has business set up in their territories, you just need to defeat them. Do anything necessary to expand your territories and obtain more power. Because you can't call yourself a crime lord if you don't have the power and the buildings to show for it, right?
Idle Mafia Tycoon Manager APK – unlimited money
Becoming a mafia boss in Idle Mafia Tycoon Manager is all dandy but it's difficult to achieve when you have no money. Don't worry, just download the unlimited money now and enjoy!