Idle Lumberjack 3D APK 2.1
Download Idle Lumberjack 3D APK – Latest version – Free for Android and play a casual game that allows you to chop down trees as a lumberjack idly! Earn tons of money now!
| | |
| --- | --- |
| Name | Idle Lumberjack 3D |
| Updated | |
| Compatible with | Android 4.4+ |
| Last version | 2.1 |
| Size | 106.77 Mb |
| Category | Casual |
| Developer | VOODOO |
| Price | Free |
| Google Play Link | by.hitbox.magicwoods |
Casual simulation games are all around gaming markets today. There are a lot of people that will play these games simple because they are easy, fun and entertaining. You don't need to invest a lot of resources in these games to have a good time unlike other genres.
If you're looking for the next best casual simulation game, then you'll love Idle Lumberjack 3D! A product of VOODOO, the game has attained more than 5 million downloads in Google Play Store alone. Here, you'll play as a lumberjack who can idly cut down many trees! The more you cut trees, the more you can earn to buy upgrades! There are literally tons of things you can do in this exciting game.
Chop it Down
Chopping trees has been around for quite some time now. Our ancestors used to do it all the time to survive in the wilderness against the nature. Today, we can easily chop trees ourselves with the help of sharp tools as well as technology. If you're curious as to how this all works, then this game may be for you!
Idle Lumberjack 3D is a mobile game created by the one and only VOODOO. The ones responsible for countless simulation games, in here, you'll play as a lumberjack! Your goal is to cut a bunch of trees just by moving around. You don't need to manually cut down the trees since this is an idle game. Of course, the more you cut trees, the more money you can earn! Upgrade more things and find golden trees to get rewards.
Features of Idle Lumberjack 3D
Idle Lumberjack 3D is an interesting and unique mobile simulation game. There are tons of things to do in here aside from cutting trees! Here are its features:
Cut trees idly – Simulation games are plenty nowadays. There are tons of these games that are available for download. Aside from that, these games are always fun and easy to play for everyone. But if you're looking for a fresh new simulation game, the consider playing Idle Lumberjack 3D. This is a game wherein you'll play as a lumberjack who will cut trees for a living. You'll be surrounded by trees that you can cut idly. You just need to move around. The farther you get, the more expensive the trees will become! This is literally an endless game.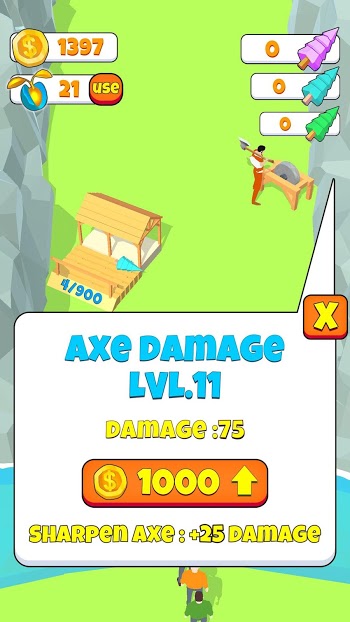 Buy upgrades – In here, you'll need to cut trees so you can buy upgrades! You can upgrade your wood cutting machine to produce more products per hour! Aside from that, you can upgrade your axe's damage to make your work faster! The higher the damage, the easier you can cut down the trees so you can sell them faster and earn more money.
Find magical golden trees – In here, you'll not just cut down the regular trees. If you're lucky, you might find some magical golden trees that you can cut for some insane rewards! These are the trees that you need to watch out for if you want to earn a lot of money quickly.
Sell trees – In Idle Lumberjack 3D, you don't just need to cut down trees. You also need to sell them to make money! That's how the wood-cutting business works. In here, you can sell trees according to their rarity. The farther the trees, the more expensive it will be!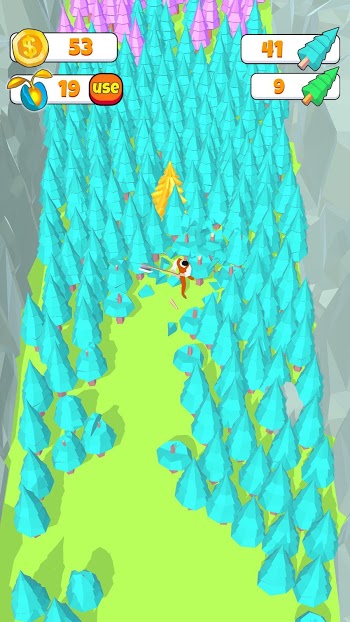 Epic graphics – In terms of graphics, this game features simple yet dynamic graphics. Everything is designed beautifully with a top-down view.
Simple controls – Since this is an idle game, you only need to move your character around!
Idle Lumberjack 3D APK – Unlimited coins, no ads
Idle Lumberjack 3D is an awesome game that allows you to earn money by cutting trees. Download the latest version now.