The Cook APK 1.2.12
Download The Cook APK – latest version – free for Android and put your cooking skills to the ultimate test! Ready your knives and cooking skills!
| | |
| --- | --- |
| Name | The Cook |
| Updated | |
| Compatible with | Android 4.1+ |
| Last version | 1.2.12 |
| Size | 134.75 Mb |
| Category | Casual |
| Developer | SayGames |
| Price | Free |
| Google Play Link | com.pd.thecook |
Cooking games are a very popular genre in not just mobile gaming but pc games as well. After all, they are very relaxing and they are soothing especially to those who love to cook!
The Cook is a cooking simulation game developed by SayGames. It's a very popular game which has garnered over 1 million downloads on Google Play! In this game, you'll be able to cook all the dishes you want, travel the world, and even discover new recipes! Everything you love about cooking is here and more! If you're excited to put your cooking skills to the test, read on!
What is The Cook?
If you're familiar with cooking games, then you'll know that they aren't really about cooking. They are more on the overall experience of running a restaurant and serving the customers. That's how most cooking games are made for years now.
But the beauty of simulation games is that they let you experience a thing in its entirety. The Cook is a simulation game that allows you to cook a lot of dishes. If you've been looking for this type of game for a long time – your wish has just been granted!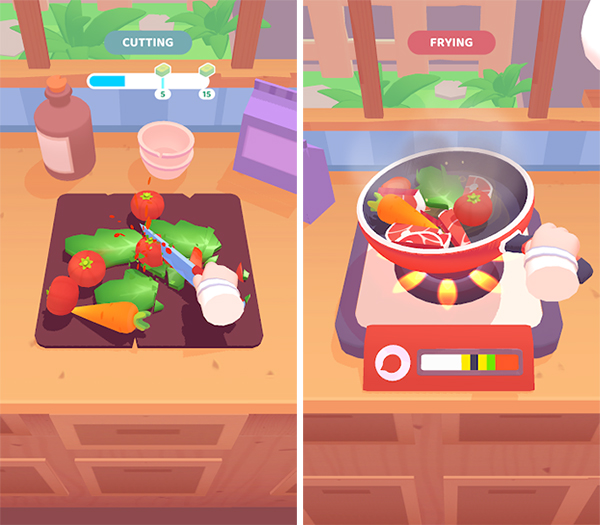 Your only job in here is to be the chef that cooks. Of course, as a cook, you still need to cater to the needs of the customers. And they all have different orders that needs different cooking techniques. If cooking is your passion, you will be challenged as you prepared the ultimate dish for them. In this game, you'll have to serve a customer for each level. The first step is choosing the ingredients for the dish which is a very important one. Then, you'll start cutting your ingredients. Then, you'll cook the food accordingly. Of course, you'll need to have at least some cooking knowledge before you can play this game. Because this game is based solely on the joy of cooking, you can't just play your way with it.
The Cook Features
The Cook isn't just your normal cooking game. It has received a lot of love from the gaming community because it's a one of a kind cooking game. In here, you'll experience everything there is about cooking. If you want to learn more, here are the features:
Cooking – The main feature of the game is the cooking part. First, you'll have to take the customer's order. Be careful to memorize the order and the ingredients he likes. Then, you'll get the right ingredients from your workstation and put them into the chopping board. Next, you'll chop the ingredients carefully. The more thinly chopped it is, the better. Then, you'll cook it accordingly. But of course, you'll start with some salad orders first when you first play the game.
Unlock items – There are a bunch of things for you to unlock in this game. You can unlock foods. But the only problem is you can't buy them in the market. You just need to buy them every time they appear in the screen. Then, you can also buy different knives and you can buy them using the money you earned from your successful cooking. Then, there are pans for cooking. These can't be bought in the market as you need to unlock them gradually by completing the levels.
Incredible graphics – The game boasts incredibly crisp 3D graphics. It makes you feel like you're playing a Virtual Reality game because of the design. Overall, the food, items and the customers all chime in for a wonderful gaming experience!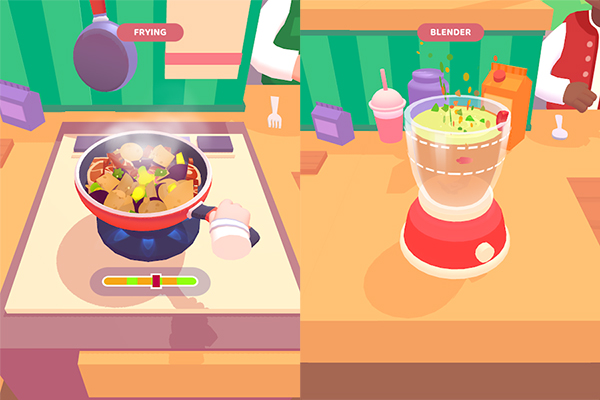 Intuitive controls – The controls are as realistic as possible. When you chop the food, you need to spread your knife to chop them all. The same is through with the other things. But it's not that hard, there are instructions all around for you to get used to it.
Offline gameplay – The best thing about this game is that it can be played without an internet connection! Yes, everywhere you are, you can enjoy cooking! But you can also turn on your internet connection to double your rewards!
The Cook APK
Ecstatic to test your cooking skills but don't want to wait for money? Download the unlimited money now and instantly become a master chef!