Idle Gym Sports APK 1.88
Are you a fitness junkie? Do you love making your body as fit as possible? Then, you'll love Idle Gym Sports APK even more! Manage different facilities, and earn more!
Have you ever dreamed of owning your own gym someday? If you do, then you must know the importance of physical fitness. You may be exercising regularly and you know how important it is to be fit. Because of that, you'll love playing Idle Gym Sports! Here, you'll be in charge of managing your own gym complete with various facilities and sports stadiums. Here, you can create your own sports facilities!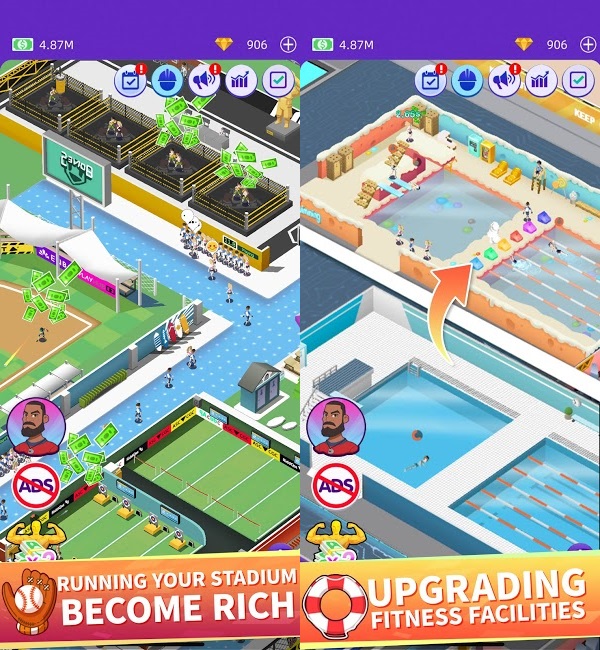 The main goal of this game is to become self-sufficient. The way you achieve this is by starting off from your resources and building your first facilities. There are missions daily that you can try to complete to progress and earn money. Then, you can upgrade and expand your gym! There are a lot of stadiums to manage such as a basketball arena, boxing rings, football fields and more.
Become Sporty
Sports are one of the most fun and fundamental activities there is. These activities are done by kids and adults alike. Some of the highest-paid people in the world do sports! These includes tennis players, football players, basketball players, boxers and many more. So, if it's your dream to own a sports gym someday, try playing Idle Gym Sports now! This game from Mint X Games has been awarded with the Editor's Choice badge since it's so popular.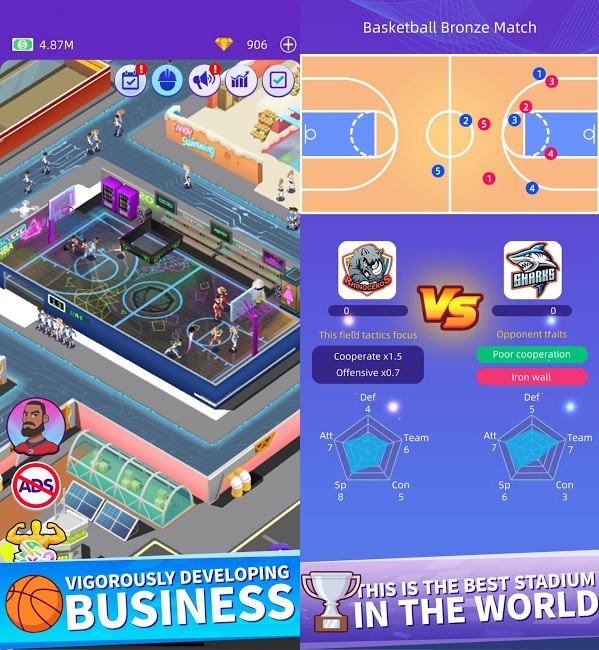 Here, you can manage your own sports gym. You can expand and erect different facilities such as basketball arenas, archery hall, boxing ring, football field, skating rinks, baseball arenas, swimming pools, and many more. But your main purpose here is to make idle profits! To achieve that, you'll need to manage your money wisely and make necessary upgrades to your facilities to get more people to join your gym. The graphics are fun and smooth and you'll enjoy making different strategies to achieve results! This is a fun game for sports and fitness enthusiasts all overt the world.
Idle Gym Sports Features
Have you always dreamed of running your own business and making passive income? Play Idle Gym Sports now and enjoy a wide variety of sports areas.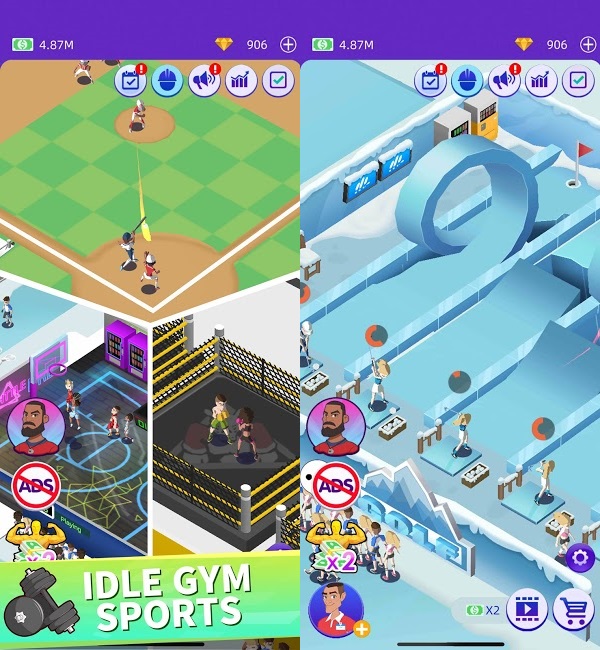 Manage your gym – We all know that running and managing a business is never easy. It takes guts, time, and effort to cultivate one! But if you're determined enough, you'll reap the benefits later. So, if you love sports and business, then you need to try Idle Gym Sports now. This game lets you run your own sporting gym! Here, you'll manage several sports facilities that lets people rent them for a fee. You will need to think like a businessman if you want to succeed in this game. To do that, you'll need to finish a lot of missions and claim your rewards. Then, you'll also need to build, be in charge of marketing and see the statistics. This game lets you experience all of that boring stuff into something awesome!
Erect and expand different facilities – One of your main responsibilities as a business owner is making decisions and expanding your business operations. In Idle Gym Sports, you can erect different sports facilities in different sports such as archery, basketball, baseball, swimming, football, boxing, skating, and many more. Of course, building a sports facility takes money and time. So, you need to first manage your limited resources so you can grow them into something big. Aside from that, you'll need to be in charge of marketing your business so that more people would come! This means you can get more idle profits!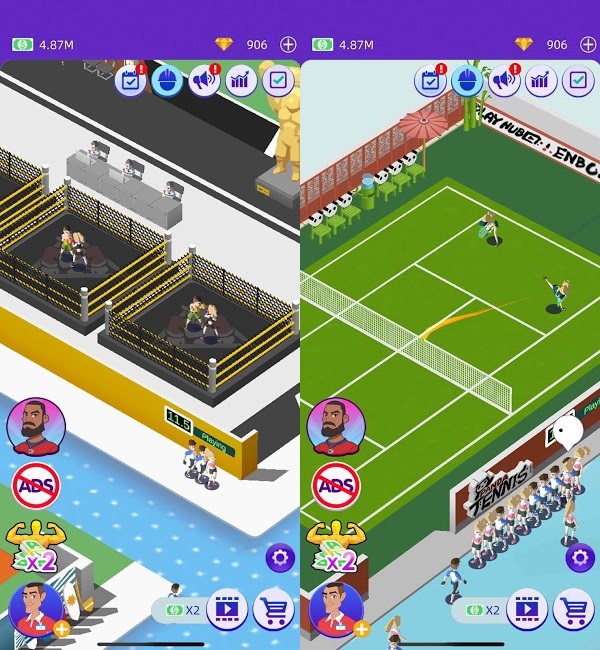 Upgrade wisely – You can upgrade a lot of things in Idle Gym Sports. Firstly, you can upgrade the sports facility itself. Here, you can increase the number of people who can play, the quality of the stadium and also the exercise time. All of this translates to more income! Then, you can also hire celebrities to endorse your business. These people will definitely attract many people to try out your gym. Then, you can also hire coaches, staff members and more! You can do a lot in terms of upgrading in this game but they all cost money. So, you need to be good at managing money and making it worth it.
Incredible 3D animation – This game isn't just a boring business game that you'll play for a short while. Here, you'll see the facilities and the people using them in real time. This gives you the best business experience ever! You'll also be involved in the decision making a lot so you'll need to master everything to make idle income.
Idle Gym Sports APK – Free Upgrade
Do you want to own a sports gym? Download Idle Gym Sports today and make idle profits out of your gym!