Idle Galaxy APK 1.6.9
Download the Idle Galaxy APK - latest version - Free and pass away the day, whether you're busy or not, evolving a whole new galaxy.
Idle Galaxy, from PXG Games, is a galaxy evolution game where you are in control of the entire galaxy. Work with real planets, like Jupiter, Mars and Venus, to evolve your galaxy and earn more points as you play. As an idle game, this is best enjoyed temporarily, then left to brew in the background as you do other tasks throughout your day. If you're keen on min-maxxing you can play the game non-stop and take total control to evolve your galaxy super fast. There's a reason why idle games are some of the most popular on the Android store.
It all starts with the Big Bang, the creation of the universe, which you do with a tap of your finger. Spawn new life, create a universe, all from your phone! This scientific theory, widely believed by scientists on the planet, is the combination of super-heated particles exploding in such a fashion that an entire universe is created, with millions and millions of stars, galaxies and planets popping into existence with the blink of an eye. As well as being great fun, Idle Galaxy is a fantastic educational tool, and you'll learn lots about space as you play. Awesome for kids and space fanatics alike.
Best Features of Idle Galaxy
The game has lots of great features, including planet management, strategic idle game mechanics, and plenty of gorgeous looking planets to explore around your brand new galaxy. It's idle for casual players as well as those who want to invest a lot more time into the game to make their galaxy evolution as efficient as possible. It's up to you what your galaxy looks like, you have the freedom to create an awesome space environment!
Idle Games are the Ultimate Casual Gaming Experience
Idle games have taken the world of Android games by storm. Idle Galaxy, like many others, is a game designed to be played whenever you have the time. You don't need to sit glued to your phone to enjoy it, and you can carry on working, watching TV or chatting with friends while the game keeps working in the background. This means every morning you wake up the game has lots more to offer, and keeps you interested even after long periods of time.
A Wide Variety of Different Planets to Create
There are over 50 different planets to choose from, and you have the freedom to mix, match and create your own sprawling galaxy. Some might look familiar, like Mars or Jupiter, the red giant. Each planet comes with its own detailed statistics and some information about it. Each planet has different upgrade stages and you need to work hard to figure out the best path of progression for each planet in your galaxy. Upgrading involves working on the size of the sun, as well as other factors.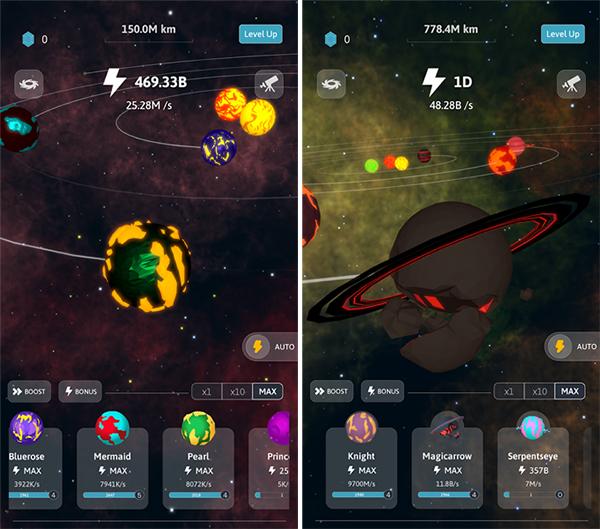 The Game Looks Fantastic
As well as all the interesting idle game mechanics, the game also looks fantastic. The graphics and animations are all very cleverly done, look smooth, and run very well on your Android device. You might even say it's like looking into the night's sky with a telescope. Each galaxy, solar system and planet is beautifully rendered, and this is definitely one of the best features of Idle Galaxy. Not only do you get the thrill of seeing your galaxy evolve, you can watch all its beauty transform on your phone screen.
Educational Fun
Alongside the fun idle mechanics and great-looking game graphics, Idle Galaxy also teaches you a lot about space. Learn about different planets, how galaxies interact and work, and figure out why and how the Sun is such an important part of the universe. You think you might be a bit of a space expert, but a few hours into Galaxy Idle and you might be surprised by all the new knowledge you're learning. This is a fun game for kids to play as well as those older gamers who want to expand their knowledge of the impressive universe.
No Internet Connection Needed, Ideal for an Idle Game
One problem with the many idle games out there on the Android store is the fact that many require a constant internet connection to keep working. Idle Galaxy, however, does not. This means that even if your phone isn't connected to data or wi-fi, the game will still keep working in the background, and you can access your galaxy wherever you are. This is perfect for those who are going on long trips, can't get internet at school or work, or out in the countryside and need to pass a few minutes on a fun game that transports you into the universe.
Your Galaxy Really is Your Own
While you might recognise some of the planets out there in Galaxy Idle, there are lots of fun and unique planets for you to create that don't look quite like our ordinary solar system. This adds a lot of fun to the game - there are giant purple planets, glowing orange planets, and even planets with truly crazy landscape formations and huge oceans! Discovering all the different planets is one of the best features of Idle Galaxy.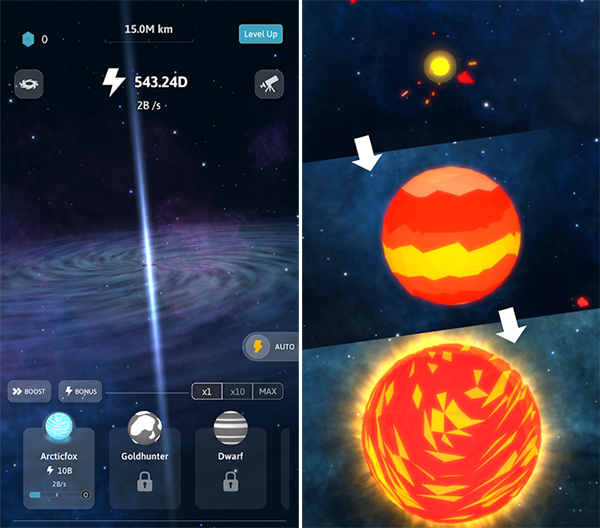 Tips and Tricks for Idle Galaxy
Once you've worked your way through the early upgrades, past the adverts and sponsor videos, you'll start to get a grip on the scale of your galaxy. Choose which planets to upgrade carefully, focusing on the power of your sun to boost the success of your galaxy. Your planets rely on the sun for gravity, energy and even life! Without access to a decently sized sun, you might have a few problems upgrading your planets and making them even more beautiful.
Idle Galaxy APK
Haven't got time to wait around for Idle Galaxy to do its thing? Download the latest version of the Idle Galaxy apk to unlock everything and accelerate your galaxy!