Idle Construction 3D APK 2.19
Download Idle Construction 3D APK – latest version – free for Android to build your dream city and bring in the cash to keep expanding. Epic mobile city builder.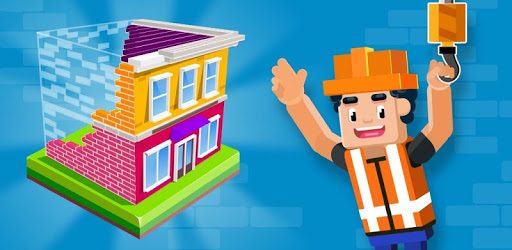 Build the ultimate city for your residents and grow your business. Download Idle Construction 3D APK for Android now and get to work on building the biggest and richest construction firm in the known world.
Idle Construction Empire
Build iconic landmarks like the Eiffel Tower and the Taj Mahal, as well as grand hotels, mega town halls and towering residential buildings to house your citizens. All the while, you'll be making money to continue growing your business.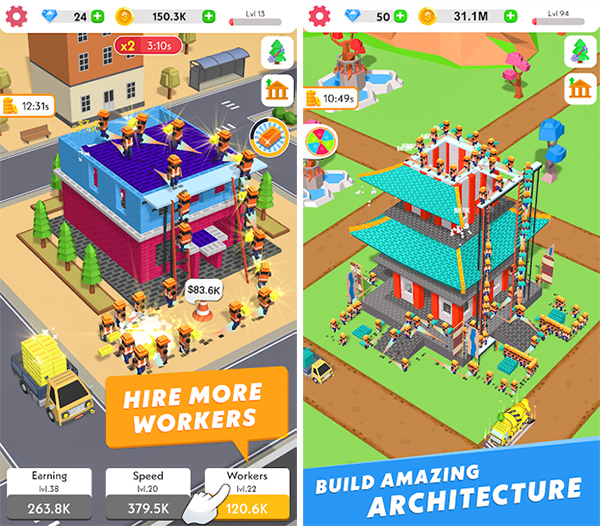 You ultimate aim is to become a billionaire property tycoon, but that's not going to be easy. The game is an idle one, so you'll make money and continue to construct buildings even when you've not got the game open. Still, there is a lot more to this game than simply throwing up structures. You'll need to have your wits about you to effectively manage your construction company.
Tips for playing Idle Construction 3D APK
If you're going to become a successful construction tycoon, then you'll need to learn a thing or two about how to manage a business. First, you'll need to pay attention to things to ensure that nothing is neglected and falls into disrepair. Here are some tips to help you along your way.
Hire more builders
Builders cost money to hire, but they're absolutely necessary to grow your construction empire quicker. Don't think that just because you're spending money on more staff that you're not going to get as much done and that will slow the growth of your empire.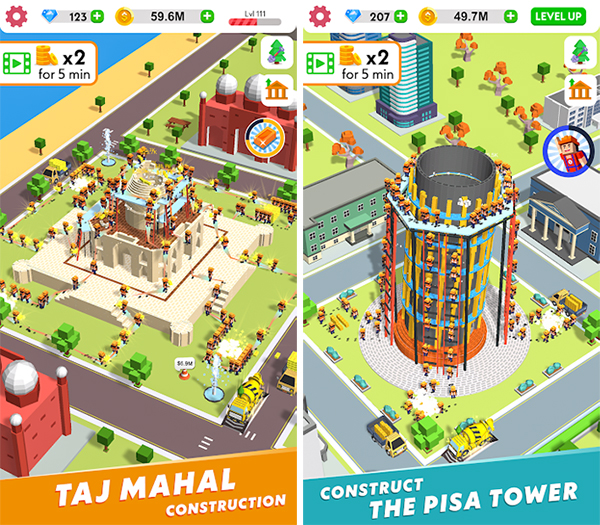 Hire a super builder
These giants are sort of like foremen and supermen mixed into one. They can carry huge loads with ease and they inspire the other workers to work faster. They're a great way to bolster your productivity and effectiveness on site. They come as a bonus.
Improve their speed
You'll have the option to upgrade your builders, as well as their speed and the earnings that you make from them. You should upgrade all of these things in a balanced way, but obviously having great speed will help you to get things done in a jiffy.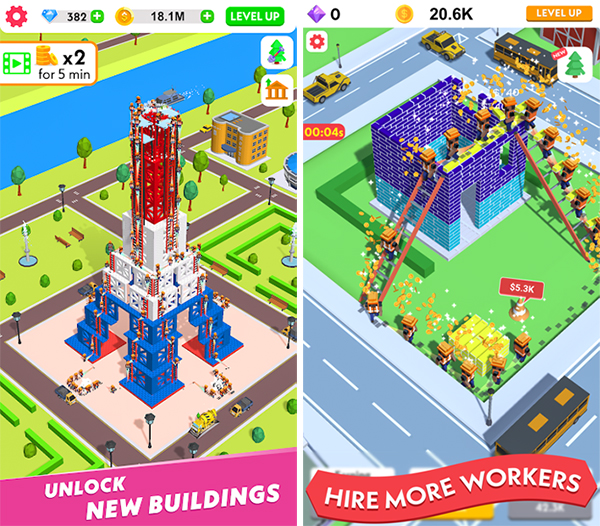 Boost your houses
By tapping on the houses, you'll speed up the workers building it. You'll also be able to earn money from that house by doing this. There are plenty of other ways to earn lots of money, too – but this is by far the easiest at the beginning of the game.
Invest in decoration
People do actually need to buy the houses that you make. For this reason, it's a good idea to give them some ornamental features to make them more appealing to people on the market. Try adding a nice fence or a lawn, or some other features to make your properties stand out from the rest.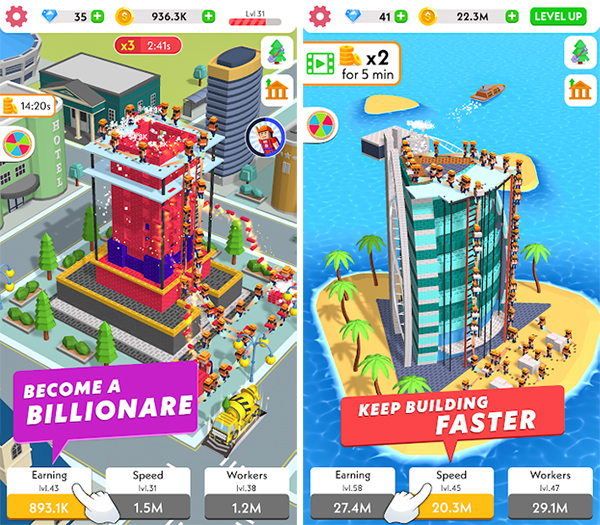 Use the golden brick feature
This is a bonus feature that lasts 30 seconds. All the bricks laid during this time will be golden bricks and this will bring in tons of money for you. Try to time this feature for when you've got the most projects on the go. You'll want all of your workers busy as possible and working as quick as possible for the duration of this VIP bonus.
Idle Construction 3D APK
Turn your construction empire into the biggest empire the world has ever seen by having unlimited money to invest in your projects. Download Idle Construction 3D APK to play the game without any limitation.