How to Get the Daredevil Skin – Fortnite Guide
Fortnite Tournament Series
So, the popular Battle Royale game Fortnite has begun another great tournament series. Amazingly, on November 21st there will be a tournament holding a whopping prize of $1,000,000! Just think about what you can spend with that amount of money.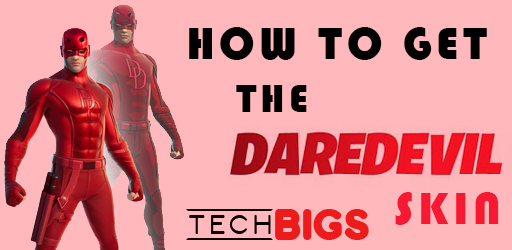 On another note, this month will host a prize that isn't as memorable, or even as valuable for that matter. Although, it's still something you'd want to sink your teeth in and get a hold of. We are talking about the new Daredevil Fortnite skin, coming to stores on October 17th. The skin was made for early access, but the tournament has already passed.
Anyways, we have still listed how it was possible for players to get early access to this amazing superhero skin. So, continue to read along and learn how to get the Daredevil Skin for free on Fortnite.
The tournament began on October 14th from 5:00PM – 8:00PM Eastern Time. This will be through the act of trios tournaments. Furthermore, this will be done in the Marvel Knockout Mode. This game mode has players using iconic Marvel superpowers that are spread across this season.
Within three hours, ten different matches can be played. And, points will be added depending on how you placed within your matches. The score system and placement are as followed:
1st Place: 25 Points
2nd Place: 10 Points
3rd and 4th Place: 5 Points
5th Place: 3 Points
And, from 9th – 16th: 1 Point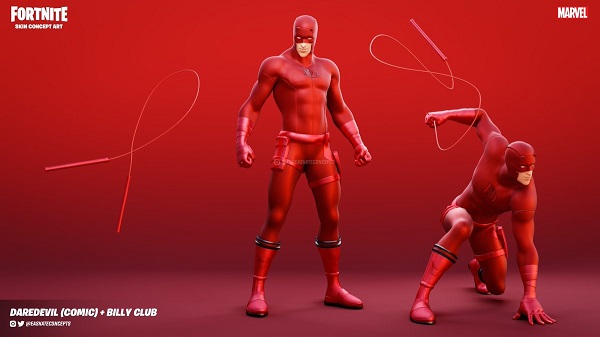 Once everything has been all said and done, the points will be tallied up to determine who gets the Daredevil skin. Each top ranking player within each region will be rewarded early access to the blind superhero for free.
On that note, there are more different prizes and rewards being given out throughout this tournament period. And on top of everything, there will be the $1,000,000 prize. Of course, with these types of prizes, it's rare and almost unlikely that just anyone will be able to win these types of prizes.
But, don't worry. Because you can purchase the Daredevil skin for yourself after the competition is over. But, of course, you will need to pay in order to have this for yourself.
Who is Daredevil?
Daredevil, also known as Matthew Michael Murdock is the blind fictional superhero of the Marvel universe. Everything started from a childhood accident that caused his blindness. While a young boy, Murdock was exposed by a radioactive substance, which falls onto him from an out of control truck. This caused the young boy to lose his eyesight.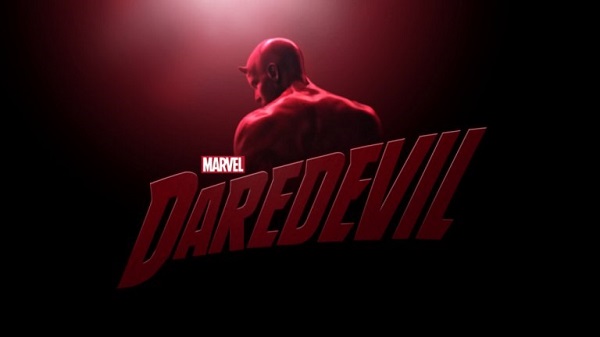 However, although Murdock had forever lost his vision, in return, he gained something new. The substance had made Murdock's other senses heightened to an entirely new degree.
Then, Matt's single father, a boxer by the name of Jack Murdock, promised to make a better life for his son. Unfortunately, he was killed by gangsters after he refused to throw a fight for them. Matt then became an orphan, having to fend for himself.
The boy trained and worked on his superhuman senses and even was trained under the guidance of Stick, the blind stranger. Eventually, Matt took on the persona of Dardevil and swore to fight off the injustice of gangsters and other crime lords.
He was a part of many different organizations along other superheroes. Daredevil even has a very close friendship and partnership with fan-favorite Marvel hero, Spider-Man.
Daredevil even has a movie and live-action television series. So, if you haven't already seen the television series (because the movie is bad), you should definitely check it out. The show is pretty good and has some amazing plot points that will really keep you hooked.
More About Fortnite
If you've never played or heard of Fortnite Battle Royale before, then you must certainly be living under a rock. This is one of the top games that have shaped this generation in gaming. But, it's okay, we can give you a little bit of information regarding the popular Battle Royale game that has made its way through the hearts of players of all ages.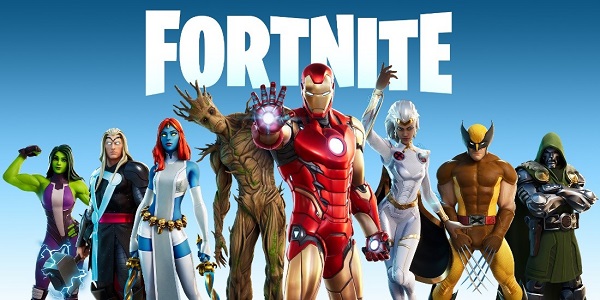 To begin, Fortnite is a Battle Royale type of game with many different elements and game modes. For one, players drop onto a large map without any weapons or resources on-hand. From this point, they will need to scavenge the map for various armor, weapons, and others equipment.
There is also a twist added onto this game – the ability to build barricades, defenses, and platforms & structures. Fornite uses this building mechanic as one of its main selling points to gameplay.
But, that's not all. The game has amassed so much popularity to the point of partnering with some of the top brands and franchises in the world. Thus, there are many campaigns, skins, and content to express these different partnerships. As you can see, the Daredevil skin is just one of the many different popular skins that are made available on Fortnite.
In the end, this building Battle Royale game has made its mark in history and is sure to have a long lasting lifespan for many years to come. Likewise, we are sure to see many more updates, content, and seasons associated with it.
Conclusion
And there you have it. This is how to get the Daredevil skin in Fortnite for free. As already stated before, this event has already ended. Now, the only way to get this skin would be to purchase it for yourself through the market.
The Daredevil skin will be made available on Fortnite from October 17th. Don't miss your chance to get a hold on this blind and daring superhero from the Marvel franchise.
And if you already haven't, you should download Fortnite for your device as well. You can get the game on multiple platforms, from PC to gaming consoles, and even on mobile. In the end, it's up to you to decide how you want to play this ultimate Battle Royale game.
Maybe you missed these great articles: