How to Find All Anime on Netflix – Watch Any Japanese Animation
Netflix and Categories
As we all should know, Netflix is one of, if not the #1 most successful streaming service available online. With that being said, there are hundreds of different titles available all across the application. All of these genres can range from simple documentaries, action-adventure stories, horror movies and series, and of course, comedies aren't excluded from the list.
Now, that leads to one problem, not all movies and shows are as simple to find as looking into one genre. There are many sub genres of movies that a lot of videos will fall under. So, it could be a little tedious when attempting to locate ore specific sub genres and shows.
Anime on Netflix
With that being said, Anime is definitely one of those genres that falls under the aforementioned. There are loads of different types of Anime available on Netflix. Furthermore, this broad category of videos may be one of the more difficult to specifically locate on the application. That's because, Anime is already an entirely different demographic of videos. Every anime can fall under any regular category of videos.
And now the question must be raised, "How to find all Anime on Netflix?" Surely, it shouldn't be too difficult, considering all Anime can be categorized by their respective genres (e.g. finding any horror anime in the horror section of Netflix).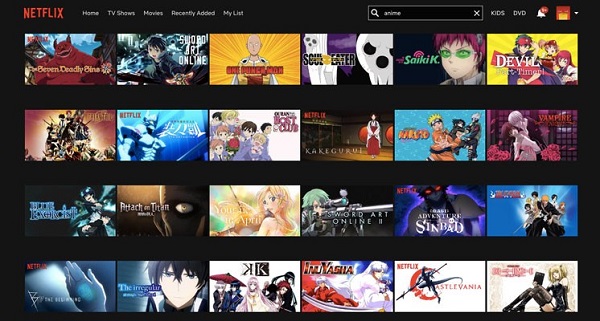 However, it is not that simple. Since Anime is very niche, you may not even find a single anime on the list of horror films. Most likely, you would only find the most popular in horror movies and television series. Sadly, this would not include any Anime, unless that specific Anime is surprisingly popular and has a big enough fan base.
Luckily, there is a way to pinpoint these Japanese animations by category. Although, this method will require a bit of extra work than just scrolling through the different genres on the Netflix app.
No worries, by the end of this article, you will regularly search for your anime with ease. Continue on to find out how it's done.
How to Find All Anime on Netflix
The process to finding all of the known Anime on Netflix is surprisingly easy. Although, no one would know the exact procedures without first being assisted or directed. Thus, it is important to know how to do this, if you're looking for all of the different Anime available.
Follow along with your preferred device in order to have a clear idea of how this process works. Once you are ready, continue to read…
Note: You will not be able to do this on your Netflix app. The process is only made available through web browser. So, depending on your device, you will need to go to your appropriate web browser to proceed with the guide.
Step 1: The first step would be to sign into your Netflix account. If you do not already have an account, go ahead and create one.
Step 2: Next, you'll need to head to the address bar of your web browser. Type in the following to the bar – http://www.netflix.com/browse/genre/###. Now, the # symbols will be replaced with a specific category code for the Anime genre you are looking for. This will be explained in a little more detail below. You can head straight to the Netflix Category Codes, in order to find the proper code for your URL.
Step 3: After selecting the code for your URL, go ahead and enter your selection and load up the page. You will automatically be directed to the page corresponding to the code. For example, if you are looking for an Anime Series, you would enter: http://www.netflix.com/browse/genre/6721. Then all anime series would be openly available for you to browse through.
Step 4: Select the video you want to watch and begin streaming.
That's all there is to it! You can now access ANY and ALL Anime on Netflix.
Below, you will find the category codes for each genre of Anime. Look through these to find all of the different genres. Who knows, you may mix and match different genres to find the best Anime of all time.
Netflix Category Codes
Next, you will need to know each of the different category codes, in order to add them onto your URL. Each sub-genre of Anime will be associated with a specific code. As such, there will be a multitude of different codes for these sub genres. Below are the following genres and their respective category codes, listed alphabetically…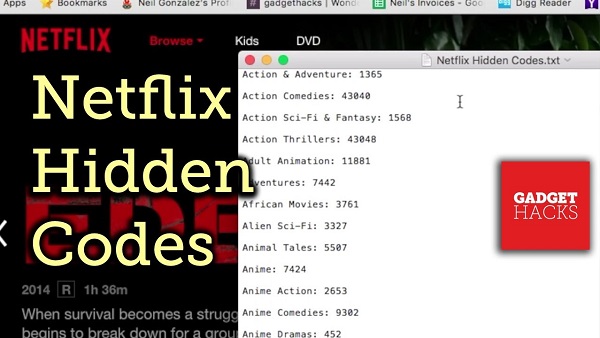 First is Action Anime – 2653
Second, Adult Anime movies and shows – 11881
Third would be Comedy Anime – 9302
For the fourth anime, we have Drama Anime – 452
Fifth, Fantast Anime – 11146
Sixth on the list, Anime Features – 3063
Seventh, Horror Anime – 10695
The eight code belongs to Sci-Fi Anime – 2729
Last, but not least, Anime Series is the final code – 6721
Insert whichever category you wish to watch into the URL. Replace the ### with the appropriate code.
From this point, you will be able to find any Anime you want. All possible Anime on Netflix should directly correspond to one or more of the listed categories. Thus, you will be able to find whatever matches your style and tastes in a flash.
Unfortunately, this cannot be done on the Netflix App. This method is only compatible with the Netflix website, since you will be typing in a URL. To this extent, there is no other way to locate specific anime, when using the Netflix app. The only way on how to find all Anime on Netflix apps would be to manually search them.
Conclusion
Now, you are fully able to find any genre of Anime through the Netflix Mod. So, good luck with any of your future ventures on the streaming application!
Maybe you missed this great article: How to Cancel a Netflix Membership