House Chores APK 0.10.1
Are you a fan of simulation games? Try House Chores APK as you'll play the role of a college student who will live with your stepmother and other girls.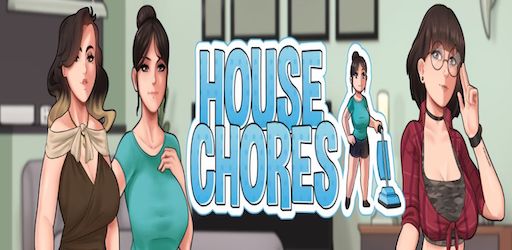 Download House Chores APK – Graphic Adult Simulator
A lot of us has been through college and done a lot of things. In House Chores, you'll play as an innocent college student who will now leave with your stepmother. Since this is an adult simulation game, you can expect some unexpected encounters and relationships.
This is a graphic visual novel game that will ask you to make some choices which will influence the story. If you're into adult simulation, this is one that you should check out.
Before everything, you'll start the game without any experiences on love and adult things. But as you go through your daily life, you'll learn more and converse with the women on the house.
The ending of the game will be influenced by your choices. This means that you can create an entirely new experience every time you play the game.
Unique Story of House Chores
A lot of games have unique stories which provides some context to the game. The same is true with House Chores. As mentioned, you'll play the role of a college student who now lives with your stepmom.
The story begins ordinarily as you've realized that you now live with two more ladies. They're both attractive so there are a lot of chances to develop your relationships with them.
The story can be as unique as it can be since you'll be choosing your goals. In random moments, the game will ask what you want to do which will have a direct influence in the ending. As such, you can make it your goal to develop romantic feelings with the girls in your house.
House Chores Walkthrough
If you've never played a dating simulation game before, you might be curious as to how it's played. Here, it works just like a visual novel that's interactive. You'll start the game by waking up as you have overslept.
You're greeted by your stepmother Linda who you now live with. She requests you to start helping around the house more and not focus on video games. You can then respond affirmatively or question her.
This is where the game differs from other genres as every choice you make will have an impact on the succeeding scenes and your relationships. If you want to get the dating scenes, then you must make sure to play your cards right.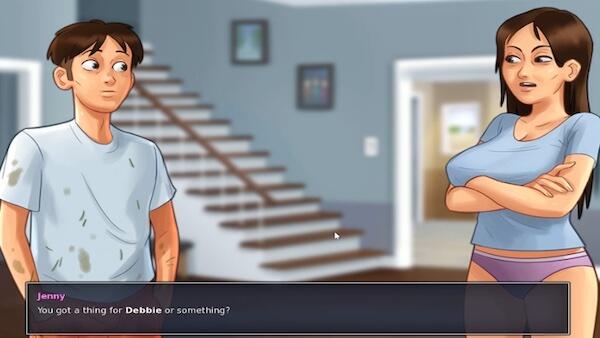 Although you can't walk around like in a 3D game, you just must follow the story. The game follows the natural cycle of a day from morning to night. But in a day, there are a lot of crazy things that can happen!
Why Should You Play House Chores?
By now you must be interested in knowing more about the features of this game. This section will entice you to download the game now:
Interactive choices – What separates games from movies is that you get to choose how to play the story. In House Chores, you'll be able to interact with the characters and make your choices. From time to time, the game will ask you to respond to a question of a character. What you choose to do will have an impact on the story and your relationships.
Compelling story – The story is about a college student that lives with three beautiful girls. The game will revolve around everyday things that can happen in a house. But since this is a simulator, you can expect some crazy adult things to occur.
Choose your date – This game features you as the main character who's a college student. Then, you'll first meet your stepmom which is Linda. There are also other two beautiful women called Emily and Julie.
The girls in the house have distinct personalities, attitudes and looks. You may nurture your relationship with each of them and choose who to date.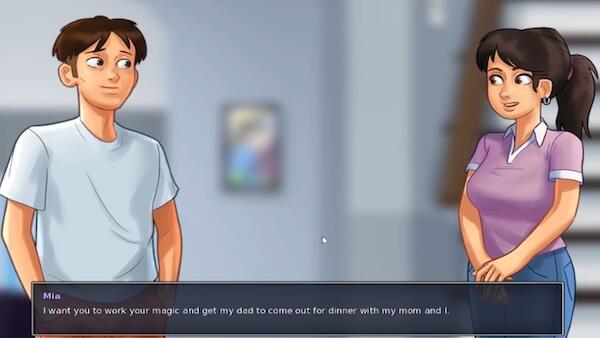 Realistic graphics – The graphics of House Chores features anime-like styles with beautiful backgrounds. It's an interactive simulator so every scene looks vivid. From the house to the school and other places in the city, everything is well designed.
Not to mention, the different expressions of the characters. But the highlight of the game are the sensual graphics which features different sexy scenes.
Menu controls – In the menu, you'll find an array of controls like Backlog, Save, Load, Menu, Skip and Auto. You can also control the game by tapping the screen. You can skip dialogues by tapping anywhere. Then, you can select the action you want to do.
Download House Chores APK – latest version
Want to play a game where you can build relationships and have intimate scenes? Enjoy House Chores now with all the available features for free.