Hook and Smash APK 1.2.4
Download Hook and Smash APK - latest version -for plenty of demolition fun - upgrade your hooks and take down more buildings!
Hook and Smash is a fun game from the team at Rolling Game, a simple puzzle game which involves tearing down successive amounts of huge buildings. Some are easier to take down than others, while some require some serious thought. Developed in the Unity engine, one of the most popular for modern Android games, you'll notice a lovely level of familiarity with other great games. The graphics are smooth, and the gameplay is really addictive! Launch your hook at famous landmarks and city buildings and rip them to the ground.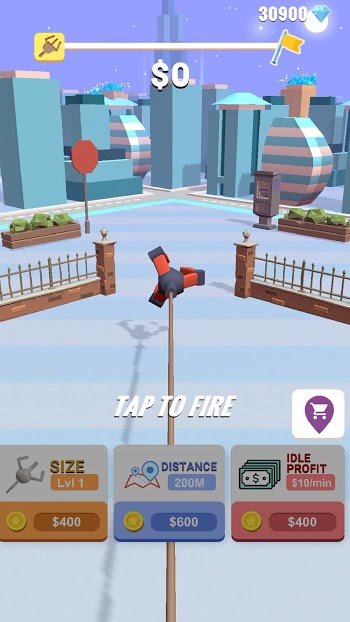 The premise of Hook and Smash is very simple. All you have to do is take aim with your hook, using the bar across the bottom of the screen to aim your hook, and then unleashing chaos into the city centre. Go in a straight line and you'll soon run out of buildings to hook and collect, so you need to pitch your angle to get a better shot on other buildings and city features. Once you've smashed them to the ground you drag back in the materials to earn money, which can be used to upgrade your hook. A simple game, but pretty addictive! Earn your way up the upgrade ladder to eventually take down the important monument in the centre of town and become the best smash and hooker there has ever been.
Best Features of Hook and Smash
Hook and Smash, the newest game from the team that bought you classics like Plane Chase and Farm Master, is a ridiculously simple and very addictive destruction mini-game with smooth graphics and interesting physics. It's your goal, as the newly appointed destruction minister for this very famous city, to clear a space for brand new developments. Some local experts have handed you an awesome piece of kit, fresh off the production lines, which involves launching an enormous hook that destroys buildings and reels in the debris. It's efficient, it's fun - this is Hook and Smash.
Smooth Gameplay
These types of mobile games are designed to run as smoothly as possible, and thanks to the innovative Unity engine that many of these games are built in, this game will run perfectly on just about any mobile phone. Mind the adverts and pop-ups, and you have a smooth gaming experience with great physics mechanics and lots of addictive hook and smash action. Aim your hook, take down the buildings, clear a space for the city wide expansion of its essential services and tourist buildings! You're in charge.
Addictive Gameplay
Once you've figured out the controls, this game turns into an addictive little time-waster, perfect for those sleepy and bored hours. Muscle your way through the ads when you download Hook and Smash and you'll find your way on to unlocking new cities and different levels, which allow you to completely flatten entire cities. Each building tumbles in a different way, and this keeps the gameplay compelling for longer. With a beautiful blue sky in the background, there's nothing better than trying out your hook on a condemned skyscraper!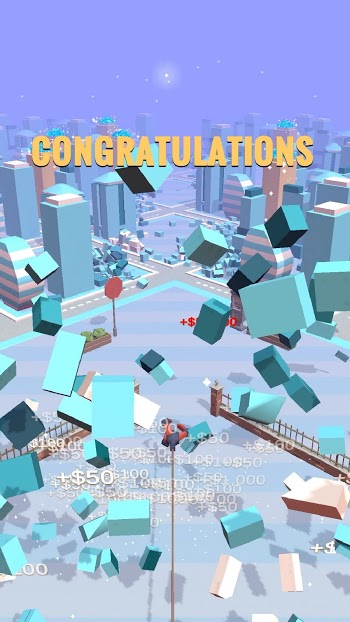 Unlock New Levels as You Play
The levels start out super simple, with a basic hook and basic cities to level. However, as you progress, tearing down more and more, you'll soon start to unlock new and exciting areas to tackle. You can also upgrade your hook with better power, range and make it easier to angle so you can get to those hard to reach buildings. There are also options to expand your hook diameter so you can drag back more valuable materials and debris.
Special Buildings Dotted Around the Map
The main aim of the game is to reach the special monument in the centre of the map, the most important place in the entire city, and the place that needs destroying straight away! To get there you need to upgrade your hook further and further, allowing you that extra reach to tear it down and collect its valuable debris. Dotted around the map there are also a range of gold buildings - these include extra valuable items which make it easier to upgrade your hook and power you through the levels. These buildings look quite similar to ordinary buildings, so you need to keep a close eye on the differences!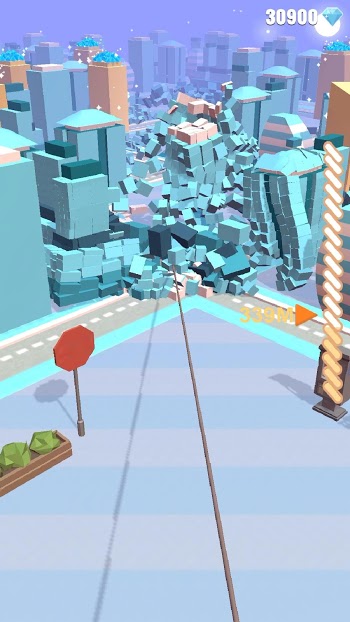 The Game Gets Arty and Creative
Although the game focuses on destruction, there are also lots of artistic qualities to the gameplay. As you destroy buildings you'll find yourself uncovering pretty colors and combinations of destroyed blocks. The game really is lovely to look at, and the music is a great accompaniment to the gameplay. Watch closely as the buildings tumble to the ground - it has been cleverly designed to be as pleasing and smooth as possible! Lots of color and lots of fun.
Tips and Tricks for Hook and Smash
What starts out simple actually takes a while to get used to. The controls aren't super easy to understand at first, because you have to angle your hook and then steer it around buildings to try and take down as much as possible. Aim for the buildings you know include extra gold and upgradable items - these are the ones that make it much easier to progress quickly through the game. Upgrade your hook whenever you can, expanding its reach and destructive qualities - this is also very important. Lastly, take time to master the mechanics - learning how to properly steer the hook makes the game much, much easier!
Hook and Smash APK
Want to play Hook and Smash with all the upgrades and no adverts? Download the latest version of the apk today and get it free.