Hola VPN APK AARCH64_1.183.956
Do you use the internet frequently? If so, you might be at risk from attackers and data stealers. Download Hola VPN Plus APK today so you can protect your privacy online!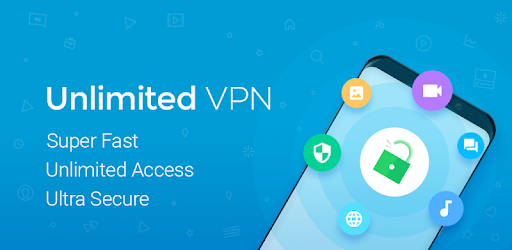 | | |
| --- | --- |
| Name | Hola VPN |
| Updated | |
| Compatible with | Android 4.1+ |
| Last version | AARCH64_1.183.956 |
| Size | 20.28 Mb |
| Category | Tools |
| Developer | Hola VPN Ltd. |
| Price | Free |
| Google Play Link | org.hola.prem |
We use the internet frequently these days. Whether we're browsing social media sites or using it for work, we use it a lot every day. The internet provides many great uses for us such as allowing us to connect to our friends, coworkers and loved ones wherever they are. And they also allow us to play together online, to connect in social media and many more. But did you know that you're leaving yourself vulnerable to attackers if you're not using a VPN such as Hola VPN?
What this app does is that it allows you to hide your real IP address and use a proxy one that the app offers. Here, you can use any address from plenty of servers around the world such as in U.S.A, United Kingdom, Algeria, Canada, Australia, Albania and many more. In addition, you can unblock apps and sites that you can't access with this app! This app is all that you need to be protected online and to speed up your web browsing.
Protect Yourself Online
Do you use the internet extensively like the majority of people nowadays? If you do, then it might be to your best interest to equip your device with a VPN app now. This is because there are a lot of attackers and data stealers out there that can access your important data and files from your device. They can attack your device if you're not protecting it using Hola VPN. This app is capable of protecting your data and privacy online!
Today, we use a lot of apps and access plenty of websites online without a care in the world. We don't think that we can be attacked as we're not even entering suspicious websites and we're not giving our data away, right? This is what most people think which is wrong! Today, you're already vulnerable once you access the internet as anyone can look up your IP address easily. Today, even amateurs can see your data if you're not careful to hide it.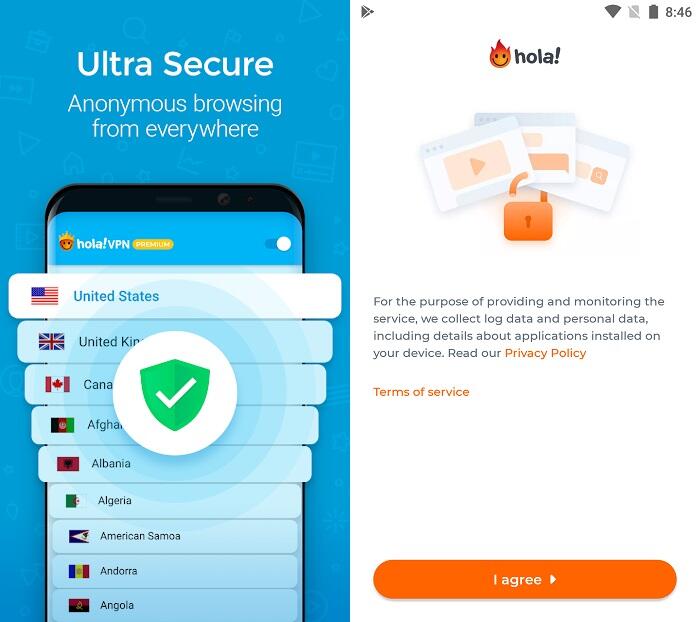 For this reason, you must try to protect your data and privacy online as much as you can. You can do this thanks to this app today which allows you to use proxy IP addresses from any server you want. Whether you want to connect to U.S, Argentina, Canada, or anywhere else, the app allows you to. With this app, you no longer have to worry about any attacks as you're completely safe. Moreover, you can get a faster web browsing experience!
Here, you can also unblock any restricted app or website with just a few taps. The app allows you to connect in various servers around the world so you can switch countries with ease.
Highlights of Hola VPN
There are so many people who use the internet daily today. If you value your privacy and data, you should download Hola VPN!
Protect Your Data Online – We use the internet today for so many things such as communication, games, work, school and many others. We also stream movies, shows, music, and enjoy a variety of blogs today. Moreover, we can access social media sites like Facebook, Twitter, Instagram and even TikTok with the help of the internet. Because of this, it's only right to protect our data online with a VPN app such as Hola VPN. With this app, you can enjoy a wide variety of features today.
But most importantly, it allows us to hide our IP address so we can avoid attackers from stealing important data. There have been many victims worldwide where people lost their money, identity and even their privacy. Today, companies are selling our precious data to advertisers so they can target us with their products and services. But thanks to Hola VPN, you can make sure that this never happens! More than that, you can access blocked content from any app and website today.
Hide your IP Address – With this app, you can hide your IP address so that you can never be attacked by data stealers. With this app, you can be assured that your IP address is hidden as you access any server available in the app. This works by making it seem like your device is on another country and hides your true IP address. With this, you don't have to worry about any data breaches today.
Access Plenty of Servers – With this app, you can select which server you can connect to. This app features many servers from different countries worldwide such as the U.S., United Kingdom, Philippines, Australia, Canada, Brazil and many more. With this app, you can select the region that you need in order to access specific content. With this, you can ensure that you're always protected as there are many servers available.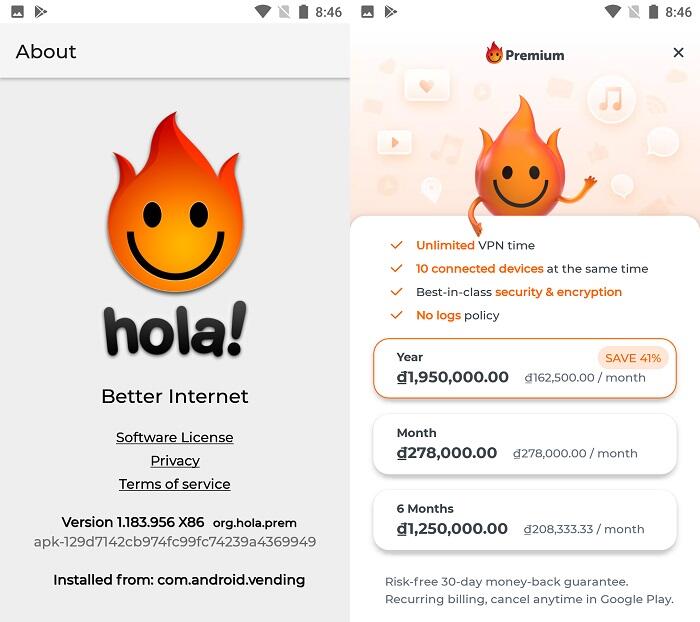 Unblock Sites and Apps – There are many websites and apps today that we can't access. There are a variety of reasons why these may be blocked either due to our country or our ISP. But if you want to get past these, you just select a proxy server on the app and you can instantly access any website or app today! If you're still blocked, you can just change your server easily and then try to access it again. This app lets you access any websites or content today.
Fast Web Browsing – The app also lets you browse quickly thanks to its features. The app allows you to speed up web browsing with just the app so you don't have to worry about connection loss.
Switch Countries Easily – The app lets you switch countries with just one tap! You just need to select the country you want to connect to and tap it to connect to it.
Hola VPN APK
If you're using the internet regularly, you need Hola VPN today! Enjoy complete privacy and security today.