Hero Rescue APK 1.2.2
Download Hero Rescue APK Latest Version free for Android. Do everything you can in order to solve puzzles and save the princess.
Are you ready to claim a beautiful princess, treasure, and glory? This man is prepared to risk it all for this royally beautiful woman. However, there are many challenges awaiting ahead. If you have a knack for puzzles, then go ahead and download Hero Rescue for Android now!
This game will not only test your critical thinking skills, but also your problem and puzzle solving competence. If you're someone who loves puzzles and quick mind games, you'll love taking on the levels presented in Hero Rescue.
So, get your Android mobile ready. Stretch your brain out a bit and let it breathe. Because, you'll have a lot of work for it to do, once you've downloaded and started playing.
How to Play
The goal of your character in Hero Rescue is to save his darling princess from danger. However, there are tons and tons of various puzzles in between him and his objective. The only way through is to solve every challenge that presents itself to his face.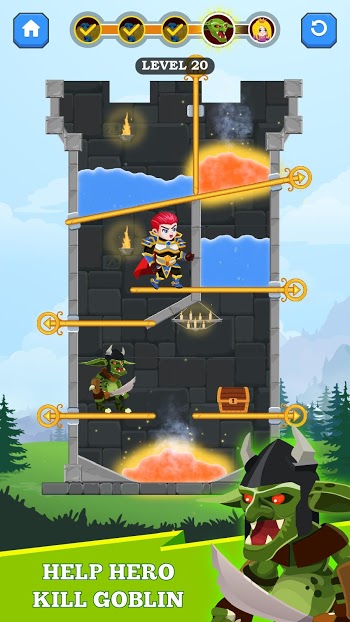 With that being said, you are the brains behind our hero. He won't be able to make a single move without your guidance.
Controls
The controls are as simple as quick gestures with your fingers. Tap and swipe on the screen to complete various tasks and proceed through each level.
Surprisingly as a puzzle game, it operates without complications. The trick of the puzzle doesn't lie in the controls. More so, the challenge presents itself in the actual puzzles themselves.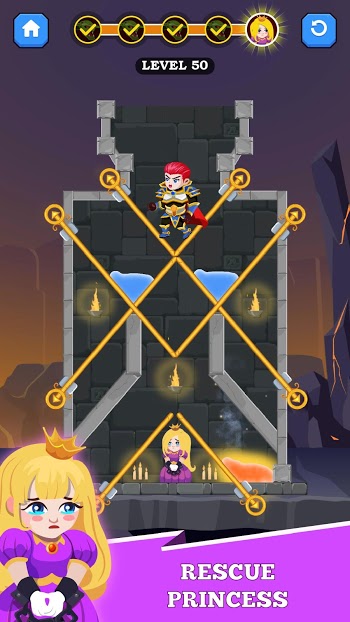 So, do you think you have the mental capacity to take on all of these brain busters? Remember, you aren't just doing it for yourself – the Hero needs your help to save his princess.
Hero Rescue Features
There are many other features to look forward to when paying Hero Rescue. This game isn't just a one trick pony. There are varying aspects of the game that can catch the attention of different people. Depending on what you like, this may already be a deal breaker for you.
Enjoy many different brain teasers and other great puzzles to test out your skills. This is truly an ideal game to test your problem solving skills in the heat of the moment.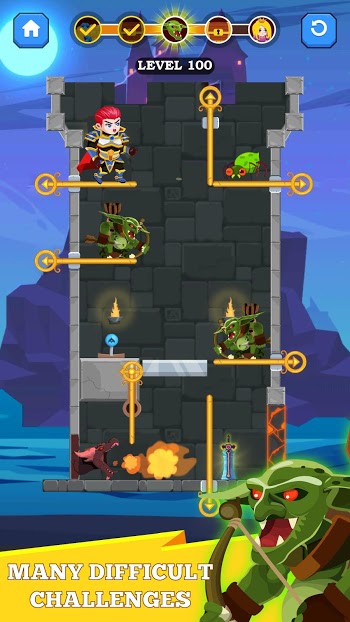 In addition, there's a guarantee that you won't be bored for a while. There are more than enough levels to keep you busy. In fact, there are thousands of unique levels for you to test your skills.
You can even team up and cooperate with your buddies to help them with their own puzzles. Sharing is caring, you share your expertise in these types of games by lending a helping hand.
You can enjoy all of these features and more. All you have to do is download the game for your Android.
Graphics
2D puzzle games haven't looked this good in a while. Usually, puzzle games don't take the time to spruce up their visuals. But, Hero Rescue makes an effort to give you something nice to look at. The character art and designs are well drawn. Likewise, the animations are pretty smooth.
Hero Rescue APK Free Download
This isn't the end yet. Try the Hero Quest APK download latest version to have more benefits to keep your play time lasting a lot longer. What we mean is, with these benefits, you won't need to wait for certain criteria to be met in order to continue your level.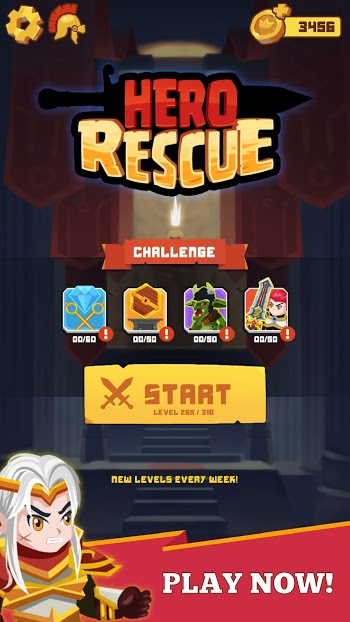 These two additions are more than enough to have you playing for an indefinite amount of time. Enjoy all of these great puzzles alone, or with friends!