Grabby Grab APK 1.2.5
Download Grabby Grab APK Latest Version free for Android. Utilize this sticky hand to pick up and throw anything and everything at your opponents.
Prepare for a fun game that is a perfect way to pass the time. If you are a fan of hoarding games on your Android, then you should add this to your list. Grabby Grab is a game where you'll a sticky hand to connect to objects and people. Once this is done, you'll throw them around and watch the chaos occur before your eyes!
Stick to Almost Anything!
Basically everything you see can be latched on to. Thus, every object is just another victim to your sticky hand. Just tap and hold the screen to prepare your hand. Afterwards, when you're ready to latch onto something, just release your finger from the screen. With these easy controls, anyone of any age can play Grabby Grab, even with one hand!
You'll know if you've successfully hit your target, once their color changes to gray and they fall to the ground. There isn't much more to understand about the game. Once the room is cleared, you'll proceed to the next area, where the process repeats.
Ragdoll Physics
The Ragdoll-like physics makes for some hilarious moments watching characters flying around the screen. As a simple game, Grabby Grab doesn't have much going for it, so the little things matter. Especially with the super-simplified graphics.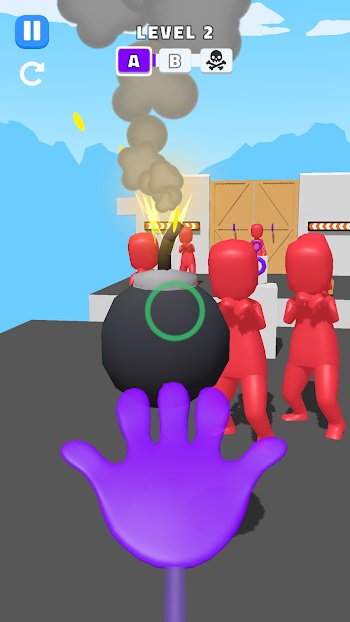 Sticking onto certain objects will create a ragdoll, snowball-like effect. Everything interacts with one-another to make hectic animations and scenes. This is definitely the highlight of the game – to see everything fly around and falling through your efforts.
Simple Graphics
The visuals, as stated previously, are very simplistic. There is almost no detail to anything that is around you. Therefore, the only real draw-in for the game is the gameplay itself. If you aren't a fan of the concept, then Grabby Grab might be "hit or miss" for you. It all really depends on the preference.
However, there's a Brightside to the graphics. The game is perfectly suitable for all ages, from children to adults. Anyone is openly-welcome to try their hands on Grabby Grab.
Grabby Grab APK Free Download
If you're ready to play the game, stick your finger onto the Grabby Grab APK Latest Version download. An easy to play game that was made with all ages in mind, this is a treat for everyone. Regardless of what type of games you preference, you'll still be happy to have this time-passer on your device.