Girl Alone APK 1.2.15
A couple has gone out for urgent business and have hired you to watch their home. They've failed to mention, their daughter is all alone, isolated. Download Girl Alone for Android.
She seems so sad and lonely. You'll come to find that this cute little girl is wallowing in her room full of dust bunnies. You can give her a little affection by cleaning up her room a bit. At least, make it more livable. This is the first step in Girl Alone. But, it's not that easy to start befriending her.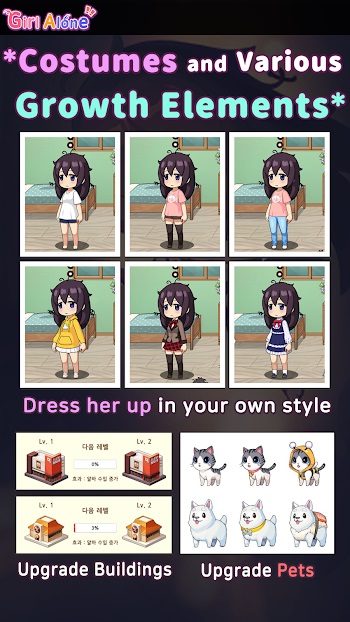 At first, the girl will want you to leave her alone and kick you out of her room. But, that's not enough to stop you from keeping her company. You have a contract and intend to keep your promise to stay there. If you fail to comply with the terms of the contract, you'll be fined 50 MILLION GOLD!
Getting Closer to the Girl
The first step, is to feed her. At first, she is reluctant to talk to you, but after giving her a bite of your sandwich, she's at least a bit easier and open.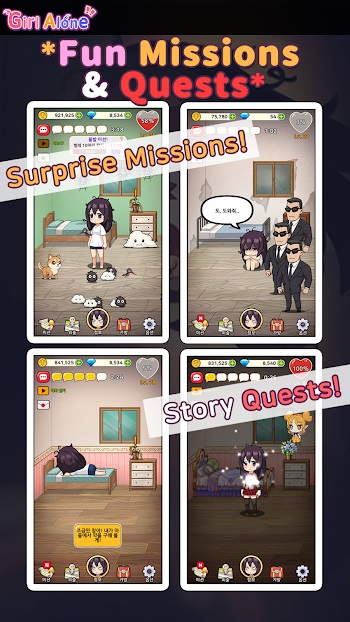 Next, you'll need to get a part-time job in order to help pay the bills. Don't worry, this isn't hard labor or anything. In fact, you'll just need to play a few mini games to make ends-meat. Matching games are the best way to make easy money, if you have a good memory.
Eventually, she will begin to warm up to you. Her gloomy face will begin to tone down and she'll eventually be ready to head off into the world. You can help accomplish different tasks in order to keep your relationship strong. These can include:
Buying pets is always a great option. Who doesn't like having a cat or dog to keep them company?
Buy a ton of different clothes. Get her out of her dirty and simple outfit. If you look good on the outside, you'll feel good on the inside.
Give her room a makeover. Living in an old dusty room with a hard bed isn't fun at all. Transform it into something way better!
Girl Alone APK Free Download
If you want to take the time to please this cute girl and make a new friend, then download Girl Alone APK now. This version could give you some benefits over the Google Play Store version. If you want an infinite amount of cash, then definitely download and install the APK. There's no reason why anyone would miss out on this opportunity.
Make interesting interactions, take care of a cute girl, and play fun mini-games along the way. Girl Alone is a great simulation game with varying factors to keep you invested in the long run.