Disney Magic Kingdoms APK 8.0.1b
Experience the wonder of Disney and its iconic partners. Download Disney Magic Kingdom APK Latest Version free for Android and build your theme park.
Get ready for an epic adventure through various world in Disney, Pixar, and Star Wars. There is a villainous curse upon us, and you'll need to help Mickey Mouse rid the land of this curse. Can you handle such a daring task?
You are not alone – the many heroes and character throughout Disney history are also here to assist you. Download Disney Magic Kingdom for Android.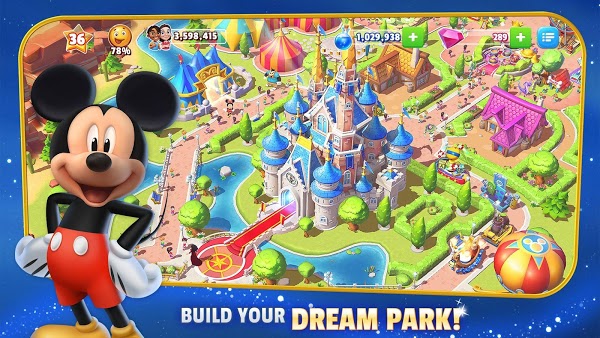 So, let's get started with a few details related to the game.
Creating Your World of Disney Stories
Collect and witness the stories of over 200 iconic characters throughout the worlds of Disney, Pixar, and Star Wars. They can range from older characters like Bambi and Dumbo. Or also the golden age of Disney animation, like The Little Mermaid, Snow White, Beauty and the Beast and The Nightmare Before Christmas. To the newest of Disney legends, Moana, Frozen, and Tangled.
Additionally, each Disney World is filled to the brim with quests. Play through them all to witness iconic scenes from your favorite Disney movies and adaptations. What is your favorite Disney, Pixar film? Search for your favorite characters and relive their amazing stories for a truly whimsical experience.
You'll be able to create and build up your own Disney theme park! There are well over 150 different attractions to utilize and decorate your Park Grounds with.
Buy different objects, resources and rides to improve the condition of your park. Make it reminiscent to that of Islands of Adventure or Disney World. Or, you could even make a completely original Thee Park from scratch.
Nonetheless, anyone will have an absolute blast playing the game.
Play with friends
You can even go a step further and play with your friends. Invite your friends to play and you'll earn even more rewards! There's no better way to experience the game than with your own friends. Compare each other's kingdoms and theme parks – see who has the best and most creative.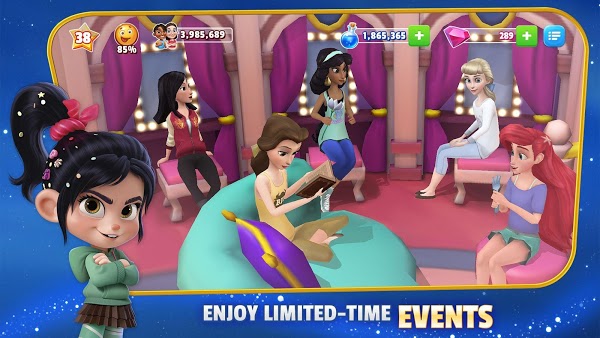 Graphics
The game even looks great! You'll experience the amazing 3D graphics from a bird's eye point of view. The models of all your favorite characters are fresh and detailed. You'll get the feeling of actually being a part of the world of Disney.
Just don't get too caught up, remember you have a life to live outside of the game.
Download Disney Magic Kingdom APK for Free - Latest version
One issue found within the game would be the repetitiveness of constantly having to grind for money in order to expand your theme park. Isn't there a way to just ignore all of the tediousness and get straight to unleashing your park grounds!?
Well, you're in luck – there is a way. And that way is with the Disney Magic Kingdom APK Latest Version download. With this version, you'll have a ton of shortcuts to make the game so much easier.
So don't waste any more time. It's time to experience the magic of the world of Disney and its iconic characters. Mystical stories are waiting to unfold and a park full of fun needs your approval to upgrade and improve.