Game of Sultans APK 5.301
Being the head of an empire is a big responsibility. If you want to see how that goes, download Game of Sultans now. Rule over your kingdom and do a lot!
A king's job is to rule and lead his kingdom to success. It's often a huge responsibility but it does have a lot of perks. For one, you can meet all sorts of people including potential lovers! In the game Game of Sultans, you get to rule as a sultan over your kingdom. Here, you will make decisions over local affairs, ally with other nations and meet beautiful ladies.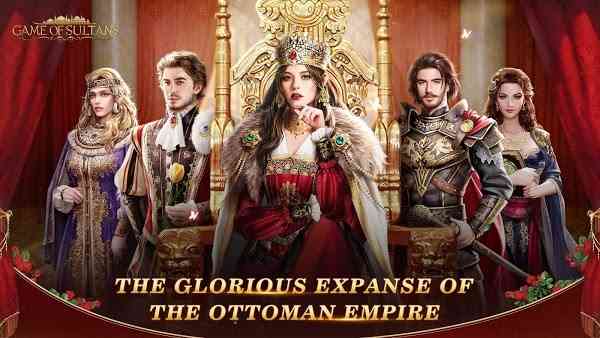 Your ultimate goal is to conquer the whole world but you'll need to accomplish a lot before that. First, you'll need to manage all the affairs of your land and manage foreign diplomacy. In this game, you can also meet many beautiful women and go on dates. Then, you can raise your heirs and prepare them for the future kingdom. There are plenty of ravishing outfits, command people and battle in Base Hunts!
Rule as a Sultan
In this day and age, there are still countries who have a monarchy system of government. In these countries, kings, queens and sultans' rule over a country and lead them. They are responsible for everything that happens inside the country and forging relations with other nations. If you want to experience the royal treatment, play Game of Sultans today. This game lets you experience all that and take on a huge responsibility.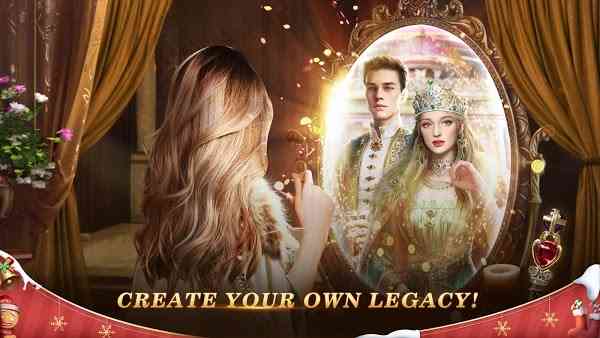 Become the sultan of the Ottoman empire and rule the nation. Manage all the local and international affairs as you plan to conquer the world. You will also be able to meet and forge relationships with passionate women from royal families. To look the part, you will also be able to don impressive and immaculate clothes to suit any occasion. Here, you must be able to manage your kingdom and ward off any attackers.
Moreover, there are competitions such as Base Hunts and battle against other real players worldwide. Show off your nation's strength and gain rewards. Raise powerful heirs to the throne and plan to take over a lot of nations!
Game of Sultans Features
Do you think that you have what it takes to be a great ruler? Do your best as a sultan in Game of Sultans!
Manage a Kingdom – Being a ruler of a large nation isn't an easy role. It involves level-headed decision-making skills, leadership skills and management skills. Even if you get some oppositions, you must stand your ground for the sake of your kingdom. In Game of Sultans, you'll rule over the Ottoman Empire as its sultan! This means you'll be overseeing everything that happens inside the nation as well as forging relations with other nations.
Aside from that, you'll need to fight PVP wars to prove your strength! Also, go on wars and increase your followers by defeating influential nations. Here, you will need to increase your wealth, grains, and soldiers. You must always think about your nation in the game! Try to conquer other nations while defending yours from any attacks.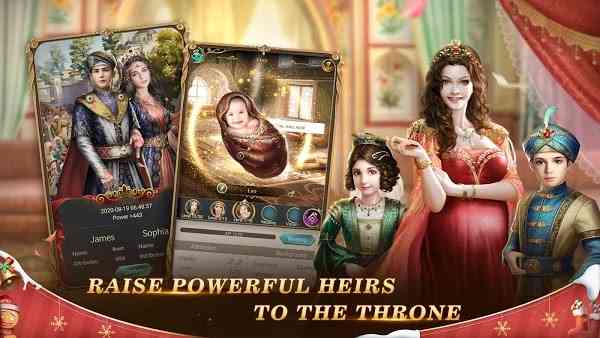 Handle local and international affairs – As a ruler, you'll come across a lot of responsibilities that need your attention. There will be many quests inside and outside your nation that you must complete. More than that, you can level up your followers called Viziers and increase their numbers! They have different roles so you must try to raise their levels and unlock many talents. They will all help you with your plans to conquer the world!
Meet potential lovers – As a ruler, you also need to think about your heirs and the future kingdom. Because of that, you'll need to think meet with potential mates in the game such as Felicia, Halima and more. Choose the perfect lover for you that will bear your kids! This game allows you to go on dates and raise your level of affection with a lot of them. Eventually, you'll marry one!
Raise heirs – If you want to keep your bloodline going, you'll need children in the game. You will need to raise them to be suitable heirs to the throne. Prepare them for their destiny and prepare them for a future of royalty.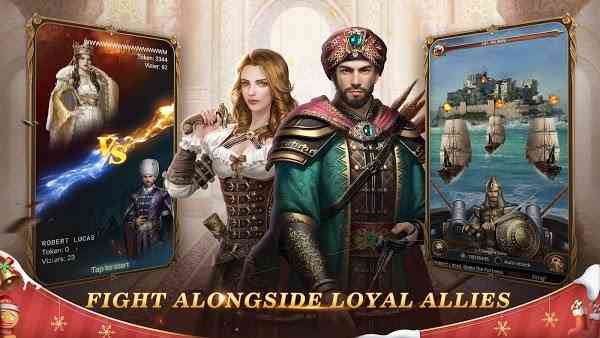 Expand your wardrobe and followers – One of the perks of being a ruler of a nation is the wealth that you have. As you must look the part of a ruler, you must also don nice clothes for every occasion. In Game of Sultans, you get to expand your wardrobe and unlock fancy clothes!
Battle other nations – You can also battle other nations via PVP in the game. There are many rewards waiting for the victors.
Game of Sultans APK
Enjoy the best empire game today with Game of Sultans! Rule over your kingdom and expand it.