Fish idle APK 5.2.4
Fishing is one of the main livelihoods of people around the world. Play Fish Idle today so you can get a lot of fish in different places. Earn idle money by fishing!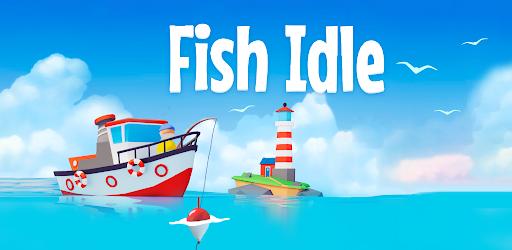 Fishing is known worldwide and it's mostly used to create livelihoods. Billions of people depend on fishing to get food on their tables or to earn money for a living. We are surrounded by waters as the world is made up of 70% water. Because of this, we can get fish a lot for food and even as a hobby. In Fish Idle, you can enjoy fishing idly!
In this game from Mamboo Games, you'll get on a boat and enjoy a fishing trip. You can move your ship around and search for areas where there are fish so you can get them. You don't need to do much aside from parking your boat and waiting for the fish to get caught. Aside from that, you can upgrade numerous things such as the power, cargo, crew, speed and many more!
Go Fishing
The world is mostly made up of water as we're surrounded by it. Because of this, there are a lot of opportunities and activities that the oceans and waters can provide for us. One of those is fishing as billions of people rely on our oceans to catch fish. We eat a lot of seafood every day in the whole world so it makes sense that fishing is a popular livelihood as well as a hobby. If you're into fishing as well, try playing Fish Idle!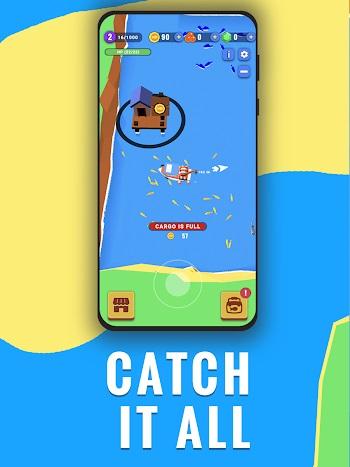 If you've played idle games before, then you know how they work. Here, you won't do a lot of work as you'll just need to search for fishing areas and wait for your crew to get the fish. You can then earn money as you collect more fish so that you can buy upgrades. Here, you can earn more money by upgrading things such as cargo, power, speed, crew, radius and many more. You can also hire fishing hunters and cargo ships to make things easier.
Moreover, you can catch different types of fishes in different areas today! Enjoy a fun and realistic idle game.
Fish Idle Features
Fishing is an activity that lets us catch fish to either sell or eat. There are tons of fishermen in the whole world today who depend on our oceans to make money.
Catch Fish Idly – Have you ever tried fishing before? It can be for your livelihood or a hobby, fishing is never easy. Most fishes are illusive so you'll need some skills and techniques so you can catch fish easily. Most people use fishing rods and nets to catch fish but in Fish Idle, you'll just use your boat along with some fishermen. You'll then direct your boat in numerous fishing farms so you can wait for them to fish.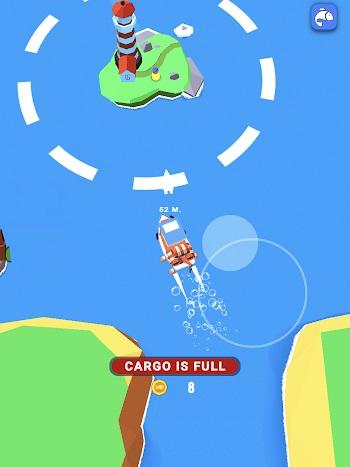 Enjoy your time as you can collect different types of fish in here. There are some that are calm but there are also others that are hard to catch. The rarer the fish that you get, the more money you can earn in this game. Here, there are different types and colors of fish and each of them has different times it takes to capture them. Most importantly, you can do a lot of upgrades as you grow your income as well.
Go in different areas – In this game, you can go to different fishing farms to catch different types of fishes. However, you'll need to reach certain levels in order to go to different places to catch rarer fishes. Each level requires you to catch a certain number of fishes to get there. Generally, the more you fish, the more areas you can explore and the more money you can earn. After getting all the fish, you'll then return to the lighthouse to unload the fishes.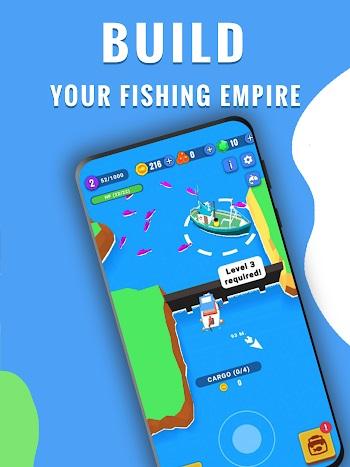 Different types of fishes – Like in the real world, there are different types of fishes available here. There are those that are small, medium and large. Then, there are also those that are calm while being caught and those that are rowdy. Most importantly, you need to remember that the faster and the rarer the fish, the more money you can earn! But don't forget to catch the small fishes first so you can earn money now.
Upgrades – In this game, there are numerous upgrades you can do to increase your income potential. Here, you can increase your boat storage capacity, HP, power, fishing speed, crew, fishing rods and many more. You can also increase the radius to get more fish at one go. Basically, you'll need money to do upgrades so get fishing!
Fish Idle Mod APK – Unlimited Money
Have you ever tried fishing? Enjoy earning idle money while fishing in Fish Idle today!