Fat Pusher APK 2.4.1
Racing adventure games are always fun. But if you want the best one yet, play Fat Pusher and prepare for a funny and exciting race of a lifetime. Become fat and win!
Running games are always fun and they are everywhere in Google Play Store. These are what you call simple yet exciting games. VOODOO is known to be one of the top publishers on these types of mobile games. And they've come up with another one that will blow your brains off – Fat Pusher.
This mobile game is as simple as it sounds. You just run through the obstacles by becoming fat. To become fat, you need to pick up the scattered food all around the course. Then there are several obstacles along the way which are walls. Each wall has a corresponding number in it that would determine the difficulty of pushing it off. Can you become the ultimate fat pusher? Find out in this game.
The Funniest Game Ever
Even though Fat Pusher is such a simple game, it's packed full of features you wouldn't expect it to have. Aside from that, it's a fun way to pass the time. Because of that, there are over a million people who've downloaded and played this game ever since it was released.
If you're looking for a great way to kill time, this game is one of the top choices. It's simple, quick, and a whole lot of fun for everyone regardless of age. Although there's nothing remotely funny about being fat, the whole interaction is fun. Running along the barriers and trying to break through will make anyone sweat in real life.
5 Reasons to Download Fat Pusher
If you are looking for a mobile game that will keep you positive when you're down, try playing Fat Pusher. It will instantly get you laughing in a couple of minutes playing. Don't believe us? Here are 5 reasons to download it.
Funny gameplay – We all love to have fun while playing mobile games. But sometimes, games such as Call of Duty: Mobile causes more stress than fun. It can't be helped as the game focuses on action and guns. But if you want to take a downtime, it's a good idea to play a minimalist game. Fat Pusher is one such game! In this one, you don't have to compete with real people online. No need for trash talking or any stress to take you over. It just lets you have pure fun all while making you laugh with silly animations and gameplay.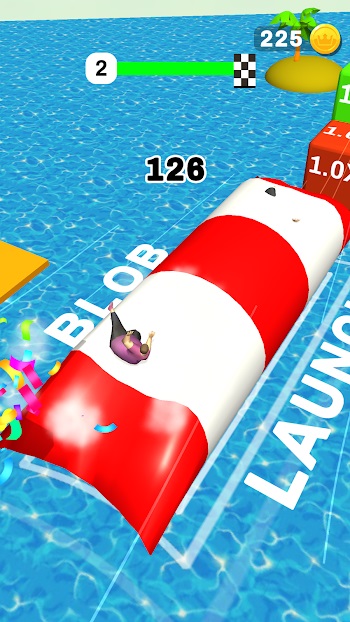 Beat high scores – Every run in Fat Pusher is short yet rewarding. The more you play, the more you can set high scores. Try to beat your high score by getting more food, taking down walls and finishing the race fast! Then, you should also try to be as fat as possible to get higher bonuses. Play the game with friends and see who can set the highest score!
Unlock skills and skins – Fat Pusher isn't just a running game. It also features unlockable skills and skins! The skills you can unlock will help you take down obstacles in your way. You can unlock quite many such as punching, kicking and more. There are also a ton of skins you can unlock in this game. There are numerous hats to pick from. There's a witch hat, an astronaut's hat, a king's crown and many more.
Great graphics – VOODOO has a reputation of creating simple yet entertaining games. In Fat Pusher, you can enjoy a game with a 3D graphics, enjoyable soundtracks and an overall smooth gameplay. Indulge yourself in a never-ending game of fun and laughter.
Easy to control – To control your character, you just need to swipe left and right to control. Your character will automatically run forward. You just need to guide him to where the easiest obstacles are and to where the food are. That's how easy this game is!
Fat Pusher APK – Unlimited money, no ads
Looking for a new and fun way to pass the time? Why not download Fat Pusher with unlimited coins now? Enjoy and unlock all the skins and skills now.