Earn to Die 2 APK 1.4.43
Download Earn to Die 2 APK latest version and literally mow through any threats. Zombies are like ants to the power of your vehicles!
Nothing is a Threat in Earn to Die 2
The cities have become swarmed with the nasty undead, yet still living. However, that isn't going to stop you from riding through everything in your way. In Earn to Die 2 for Android, your vehicle is fully equipped to deal with these pesky zombies!
Tons of Gameplay Features
The Earn to Die 2 game is loaded with various features, making your run (or drive-through) even more enjoyable.
A Unique Story Mode: First, the story mode allows for you to witness the spread of the zombie infestation. They take over not only the deserts, but also the depths of the city. Can you handle the outbreak?
Intricate Level Designs: Now, levels have even more depth to them. You can completely mow through hordes of zombies, take multiple paths, and replay levels without getting bored.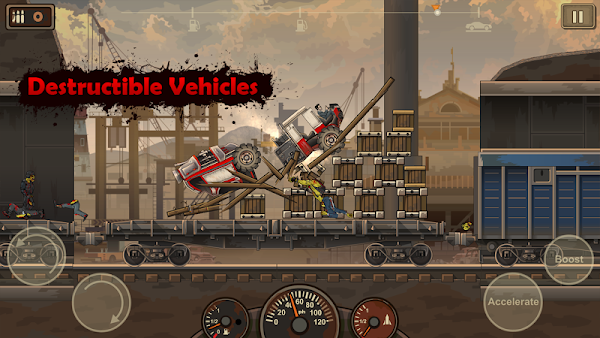 Create Your Own Zombie-Killing Machine: There are as many as 10 vehicles for you to upgrade and take to the streets. Additionally, each and every one of them can be filled to the brim with zombie fighting technology. However, your ride is still vulnerable and can be completely destroyed if you're not too careful.
With all of these features on a mobile game that you can play anywhere, you're guaranteed hours of fun! You can either run though, shoot down, or completely mutilate your opposition. Regardless, the main objective is to have fun while doing it.
So buckle-up and ride your way passed this apocalypse.
Sick Graphics in Earn to Die 2
Earn to Die 2 uses stellar and high quality 2D graphics to get its point across. The zombies are breathing with animated life. The game even rewards you with awesome quotes as you continue to destroy everything. The more you progress, the more accomplished you feel.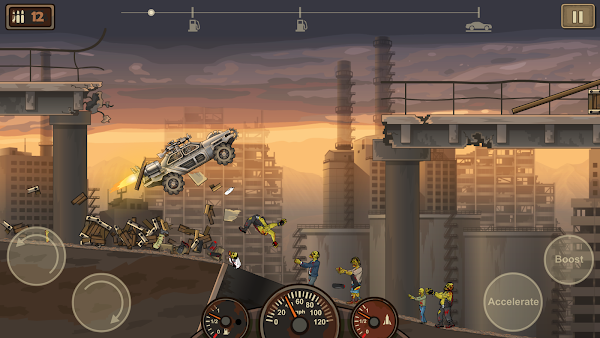 In general, the game looks pretty good from a visual standpoint.
As for the soundtrack, there are some sick tracks playing all throughout the game. Each level is complimented with killer rock music that perfectly fits the theme of the game. Additionally, adding to the feeling of power and mayhem.
Even when you take a load off in your garage, there some nice rock themed music to maintain the vibe.
All in all, Earn to Die 2 for Android looks good, sounds good, and plays great!
Earn to Die 2 APK - Unlimited Money
If you're looking for the best version of the game to play, definitely check out the Earn to Die 2 unlimited money free download. Equipped with many features to keep the game fresh and better than the original:
No grinding with Earn to Die 2 free shopping feature.
The superior version of the game is just waiting to be downloaded.
Conclusion
If you're looking for an addicting 2D platformer with great rock-themed music and a post-apocalyptic theme, this is for you! Get the Earn to Die 2 APK latest version to your Android device now and start enjoying the carnage. There's nothing more satisfying than seeing pacs of zombies being mutilated in your path.