Dice Push APK 7.5
Do you have fun with casual games today? With Dice Push, you can play a unique game where you need to roll the dice to outman the opponent! Enjoy it today.
| | |
| --- | --- |
| Name | Dice Push |
| Updated | |
| Compatible with | Android 4.4+ |
| Last version | 7.5 |
| Size | 116.19 Mb |
| Category | Board |
| Developer | VOODOO |
| Price | Free |
| Google Play Link | com.jakob.pushdice |
One of the best ways to relieve our stress is to play casual games that we enjoy. There are many fun games to enjoy right now that will let you relieve your stress but it's hard to find something unique. Most games today are a copy of popular ones and it's hard to enjoy such games. But with Dice Push, you can play a unique game of action and fighting where you will push the bar to the opponent's base using dice! The higher the dice point you get, the more people you can summon.
This game is a hybrid to the Tug of War game that we all know and love. In here, you'll need to outpower and outman the opponent by constantly throwing the dice and summoning as many men as you can. But things won't be as simple as that as the enemy is also doing the same! In the end, it all comes down to luck and how well you can place your dice in the right spots.
Push Them Off
Have you ever played a game of dice or luck? A lot of people play them at home or at the casinos where there is huge money at stake. It's an addictive game that will hook you until you lose or win a lot of money. But if you want to play a game of dice that doesn't involve money, then you are lucky! With Dice Push, you can enjoy an incredible game today with a unique mechanic.
In this game from VOODOO, you'll get to fight against opponents in a game of dice. This is a hybrid of the Tug of War game where two teams compete to see who can pull the rope more into their side. But in here, the goal is to push the bar from the center into the opponent's side. The only way to win here is to increase the number of men you have by rolling the dice. The number that you get from the dice is the number of men that will be summoned.
But there are times when you can double or increase your men's strength when you land the dice in particular areas!
Dice Push Features
There are so many things to enjoy in casual games like this one. Dice Push is a delight to play and its addictive too!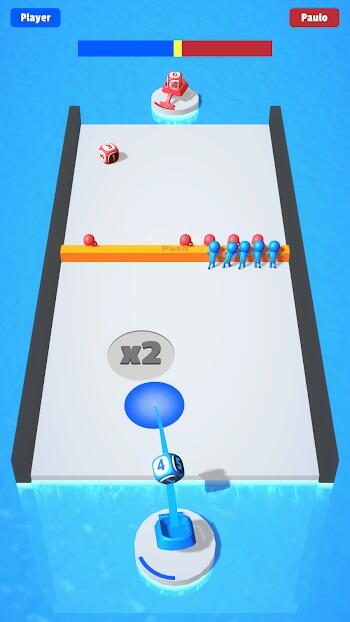 Push People Off – When you play a game of luck, there's only so much you can do. You can try doing all sorts of things but in the end, it all comes down to luck and you can't change that fact. But there's still plenty of casinos all over the world and people willing to bet on their luck whenever they can. If you're one of the people that loves to do this, then it's time to play Dice Push! This game tests your incredible luck but also your control among many things.
In this game, you'll need to push off the other team by rolling the dice. The higher the dice that you get, the more men that will come to your aid. Try to out-luck your opponent today and enjoy a game of pure luck and strength. There are also certain positions here where you can try to put the dice to get more powerful men.
Face Against Many Players – In a game that involves luck, there's also a bit of a strategy and skills in here. You'll face many players here and their skills will also evolve as you face more of them. Try to push them off as fast as you can so they can't come back and win. But this is usually easier than done but it's certainly an enjoyable game! Think you have the luck and the skills to pull this off?
Roll the Dice – In this game, the only way to win is by rolling the dice every chance you get. Depending on the number you get, you can get more support by deploying more units. In this game, the enemy team will also deploy their units from time to time so you need to combat this. You can try deploying the dice in the enemy territory to eliminate their numbers. Or you can just play it passively.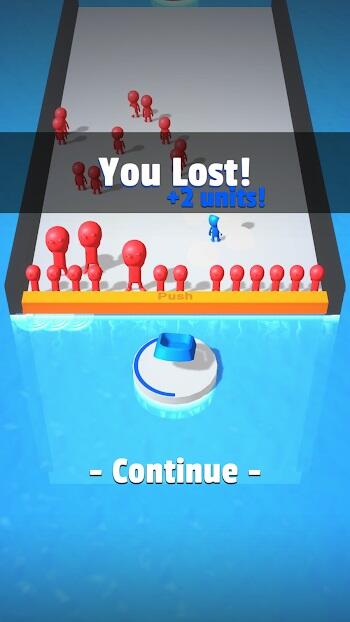 Incredible Graphics – This game is a fun treat to the eyes. You'll enjoy a captivating 3D battle today where wits and luck come into play. Enjoy a highly engaging game right now!
Fun to Play – If you've always wanted to test your luck, skills and strategy, this is a good game to play. Enjoy pushing off the enemies!
Download Dice Push APK – Latest version
Roll the dice and push the enemies off the platform now in Dice Push! Try to conquer as many players as possible.