Defender 3 APK 2.7.2
Download Defender 3 APK – latest version – for Android to get a magical tower defense game where your mission is to use the 4 elements to defeat monsters.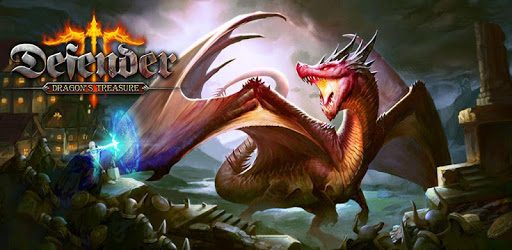 The hordes of monsters are coming to destroy your castle. Download Defender III APK for Android to unleash the power of the four elements and drive the hordes of monsters into the dust. Destroy them with epic magical powers and make use of more than 70 skills to defeat them.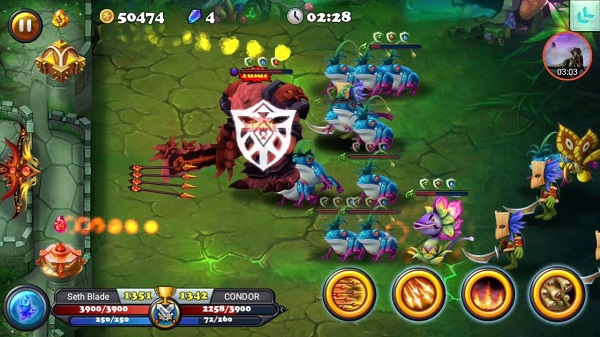 This is tower defense with a difference. The gameplay is more similar to Plants vs Zombie than to traditional tower defense games for mobile like Bloons TD 5. You'll have to stop the zombies from crossing the plains and destroying your castle, and you'll be able to use magical attacks to do it.
The graphics in the game are mesmerizing for a mobile experience and this certainly makes things more interesting. On top of that, the magical attacks that you can unleash make fighting the monsters extremely fun and addicting.
Unleash the elements
You'll have access to different magic attacks to support your default giant bow and arrow. Fire arrows at enemies as the approach and upgrade your castle defense to include additional supporting weapons. You'll have to clear more than 500 stages – including powerful boss fights that will test your skills to the limit.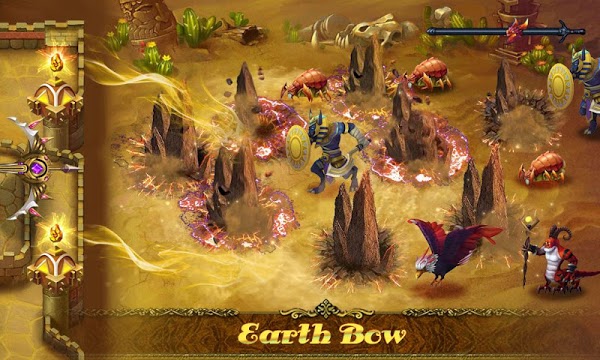 Earth, wind and fire
Attack the enemies with your arrows and then use powerful magic attacks when they begin to overwhelm you. You can use powerful wind blow attacks, drop massive rocks, unleash fire, and rain down lightning upon your enemies.
70+ skills
As the game progresses, you'll unlock more than 70 skills that will give you even more powerful magical attacks and allow you to deal out more damage with your primary castle defenses. You can purchase new skills with money that you earn from fighting your opponents and from taking as little castle damage as possible throughout the game.
Various stages
The stages go through awesome ancient Egyptian monsters, Greek demigods, horrors of the underworld, and much more. You'll fight in some great looking environments against enemies that are unique to each part of the story.
Tips for playing Defender 3 APK
If you're new to the Defender series, then here are some tips to help you along while playing it to ensure that you're getting off to a good start.
Upgrade your wind bow: This is the first bow that you get, so it's a good idea to upgrade it as soon as you can. Don't be put off into thinking that you should wait for a better bow to upgrade – it's best to upgrade as you go along in order to be able to face the increasingly well armored enemies you'll encounter.
Upgrade your arrows: The same arrows are used by all of the bows, which makes this a good place to start with your upgrades. Upgrading the arrow is a sound idea and it will increase the amount of damage that you can dish out against opponents.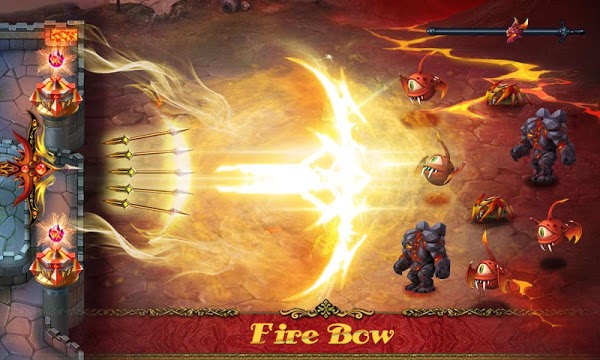 Upgrade your magic last: Magic is extremely important, but you can only use your magic attacks so many times in each stage, whereas you're depending on your bow and support axillaries most of the time. For this reason, you should upgrade your magic attacks after first upgrading your bow and the arrows that it shoots.
Defender 3 APK
Want to play the game with all the magic attacks right from the start?! Download the unlimited money APK for Defender 3 to do just that. It makes the game way more exciting! Enjoy!