DB Center APK v1.4.2
DB Center APK is an app created for deaf and blind people to do internet conferencing. It's packed with features which should make communication easier.
Download DB Center APK – Internet Conferencing
Having the ability to communicate through the internet has allowed many to thrive. With so many internet messaging apps available, we can now enjoy easy communication.
DB Center is a communication app designed for deaf and blind people to easily chat with each other. It lets you chat with attendees anonymously through text.
Aside from that, it's also a place where users can set meeting schedules, content and even find local restaurants. It's an app with all the materials you'll need when you attend the conference.
Feel free to download it now to know how it works for your benefit. We've crafted this guide for people who want to conference with everyone.
How Does DB Center Work?
A lot of apps are available now for people to use for communication. The internet has allowed many apps to flourish to allow people to be connected at all times.
The most popular messaging apps are Messenger, Telegram, QQ, WhatsApp and more. But DB Center offers an alternative for deaf and blind people. It was created entirely for the NFADB conference held in 2016.
It works quite differently from other messaging apps as only members can enter. Once a user is in the app, he can access different features like:
Schedule

Materials

DB Chat

Dining Options
The features are free, and they contain different content that can be useful for users. Using the app requires simple controls as users need to tap the buttons in the screen to use.
It's an app that has a simple user interface that kids and even the elderly can easily understand. Not to mention, it was created for deaf and blind people so it's accessible by all.
What are the Features of DB Center?
Are you worries about what you can get with DB Center? Here are its fascinating features.
Schedule Meetings – Scheduling meetings can be a hassle if done manually. But with DB Center, it can be done digitally and with many users to access it. Groups can see the meetings and set their own as well. This is a useful feature for people especially those part of a conference.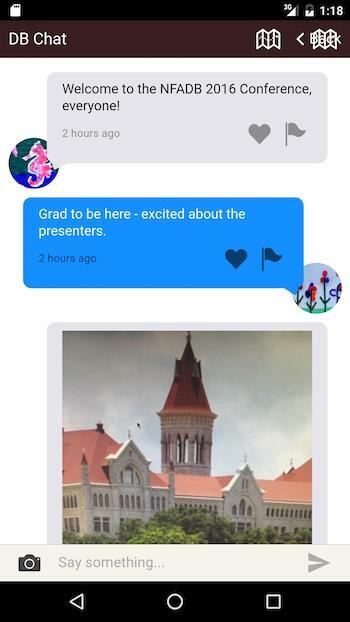 Access Materials – DB Center also has in store plenty of materials for users to access. It's an app that's filled with many study materials about the conference ready to be used.
DB Chat – DB Center allows users to chat with others anonymously. Now, you can learn more about the subject at hand and even make friends if you want. The app slightly works like a messaging app that connects users of all ages.
Dining Options – There's also a feature that shows the best dining restaurants available around. This is so participants don't need to search the map or to ask around for places to eat. It's a neat feature that's best for people who want to eat after the conference.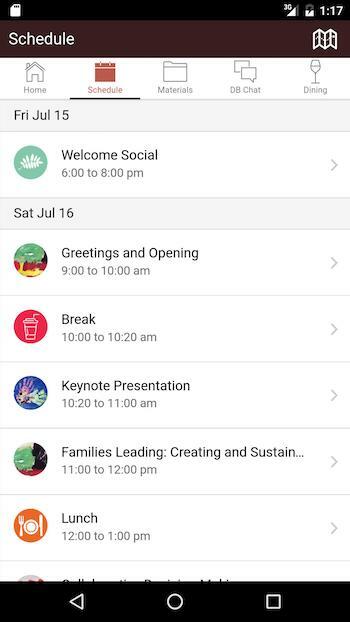 Simple to Operate - DB Center is simple to operate and it doesn't need any special controls. It's touch operative and every button is large enough for everyone to see. People with disabilities can even access it easily for the conference.
Download DB Center APK – latest version
DB Center is a free app that's designed for the conference of NFADB. It's free and it has man of the features you need.