Cyber Surfer APK 5.1.7
Do you love surfing & skateboarding? If yes, download Cyber Surfer APK latest version. It adds a smashing element to the gameplay, making it an absolute banger!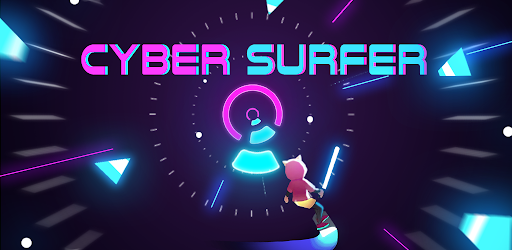 Everything You Need to Know about Cyber Surfer APK Android
Cyber Surfer APK is a rhythm-action game offered by Badsnowball Limited. It challenges you to complete various skateboarding and surfing objectives while listening to your favorite soundtrack.
Its brightly-colored backgrounds and cool graphics give the game an awesome look. The best part is that it is available for free on Google Play Store.
However, it offers in-app purchases that can help you to progress faster in the game. You can use them to unlock new skins and improve your speed significantly.
Highly Mesmeric Gameplay
The gameplay of Cyber Surfer APK is pretty simple. You need to control your character with the help of on-screen buttons and make him skate or surf through a never-ending path.
You will encounter different obstacles in the form of gaps, barricades, and other things. You need to pass them by timing your moves perfectly.
Additionally, you must smash rings colored just like you. For example, if you are in red skin, you must hit all red rings to score points.
The catch is that these rings keep on changing their colors! You must be focused enough to hit the right ring.
The game gets pretty challenging as you progress further. You need to be very precise while making your moves.
Lots of Tunes to Keep You Entertained!
Cyber Surfer APK boasts an impressive soundtrack that will keep you hooked to the game for hours. It includes different genres of music such as EDM, Hip-Hop, Dubstep, Rap, Pop, Rock, JPOP, and KPOP.
Even better, you can use songs saved on your device. This option ensures you only listen to the tunes you love while playing the game. The sound effects are also pretty good and add to the overall gaming experience.
How to Play Cyber Surfer APK
This game is simple and has easy-to-understand gameplay. However, we have mentioned some tips & tricks that can help you to play it like a pro:
Start With the Tutorials.

It is always better to start with the tutorials. They will introduce you to the controls and other aspects of the game. You must complete them before starting the actual gameplay.

Focus on the Rings.

As we have mentioned above, you need to hit colored rings to score points. You must focus on them and try to hit as many as possible.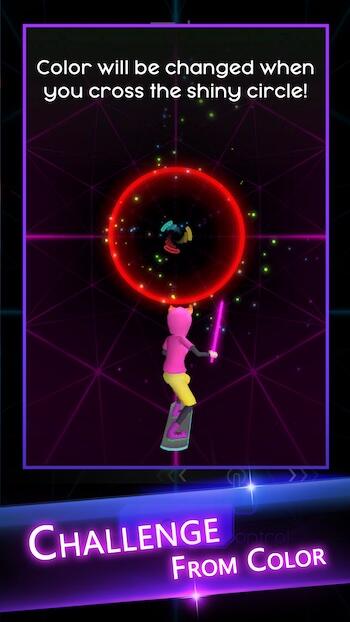 Use Power-Ups Wisely.

There are various power-ups available in the game that can help you to progress faster. However, you must use them wisely. Only use them when they will yield maximum intended results.

Smash Everything.

You need to smash every object that comes in your way. It will help you to score points and progress further in the game.
Even better, controlling your character will be a breeze. You can use your finger to move it in any desired direction. Side-to-side swiping will help you to change the lanes while tapping the screen will help you accelerate. You need to time your moves perfectly to progress further in the game.
Special Features of Cyber Surfer APK Download
Cyberpunk Music Game!

This game takes you into utopia with an amazing mix of cyberpunk sub-genres. The game features a unique soundtrack with songs from various artists. It keeps you hooked to the game for hours.

Lots of Songs to Apply.

The app lets you choose from a rich library of local and international songs. You can also use your ideal independent music.

Lots of Skins to Unlock.

Skins determine the look and feel of the game. Changing skins is a sure way of personalizing your gaming experience. The app offers a wide range of skins to choose from. You can also unlock them by completing certain tasks.

Lots of Trendy Skateboards.

This game offers many skateboards, allowing you to change them as you progress further in the game. Each skateboard has unique stats that can impact your gameplay.

Change Weapons & Equipment.

If you want to improve your score, you should change your weapons and equipment. The app offers a wide range of options to choose from. You can also upgrade them to make things easier for you.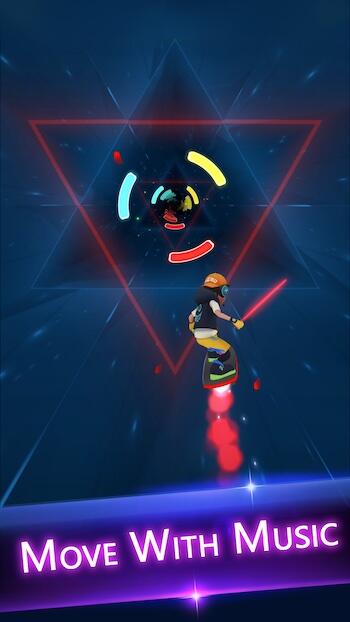 Realistic Game Mechanics.

Smashing those blocks give the game a realistic feel. The controls are also quite precise, making the game more addictive. You will enjoy seeing your high score go up with each successful game.

Colorful Graphics.

This game features bright colors and a clear interface. The visuals are quite pleasing and do not strain your eyes.

User-Friendly Interface.

The homepage is well-categorized with sections such as Main, Hot Songs, and Hot. You will just choose what you want and start playing the game. The settings are also quite straightforward, letting you change things such as language and resolution with ease.

Super Immersive Sound Systems.

The game features a top-notch sound system that makes it more hypnotic. The music feels authentic, letting you enjoy the game to the fullest.
Unlock VIP Features
If you want to enjoy more features, you can upgrade to the VIP version. It gives you access to 200+ more songs, skins, and skateboards. You also get to use power-ups and free revives, ensuring you have non-stop gameplay.
It removes all ads from the game, allowing you to focus on your game and score higher points. It is the surest way of enjoying an uninterrupted gaming experience.
Cyber Surfer APK
To enjoy this game optimally, you must use in-app purchases ($1.99 to $24.99). If you do not want to spend real money on the game, you can use our Cyber Surfer APK free download version.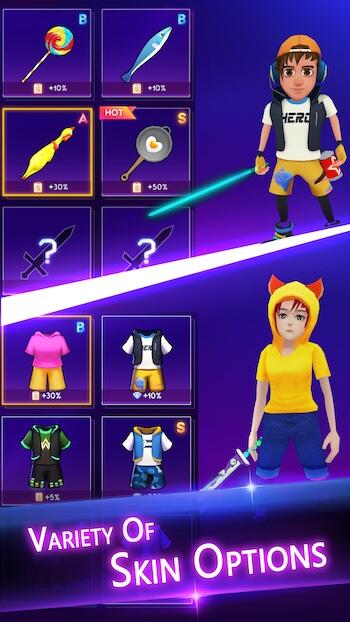 It gives you unlimited coins that you can use to buy anything you want in the game. It also removes ads, giving you a better gaming experience.
Overall, the version will offer a better gaming experience as compared to the regular version. Download it now and start enjoying the game!
Conclusion
Cyber Surfer combines surfing and music to give you an incredible gaming experience. It is the perfect game for those who love skating and rhythm games. The version will give you an even better experience, so be sure to download it now!