Cambodia VPN APK 1.1
Sometimes, we can't access a website or a server due to strict protocols. Thankfully, Cambodia VPN is able to give you full unrestricted controls now!
| | |
| --- | --- |
| Name | Cambodia VPN |
| Updated | |
| Compatible with | Android 5.0+ |
| Last version | 1.1 |
| Size | 12 MB |
| Category | Tools |
| Developer | BurningApps |
| Price | Free |
There are billions of websites available right now. From the most popular ones such as Facebook, Google, YouTube to your school's website – we access them all through the internet. But what would you do if you're not allowed access to any of these sites? You use a VPN service such as Cambodia VPN of course!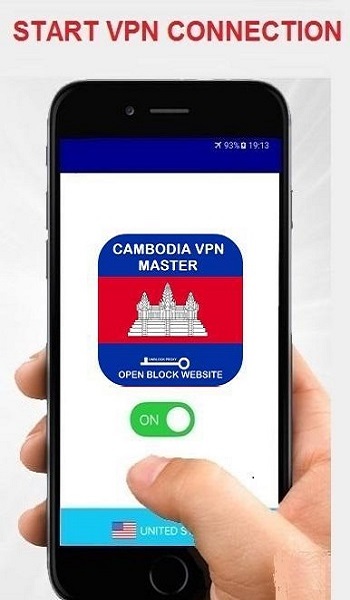 This app is only one of the many apps people use to bypass any secure website or server. It also lets you browse in peace as your IP address and other strict files will be secured while browsing. Plus, it has a free speed test service, WiFi security, no traffic limit, compatibility with all networks, supports torrent, and more. For the ultimate privacy and security, this app is all that you need!
Bypass Anything, Secure Everything
Picture this, you're at school and you're trying to pass the time by trying to watch your favorite YouTuber's newest upload. But as you search for YouTube, it says that it's blocked by the school. What will you do at this situation? Or, you're browsing at home and you're trying to enter a website but it's not available in your country. What can you do?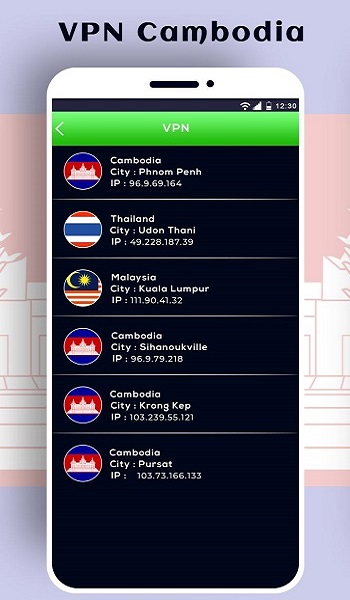 In these cases, the best thing to do is to not lose hope and use a VPN service! Virtual Private Network or VPN apps allow you to bypass almost any server or website there is. Cambodia VPN does this by letting you use anonymous servers hosted from different countries such as Colombia, Indonesia, Japan, South Korea, Switzerland, United States, Thailand, Russia, Taiwan, Vietnam, Peru and many more. Aside from that, it protects your important files as it doesn't let anyone get your IP address and important details. This way, you can browse with confidence even when you're downloading torrents.
What Can You Do with Cambodia VPN?
We use the internet almost every day. Because of this, we leave our precious privacy vulnerable to attackers! To get rid of any risks, you should use Cambodia VPN.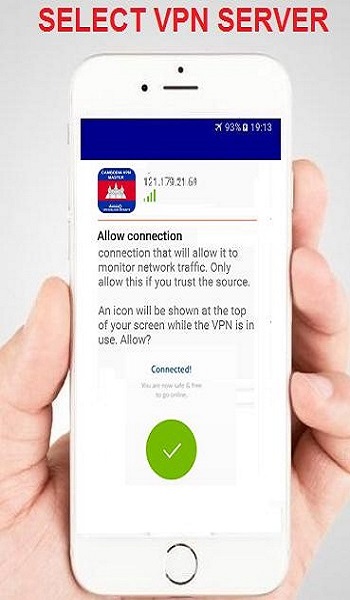 Bypass any firewalls, lockdowns and websites – Whether you're at school, work or at the hospital, we tend to use the internet for personal and work-related things. We're so dependent on it now that it's hard to deal with restrictions when we encounter them. But restrictions and lockdowns are common in workplaces and schools to prevent people from abusing their use of the internet. But for some, this is just a huge inconvenience. Thankfully, you now have an app like Cambodia VPN that allows you to bypass any lockdowns and firewalls. Even the most secured firewall isn't a match for this app!
Free Speed test service – Not all internet service providers provide the same internet speed. It all depends on the location and the company. Thanks to Cambodia VPN, you can now check your internet speed easily in the app. With just a few taps, you'll be able to determine if your internet speed can handle multiple torrents easily or not. Plus, you can check if your ISP is really providing the advertised internet speed or not.
Multi-countries servers – If you need specific servers, you can freely do so in Cambodia VPN. Here, you can access their secure servers in Peru, Poland, Taiwan, Thailand, Vietnam, Venezuela, United States, Malaysia, Colombia and many more. This means that you can virtually access any site that allows a certain region only!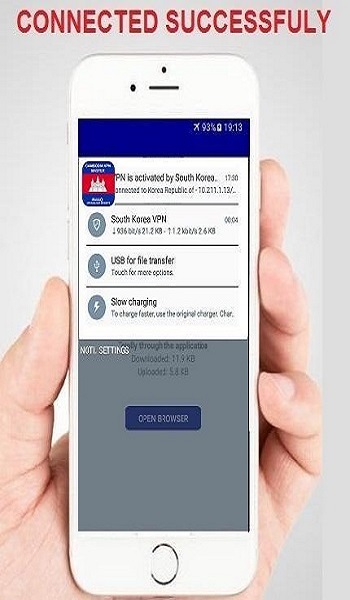 No bandwidth limit – Cambodia VPN also doesn't have any traffic limit. Whether you use it to browse for 5 minutes or the whole day – it won't stop working ever. This is great for people who are always on the go and looking for the best protection and service. This is because some paid VPN apps actually have a bandwidth limit.
Protect your privacy – While using the app, you can be assured that all your personal data will be safe. That's because this app lets you use anonymous IP addresses while browsing. This way, scammers and hackers won't be able to access your data at all.
Free and fast service – The app also has a fast service and it's free! What more can you ask for a VPN app?
Cambodia VPN For Android
Cambodia VPN is a fast and secure VPN app that lets you bypass any firewall and website. Download the latest version and browse happily!