Speedtest Pro APK 4.8.4
Download Speedtest APK Free for Android if you want to test your internet connection speed! Easily see the results now with this app!
We use the internet extensively nowadays. For some, it may be for school for others work, and for the rest for leisure. But whatever it is, we can't deny that the internet has given us so many things that we are using today. Because of this, the need for a stable and fast internet connection has never been obvious.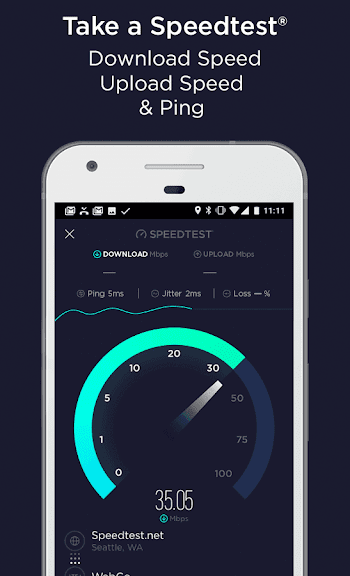 But how can you know if your internet connection is fast? Speedtest Pro is the solution! This is product by Ookla which has over a hundred million installs in Google Play Store alone! In here, you can instantly see the speed of your internet service using the app. Choose from a variety of servers worldwide to deliver you pin-point accuracy results!
Test Your Speed
The internet is filled with websites that we use every day. Because of the sheer amount of data in here, it's important that we have a fast internet connection to be able to load those data. If not, we may not be able to connect, load or talk to our loved ones abroad! A fast internet connection is also imperative for online gamers where every second counts.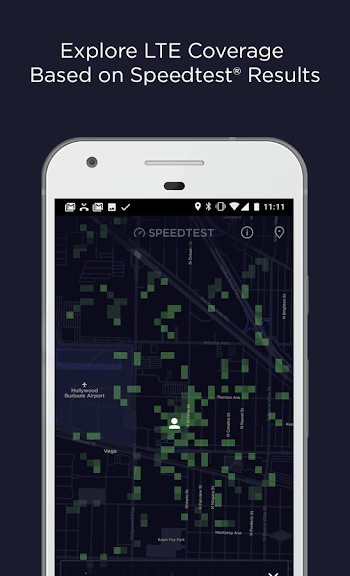 Before, we don't have a way to measure our internet connection speed. But thanks to Speedtest Pro, we now do! This app is capable of measuring your internet connection's download speed, upload speed and ping with just one click! In just a few seconds, you can already see if your internet connection is up to par with your internet needs. Aside from that, you can access a secure VPN, coverage maps, select servers, share your results, troubleshoot and many more!
Features of Speedtest Pro
Speedtest Pro is a reliable app that allows you to instantly measure your internet's speed! Get accurate data now! Here are its features:
Download speed, Upload Speed and Ping – The internet has brought us so many things that we can no longer imagine a life without it. Because of this, there are many internet providers all around the world promising us to bring the desired internet speeds that we need. But can we trust their word for it? Is there a way to test if this is really true? Thankfully, Speedtest Pro is now here! In this app, you can reliably measure your internet's download speed, upload speed and ping! This way, you can immediately see if your internet provider is telling the truth or not. Or you can troubleshoot your internet connection if there are problems.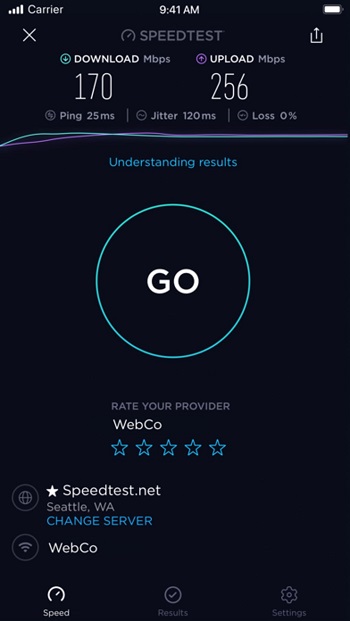 Free VPN – Aside from measuring your internet's speed, this app is capable of so much more! It also offers a free VPN service which allows you to browse websites safely! Now, you'll be more secured against hackers trying to steal your important files such as passwords, media, emails, messages and many more! You don't need to use a third-party app to avail of such a service when it's already available in here.
Tons of servers worldwide – This app is super popular because it provides accurate data from wherever you are in the world! This is because it features over 8,000 servers that are scattered around the world! You can choose which one's the closest to you so you can have accurate results. This makes this app the number internet speed test app ever!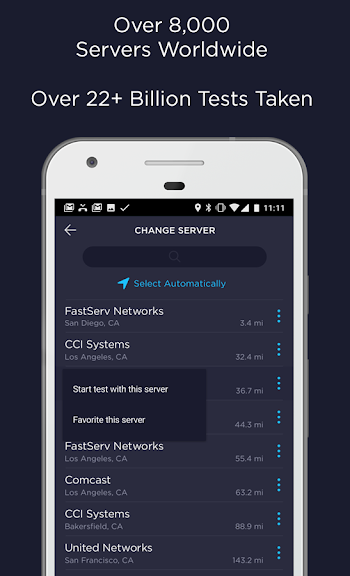 Share results – Proud of your ultra-fast internet connection? Or disappointed with it? Whatever it is, you can easily share your results to social media sites! Speedtest Pro makes it easy with just a tap of a button!
Track past tests – In here, you can also access your past tests to see some historical data when you need it.
Speedtest Pro APK
Speedtest Pro is the most popular and most reliable internet speed test app today! Download the latest version and see for yourself!