1.1.1.1 VPN APK 6.31
Download 1.1.1.1 VPN APK and enhance your internet's speed and safety. This app guarantees that nobody will gain unauthorized access to your information online.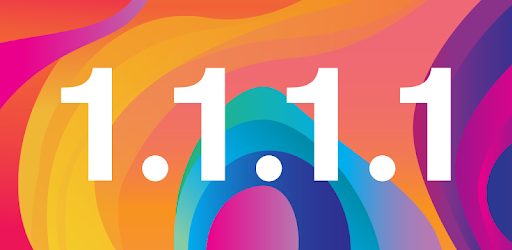 This is a unique app that was developed to enhance users' security when browsing from different sites online. It guarantees privacy and protection of personally identifiable information.
The introduction of this app into the internet space is a breath of fresh air. With the rise of cybercrime, internet uses have, for a long time, been subjected to risks that may compromise their privacy.
While various regions have instated data security laws, cybercriminals are devising new attacking methods each day. As such, you should download 1.1.1.1 VPN for Android and secure your data as you explore online sites.
What is 1.1.1.1 VPN and How Does It Work?
This is a free Domain Name System (DNS) service available in various reliable download sites including Google Play Store and Apple Play Store. Its servers are owned by Cloudflare and APNIC.
The 1.1.1.1 VPN tool provides fast and highly secure internet access to its users. In November 2018, Cloudflare introduced the 1.1.1.1 VPN mobile application for both Android and iOS operating systems.
On September 25, 2019, Cloudflare further enhanced the functionality of the APK by incorporating a feature called WARP. This improvement ensured that the app becomes the fastest recursive DNS resolver in the world!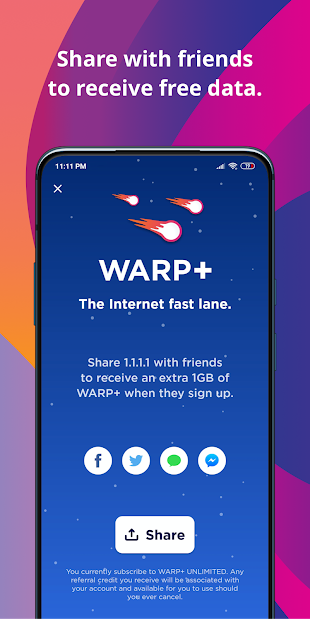 WARP comes into two different forms for customers. They include:
1.1.1 WARP.This version allows all its users to encrypt their mobile data/traffic, thus limiting access to information shared to specific individuals. This service is largely free with a few optional in-app purchases.
1.1.1 WARP+.This is the paid version of the service. Cloudflare integrates its exceptional Agro Smart Routing approach to direct the users' traffic through an internet fast-lane. As such, everyone using this version will get a more than 30% decrease in loading time. This makes browsing fast and secure!
Unique Features of 1.1.1.1 VPN with WARP
An Easy Way to Connect.The 1.1.1.1 VPN w/WARP integrates a modern protocol that's highly optimized for speed and efficiency.
Guaranteed Privacy.This tool has a powerful encryption feature that prevents anyone from phishing your data or accessing any unauthorized information. All the information leaving your mobile devices will be secured.
Enhanced Security. 1.1.1 w/WARP protect your data from cybercriminals. As such, you can be confident that your data will be secure against malware, crypto mining, phishing, and other dangerous cybercrime activities.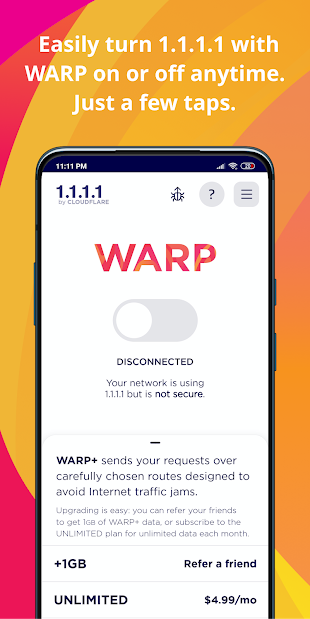 Easy to Use and Apply.This application has a straightforward user interface. Immediately after the installation process, you'll activate the data security settings with simple one-touch setup exercises.
Quick Internet Browsing. This app uses unique paths that guarantee more than 30% improvement in site loading time. This way, you can be sure that you'll browse lots of information within a short period.
If you need to switch to the premium WARP+, you'll be required to subscribe and pay monthly charges.
Conclusion
There is nothing that can beat the joy that comes with fast browsing with guaranteed privacy/security! It gives you an assurance that gives way to incredible freedom to explore various sites online.
If you've always wanted fast internet and security all as one package, then 1.1.1.1 VPN w/WARP will fulfil all your desires. Installing this tool is simple and straightforward!
Even better, it has simple setup procedures that only require a few of your minutes. Yes, you need just a few seconds to boost your browsing security and safety to phenomenal levels!