Bus Simulator 2023 APK 1.8.14
Click on the Bus Simulator 2023 APK Download button and experience a real-life bus driver simulation with a diverse range of buses and realistic locations.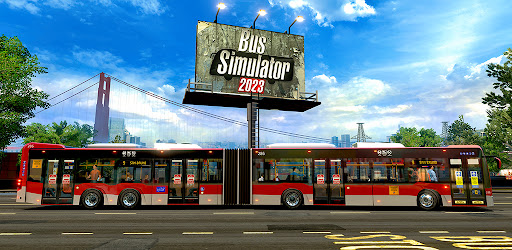 Get to Know About Bus Simulator 2022 APK
Bus Simulator 2022 APK is a free-to-play real-time simulation game that allows you to drive a bus realistically. The dev team at Ovidiu Pop has made every effort to keep the game as realistic as possible, and it shows in its gameplay quality.
The game places you behind the wheel of an amazing bus that functions like a real one because of the game's realistic 3D graphics. You'll be experiencing life as a bus driver by sticking to justified travel routes, staying below the posted speed limits, and much more!
The latest released title in the Ovidiu Pop's simulator franchise, Bus Simulator 2022 APK, lets you drive buses in multiple realistic locations with scenic views and delicate details. It means that at one time, you're driving your favourite bus in the streets of Los Angeles and navigating the slopes of Boston at the other.
Tap on the Bus Simulator 2022 APK download button and take on the role of a bus transport company head. So, you won't just be driving the buses; you'll also be purchasing new ones as per your taste and customising them for your needs.
Your main goal is to unlock all the routes in the career mode and scale up your business to the next level. It offers nine locations with multiple courses, which you can unlock by completing the initial routes.
The entire company's fate and passenger satisfaction levels rely on your driving skills. So, fasten your seat belts and renew your licenses, as you're about to be submerged in the best bus simulation experience possible!
Overview For Bus Simulator 2022 APK Gameplay
Bus Simulator 2022 APK for Android has given its audience a hybrid-style experience that simultaneously features an exciting and relaxing environment. We've documented a detailed overview of Bus Simulator 2022 APK latest version for your ease.
Join the game and build your bus transporting company from scratch. Hire experienced drivers, manage profits, upgrade your buses per your requirements, and drive them to unlock newer routes in a realistic 3D environment!
When joining the game for the first time, players must fill out their names and relevant information to create their own bus company.
There are three modes named Career, Free-Ride, and Multiplayer for players, with the fourth one called "Challenges" under development.
Each mode has a charm and vibe that matches different play styles.
Multiplayer mode allows players to connect with friends and play in co-op bus routes with live chat interaction.
The main one is the career mode which features beautiful locations for players to have the best bus-simulation experience possible.
There's no Bus Simulator 2022 APK concept. Instead, the game works on simple yet fascinating coins and credits model.
Credits are a regular currency that can be earned by completing routes and used to purchase new buses, accessories, and more!
Coins can be purchased via bank transfer and used as an alternate currency option to buy in-game stuff.
The game has a diversified range of vehicles. Collecting enough credits allows you to experience driving your favourite buses, including diesel, electric, or hybrid articulated buses.
The game offers four driving modes: Tilt, Buttons, Steering Wheel, and Manual Transmission. Each game mode has different functionalities and matches different user playstyles.
Your performance in each route will determine the number of credits you'll receive at the end. So, always be on the lookout, as breaking any road laws will lose you money!
Noticeable Features in Bus Simulator 2022 APK For Android
Bus Simulator 2022 APK has exceptional visual quality, as the whole game is based on enhancing the player's visual experience. Also, the game's technical aspect and mechanics performance are off the charts!
Real-Time Physics
Ovidiu Pop has ensured it won't lack in the technical aspect of the game for its beloved audience. That's why, besides breathtaking visuals, Bus Simulator 2022 APK features real-time physics, making the game more interesting than any of its competitors.
Variety
Unlike other bus-simulation game names, Bus Simulator 2022 APK for Android offers its players a wide range of vehicles to choose from. Also, there's a large variety of additional accessories and bus parts, so the players will never get bored of their beloved buses.
Realisticity
Bus Simulator 2022 APK have detailed graphics gameplay. The random NPCs roaming the street and realistic vehicles on the road raise your simulation experience.
Tips and Tricks For Bus Simulator 2022 APK Latest Version
Bus Simulator 2022 APK has a unique progression system where you manage your own bus transport company. You must quickly purchase the expensive buses to retain your interest in the game.
We've gathered a handful of tips and tricks that'll help you start on the right foot.
Spend the Starting Cash Wisely
Players are given 10,000 credits when they initially join the game. It only makes sense to spend them quickly to get a better bus.
Another interesting approach is that you can save these credits and complete the starting routes by the plain-lvl1 bus. That way, you'll have enough cash in less time to buy a great bus with the proper handling and vibe.
Start All the Locations Simultaneously
The initial routes of each of the nine locations are more accessible than the higher route levels. So, you can make a quick buck while playing the primary levels if you start all the location routes simultaneously.
Don't Put All Your Tickets In One Basket
You'll purchase a variety of buses in the future. So, it'll be wise to save money and not spend it all on upgrading a single low-tier bus.
Let's Wrap Up
Bus Simulator 2022 APK has quickly won the hearts of real-time simulation game fans with its unmatched quality attributes. The newly-released game has already amassed over 100 thousand downloads!
If you've come this far, we're confident you have everything you need regarding Bus Simulator 2022 APK latest version. So, what're you waiting for? Hop in the driving seat and start experiencing real-life bus simulation with top-notch graphics and gameplay quality!