Bullet Echo APK 5.7.4
Download Bullet Echo APK – Unlimited everything – Free for Android experience a shooting game that will test your limits! Can you survive in this Battle Royale team shooter?
There are tons of shooting games in the mobile gaming world. So much so that you can't play them all even if you spend the whole day trying to. But the problem is that not all of them were created equally. This means that some shooter games are not worth your time. But what shooter games are worthy of your attention?
Bullet Echo is an action shooter game with over 100 thousand downloads in Google Play Store. This shooter game isn't the same with other games that you see today. The main difference is that the view is nested on the top. This means that you have 360 vision but you can't see as far as your circle. If you want to know more about this game, read on!
What is Bullet Echo?
When you've thought you know all the action shooting games out there, Bullet Echo proves you wrong! This shooter game has over 100 thousand downloads in Google Play Store as of this writing. It has every element that makes a successful and popular shooting game you don't want to miss.
In Bullet Echo, you can select a hero from dozens of unique ones each with their own capabilities. In this unique multiplayer shooting game, you can play with your friends online anywhere they are in the world. This makes it such an exciting game as there are unlimited ways to have fun. There are also tons of weapons you can use in this game such as shotguns, machine guns, pistols and SMGs.
In terms of graphics, the game stands out from the rest thanks to its 3D animation. The bullets, the action and the sheer enjoyment you'll get from playing this game is worth it!
Features of Bullet Echo
Bullet Echo may be a shooting game but it's not your typical one. It defies everything you know about shooting games but adds a flavor of personality. Here are its features:
Multiplayer – Almost all games nowadays are in multiplayer. Why? Because people love to play with their family and friends whenever possible. Bullet Echo is designed for team play and it allows you to play with whoever you want! Wherever your allies are located in the world, they can play with you and bond together in this shooting game.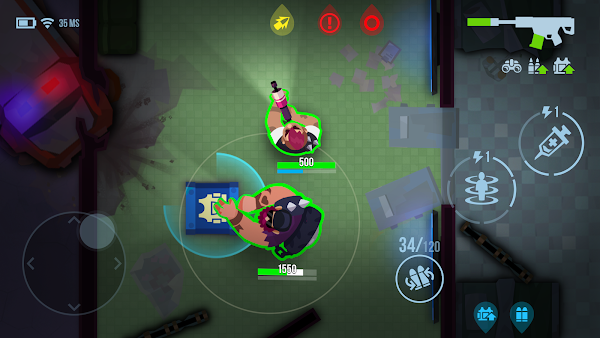 Game modes – Bullet Echo offers different game modes that will suit your needs. In this game, you can play in team vs. team, solo, and Battle Royale modes. Battle Royal seems to be the trend nowadays so it's not surprising that it has made its way to Bullet Echo. In this mode, there are 5 small teams on one map that will compete until one team remains. That's a challenging task that only the best can hope to achieve. Are you one of them?
Graphics – As said earlier, Bullet Echo features 3D animation but the view is on top instead of the usual front. This makes it unique for most gamers and will present some unknown challenges. Can you survive in this type of game?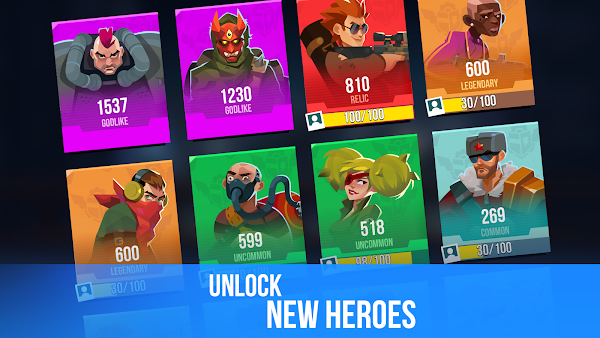 Controls – The controls are fairly easy compared to most shooting games today. In Bullet Echo, your gun will automatically fire the moment it sees an enemy. You only need to move your character using the virtual pad on the left. Then the other buttons are on the right such as the reload and first-aid.
Download Bullet Echo APK
Bullet Echo offers unique gameplay that not many shooting games have nowadays. If you want to instantly be the best, download the unlimited money now.