Bud Farm Idle Tycoon APK 1.16.0
Are you a weed user? Would you love to make money legally from weeds? Download Bud Farm: Idle Tycoon now and experience a different business!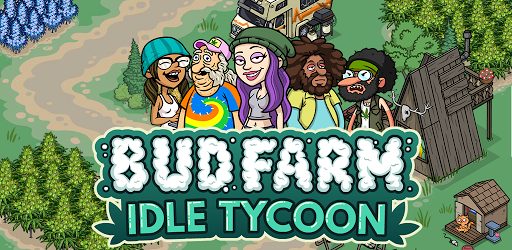 Weeds are legal in some countries but not in a lot of countries. So, this begs the question, can I still make money off weed legally? In the game Bud Farm Idle Tycoon, you certainly can! Here, you can farm different types of weeds and sell them to a lot of people to make lots of money. It's the ultimate business for people who've always wanted to venture into the weed industry.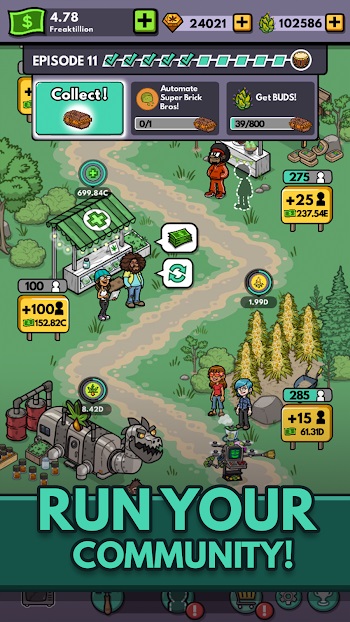 Published by LDRLY Games, this weed simulation game takes weeds seriously. Here, you're able to plant weeds in your backyard so you can make money off of it. There's a high demand for weed in the game and you can run your own community! Enjoy the story, different types of weeds and unlock different characters as well. There are also some limited time events, and you can upgrade your weed business!
Own a Weed Farm
The topic of weed has been a serious discussion over the past decades. There have been countless people who've tried to make weed legal in all countries but the majority still doesn't accept it. In the U.S alone, the states are divided in their opinions about it and some states legalized the use of cannabis while some still don't. But if you want to own a weed business legally, you can do so in Bud Farm Idle Tycoon!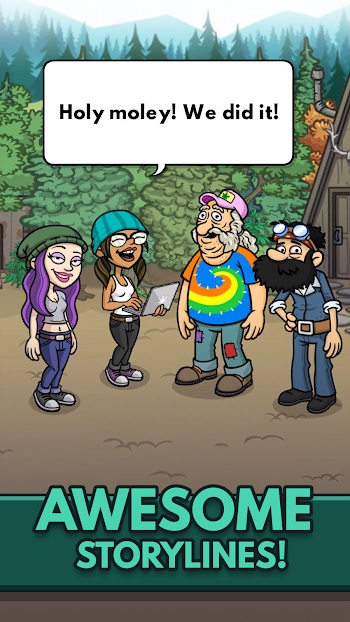 This game allows anyone to instantly became a weed farm owner and start making idle profits. You can plant different types of weeds, characters and more. First, you can sell weed from a small group of people and as you expand, you'll gradually attract more customers. Ultimately, you can create an empire with different people working for you and different types of weeds available! With such interesting graphics and weed-inspired character designs, the game is a lot of fun!
Try to take your business to new heights by upgrading your lots and hiring new characters. Chill out and make some money now!
Features of Bud Farm Idle Tycoon
If you've always wanted to see what it's like to own a weed farm, you've come to the right place! In Bud Farm Idle Tycoon, you can sell weed as you like!
Build a weed farm – In the real world, there aren't a lot of weed farms available as weed is still not legal in most countries. But even so, you may have dreamt of owning one and chilling your way through life, right? If so, then Bud Farm Idle Tycoon is the perfect game for you! Invest in weeds and become a millionaire as you work with different weeds. In this game, you'll enjoy the storyline as well as the different types of weeds available if you love weeds
Here, you'll start with the classic OG Kush which you can sell to a few customers. As you get more money, you can re-invest your earnings to buy more land and unlock more weed businesses. Enjoy a chill life as you earn idle profits out of weed!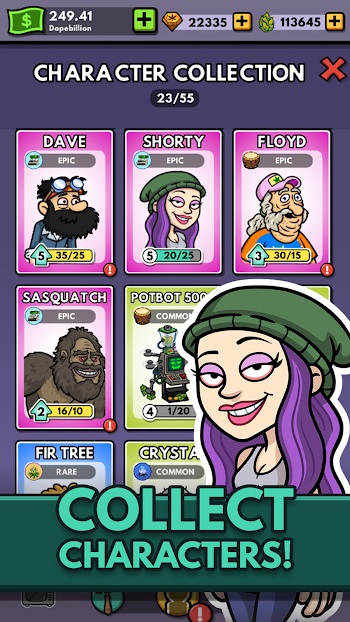 Plant different types of weeds – In this game, you can plant weeds and earn money from selling it. The greater the weed, the higher the profit you can get! But you first need to build a solid foundation into your business if you want it to boom. You can plant different types of weeds here such as Marijuana, White Widow, NYC Diesel and many more. Enjoy the variety of businesses you can own and live the best life you could ever imagine.
Unlock unique characters – In this game, you and a group of crackpot friends try to start a weed business. But as you grow, you'll need to hire more people to manage your business! There are tons of characters to unlock in this game and they're not just limited by some people. Here, you can unlock Dave, Shorty, Floyd, Sasquatch, Potbot 5000, Fir Tree, Crystal and many more. Each character belongs to a rarity such as common, rare and epic.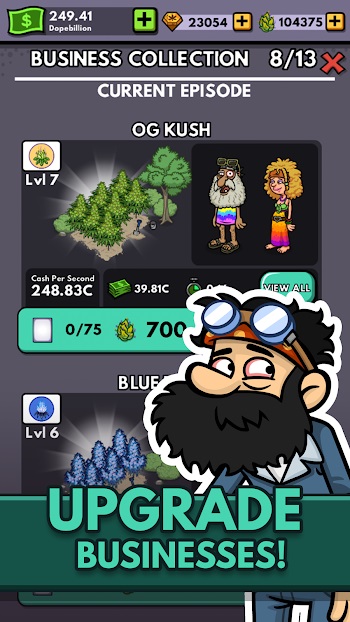 The rarer the character, the more value they bring into the company! But the best thing about this game is the storyline where you will need to keep off the ranger!
Upgrade and earn more money – In Bud Farm Idle Tycoon, there's levels to every weed farm. You can reach new levels as you grow them and get more customers. You'll also need to assign some farmers who will take care of them and your profits!
Cool-looking graphics – In this game, the characters all have red in their eyes which is a great touch! Enjoy the realistic illustrations of weeds.
Bud Farm Idle Tycoon APK
Do you want to have fun while earning money? Download Bud Farm Idle Tycoon and start a weed farm now!