Brain Go 2 APK 1.3.6.0
Do you love playing interesting puzzle games? In Brain Go 2, you'll enjoy a fun game where you'll need to be witty to solve the puzzles. This is a must-play!
We've all had to solve puzzles at school and at home ever since we were kids. The world if full of puzzles that we solve every day that we don't even realize. For people that like to use their brains a lot, puzzle games are an exercise for them. In Brain Go 2, you'll solve unique puzzle games that are fun and original. Instead of your usual boring puzzles, you'll solve fun riddles and puzzles today.
If you're someone who loves using their brains to solve complicated puzzles, now is the time to show your skills! In this game, you'll face unordinary puzzles that will require your common sense and quick thinking. That's because in this game, logic can be ignored just as long as you can solve the puzzle. You will enjoy a variety of them today such as finding who stole the ring, winning a game of scissors and more.
Solve Tricky Puzzles
When you want to test your IQ, we usually solve puzzles such as crosswords and play chess. There are also other ways to test our intelligence such as taking tests and even debating with other people. But sometimes, we don't want to take these things seriously but to just have fun. In these times, you should play Brain Go 2! This is a fun puzzle game that tricks you into thinking that the answers are easy.
This game is unlike any other puzzle game you've ever played before as it tests your common sense and intelligence. Here, you'll do a variety of things such as doing a surgery on fruits, searching people for weapons, and many more complex ones. Here, the answer may not be as obvious as you may think as you'll need to dig deeper. You will enjoy a variety of levels as the difficulty increase every time you complete one. This is a fun puzzle game to play as it's like having hundreds of games in one!
Here, you will find humor in most of these puzzles and enjoy the animation. You can also improve your knowledge, concentration, memory and many other areas of the brain.
Brain Go 2 Features
Lots of people today love solving various puzzles every day. It's one way to exercise the brain and keep it strong. But in Brain Go 2, you can test it to the limits!
Rack up your Brain – Puzzle games are a great way to test our knowledge and intelligence today. There are plenty of board games and fun games to play that have existed for years now. But since we now have smartphones, it only makes sense to play mobile games that have puzzles. In Brain Go 2, you can enjoy a different breed of puzzle game where you will solve complex ones. They're not hard but rather, tricky to the uninitiated.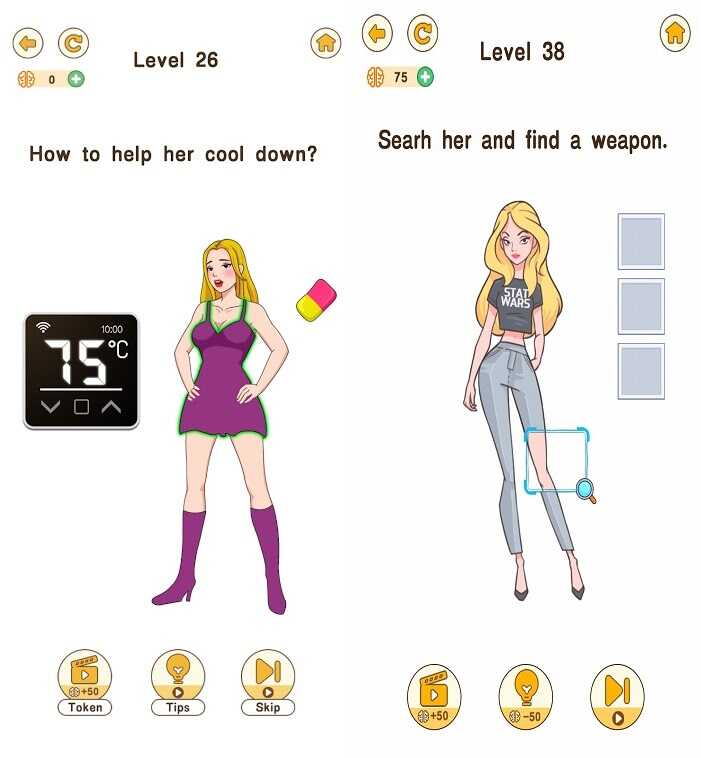 Here, you must let go of your biased thoughts and sometimes logic in order to solve the puzzles. In one level, the game might ask you to find the street performer among the two similar ones. You can solve the puzzle by enticing one of them with money and it will reply. Then, there are also a ton of other fun levels to play now that will test your intelligence to the max.
Solve Complex Puzzles – Have you ever tried solving a puzzle only to give up after a few minutes or hours? Today, you'll enjoy a challenging but humorous puzzle filled with different and complex ones. Here, you might be asked to find a picture in the blank screen. The answer is just to wipe it to see the picture. Aside from that, you may be asked to solve a variety of puzzles with varying degrees of difficulties.
You'll just need to use your common sense today as you can do anything in here! For instance, you can get rid of the bad guy by literally deleting him. Or, you can try opening the safe, by seeing the numbers on the background. The key is to keep an open mind as you solve these fun puzzles.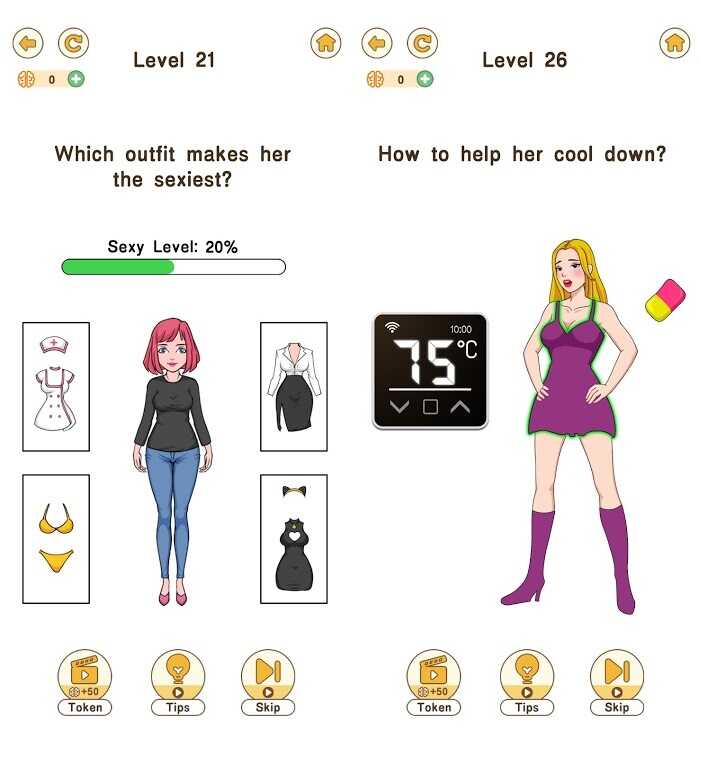 Various Levels – Here, there are a lot of levels that you can play. In each one, there's a different theme to it. At one level you may be asked to find a show that the couple will like and then there's another one where you'll need to learn how to fight the bullies. You see, there are a ton of different topics that will be covered in the game.
Interactive screen – In Brain Go 2, you can interact with the screen depending on the level. You may need to tap, swipe, or even shake the screen or turn it upside down!
Download Brain Go 2 APK – latest version
Enjoy solving a fun puzzle game today with Brain Go 2! This game contains a variety of unique ones.