Pet Rescue Saga APK 1.462.3
Download Pet Rescue Saga APK – latest version – for Android to get an epic and very addictive match-3 puzzle game that will give you hours of fun now.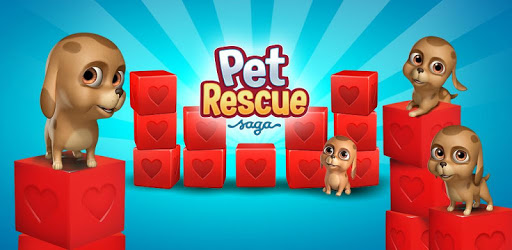 | | |
| --- | --- |
| Name | Pet Rescue Saga |
| Updated | |
| Compatible with | Android 4.0.3+ |
| Last version | 1.462.3 |
| Size | 141.21 Mb |
| Category | Casual |
| Developer | King |
| Price | Free |
| Google Play Link | com.king.petrescuesaga |
Match-3 puzzle games are some of the most addictive and fun games on mobile thanks to their incredibly simple mechanics and the great reward systems built into them. Pet Rescue Saga is a new kind of match-3 game which plays out more like a game of Konect4 than the other games in this category.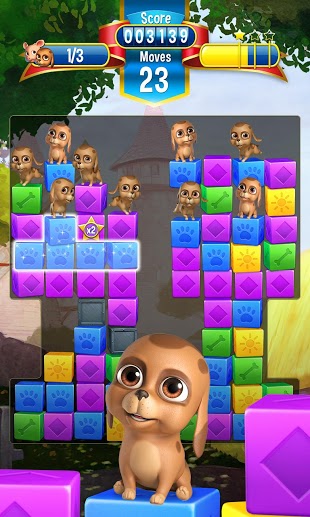 There are helpless animals trapped under some blocks and then more blocks fall from the ceiling to build up on top of them. Your job is to match the blocks as quickly as you can to stop them from stacking up. Ultimately, you want to remove all the blocks on top of the pet so that you can rescue it.
If you allow blocks to stack up, then it'll be much harder to rescue the animals and you'll risk losing the level altogether. If you're looking for a great and simple way to negate boredom, then this is it.
Tips for playing Pet Rescue Saga APK
As with any game, knowing a little bit about how to play it before you start will help you a lot. With Pet Rescue Saga apk, you'll want to learn a thing or two to make this seemingly simple game much easier – then you can smash every level with ease.
Plan ahead. Make sure that you're always considering where the blocks will land when you match a bunch together. The last thing that you want is for your pet to be stuck on top of a colored block that can't be matched with anything. So, try to plan ahead and focus on rescuing your pets instead of just matching things together to get a higher score. That high score won't mean much if you lose the level.
Use boosters. You can earn boosters to get rid of lots of blocks at once. Use these wisely and make sure that you're not just throwing them away on pointless rows. You want to use these to rescue pets. You only get so many moves in this game, so make sure that you're always focusing your efforts on rescuing pets and not on popping blocks.
Don't accept lives when you're maxed out. Your friends might choose to gift you with a life, but be careful – if you accept it when you already have full lives then you'll just waste it. It'll stay in your inbox until you open it, so save these for when you actually need lives.
Don't let your pets get snatched. If your pet gets too high up, it'll get scared and start shaking. This means that it's about to get snatched by pet thieves. If you let this happen, then you'll never be able to recover that pet and you've lost your perfect score. Make sure that you keep your pets as low as possible and try to get them all the way down to the floor to free them.
Use the computer if you're stuck. It seems to be the case that levels are easier to complete on the computer than on your phone. If you're stuck, then switch over to the Facebook version on desktop.
Pet Rescue Saga APK
This is such an awesome and addictive version of the game, download it now for free to get in on the fun and action. Good luck!