Bombitup APK 4.2
Do you want to play a harmless prank with your family and friends? Try BOMBitUP APK sms, call blast which lets you send hundreds of SMS to anyone at once!
| | |
| --- | --- |
| Name | Bombitup |
| Updated | |
| Compatible with | Android 4.0+ |
| Last version | 4.2 |
| Size | 12.0 MB |
| Category | Communication |
| Developer | RomRewiewer |
| Price | Free |
BOMBitUP APK – Send SMS Blasts
You're able to enjoy so many apps for your phone for free nowadays. If you're someone who always uses your phone, you can download all sorts of apps right now.
There are games, streaming apps, editing, and many others that we're able to enjoy now. Some apps let you play harmless pranks on your family and friends. If you're looking for a perfect one like that, try BOMBitUP, and you'll enjoy it today!
This app lets you enjoy a harmless prank where you can send hundreds and thousands of SMS at once to someone. You can freely input any number from any country worldwide and select the count and the delay of each message.
You can freely send any message today so you can have a fun time playing with others. This is the best prank you can pull off when you're not in close vicinity to your victims! They won't even know who did it to them!
Send Message Bombs
There have been plenty of apps that were published over the years that we can enjoy. We can download many of them now since they're mostly free from the Google Play Store. Plus, they have various functionalities and purposes that will fit well with whatever we want to do.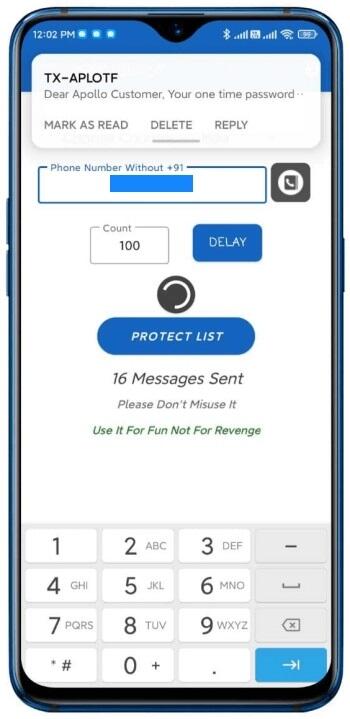 So, if you're looking for a harmless way to prank someone, there are endless ways to do it. You can download various pranks like the Whoopee Cushion, fake screen crack, fake call, or by using BOMBitUP! This is an app that will send tons of texts at once to a user.
With this app, you're able to send tons of texts that will freely bombard any user. You can choose the number as it supports any country worldwide like the Philippines, India, Pakistan, Nepal, UK, USA, and more.
Then, you can also select what you want to send so you can create a unique prank. The app will also ask you to type the number of SMS you want to send, whether a hundred or a thousand.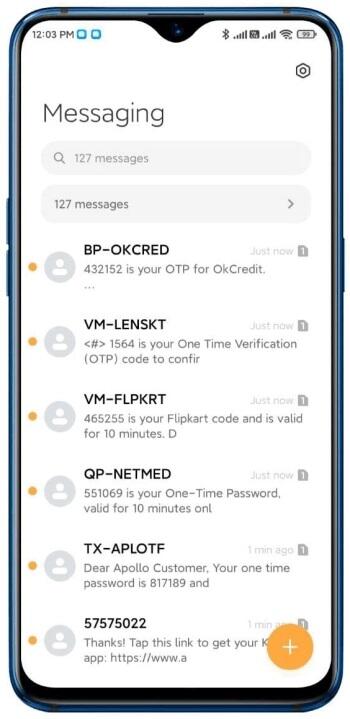 You can also add a delay to each SMS which will add insult to the wound.
BOMBitUP Features
If you want to have a good time with someone, try BOMBitUP and mess up their day without exposing yourself.
A harmless prank – There are numerous things you can enjoy right now when you have a smartphone. There are tons of apps available for you to download as they're accessible and enjoyable.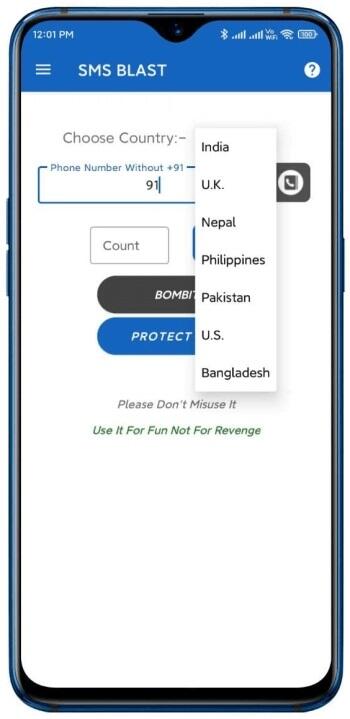 You don't even need to pay for most of them as they're mostly free. You can even have a fun time pranking your friends and family with some apps! BOMBitUP is one such app where it will send tons of messages to anyone regardless of their location.
This is the perfect app to use if you want to send tons of texts at once to your family and friends. Here, you can use the app anonymously to send messages, so you don't incriminate yourself.
The app works with any number, and you can use it for any country today. Feel free to select the number of SMS to send, the delay count, and the message. This is the perfect harmless prank to play if you want to have fun today! It's free, fast and enjoyable.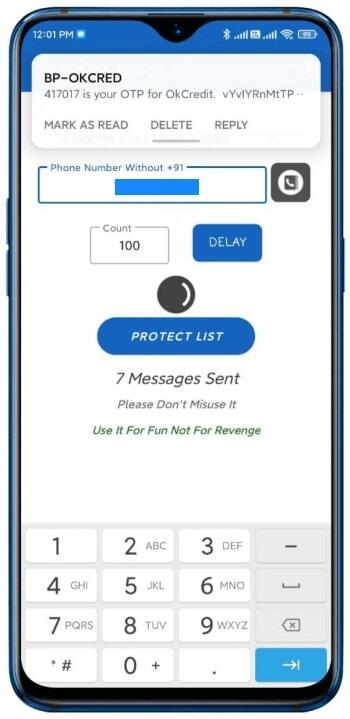 Works with any number – BOMBitUP works well with any number so that you can prank everyone. You can use it for various countries like Pakistan, India, Philippines, USA, UK, Canada, Nepal, and many others.
You'll need to input their number in the app and select the country for it to work. This is the perfect app to use today if you want to have fun with your friends and family.
Select the count, delay, and message – With BOMBitUP, you're able to select the number of SMS that you want to send. You can freely send anything from a hundred to even thousands if you wish. Just remember that with great power comes great responsibility!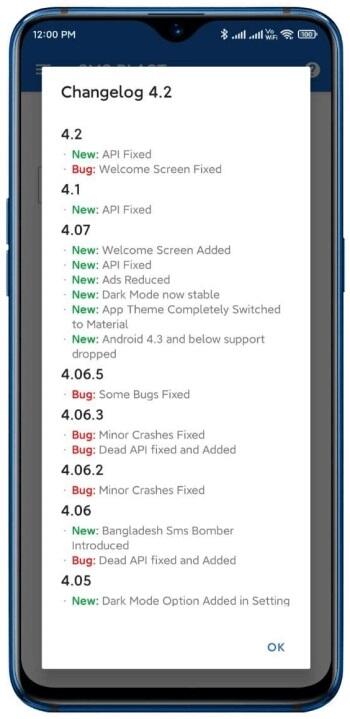 Plus, the app provides more flexibility as it allows you to adjust the delay of when each SMS will come. You can even customize the message that will be sent to the victim. You can make it as if they have won something or make it send a birthday greeting!
WhatsApp spammer – This app also lets you spam WhatsApp users for the ultimate prank. With this app, you're able to enjoy an enjoyable time today.
Download BOMBitUP APK Mod – Unlimited sms
If you want to have a harmless prank today, download BOMBitUP Mod APK unlimited sms, call blast online! Send tons of anonymous texts to your victims!