Bloons TD Battles APK 6.18.1
Download Bloons TD Battles APK – latest version – on Android to take control of the balloons and outgun your opponent in this epic tower defense game.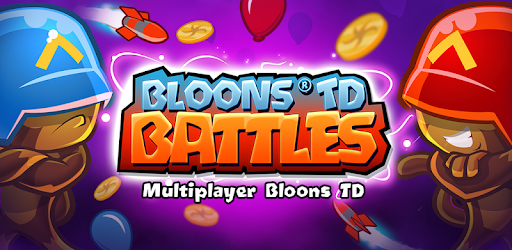 There's no doubt that you've heard of Bloons Tower Defense. The classic game began as an online flash game on PC, and later took off on mobile to massive success. There have since been close to a dozen games within the Bloons TD franchise.
Bloons TD Battles is the first time that players can directly control the balloons themselves. This is an entirely online game that puts you up against real players from around the world. One of you will control the defenses against the hordes of balloons – as is usual in the game – while the other player will control the attacking balloons.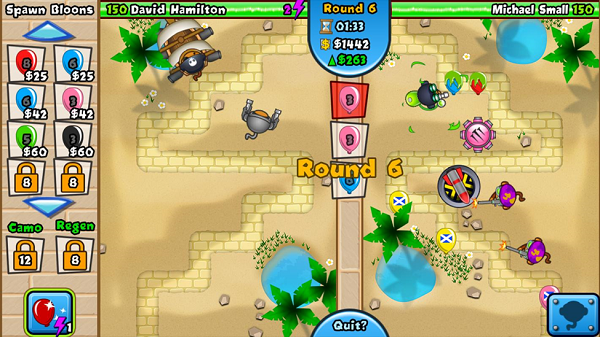 The attacking player will get to control which sort of balloons are used – for example, will you use the slow and heavy balloons? Or will you charge at your enemy all at once with a massive horde of fast-moving balloons to overwhelm them and conquer them in Soviet fashion?
New tactics
The new multiplayer element will challenge players in defense to build more robust fortifications to fight off the balloons. Never before has the game had so much depth. Now, you're not just going to be shooting at the hordes as they come – your opponent might decide to wait you out and slowly attack you in waves – or they might just launch a full blown offensive that you won't stand a chance of defeating.
Players on the offensive will have the option to choose from a variety of balloons to attack with. The defenders will have the option to use any of the 22 monkey towers – each of which has eight unique upgrades. That's a lot of towers to use and some of them even develop into full-blown military installations. It's like the dawn of the Planet of the Apes.
Of course, you won't be able to use all of these towers right away – some of them will need to be unlocked in later levels, while others will just cost too much money for you to be able to afford them in the early stages of the game.
As the game develops, you'll be able to use more creative and destructive towers to rain death upon your rubber opponents. Beat the air out of them with a stealth bomber, or blow them apart with plasma guns. There are many ways to destroy the notorious balloons, but make sure that you've got a good mix of weapons that can destroy the heavier, armored balloons, as well as the fast and lightly armored ones that will make a run for it right through your defenses.
Remember, your opponent is another person, not an AI, so expect them to be playing some smart and mischievous moves.
Tips for defending in Bloons TD Battles
Attacking your opponent is pretty much as straightforward as choosing a good mix of light and heavy balloons and making use of the more powerful balloons later on in the game. Defense is a more complex strategic issue.
In order to defend well in the early game, you should outright avoid the Tack Shooter. This is one of the weakest towers and really won't do you any good at all. Instead, begin the game with a ninja tower and a sniper tower, as well as some other towers like canons to take out the rest of the balloons.
Your opponent will end up using a lot of armored camo balloons. This is where ninjas and snipers really come in handy – they'll be able to stop those balloons in their tracks with ease. Make sure that you've got as many of them as possible.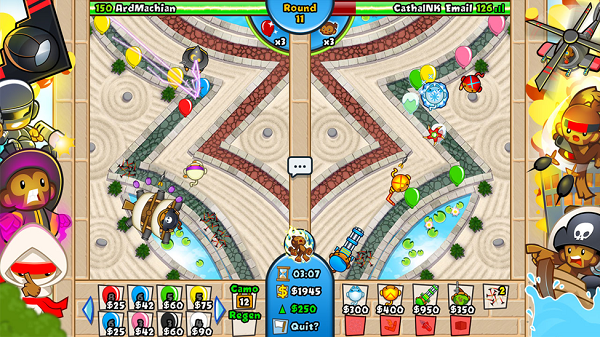 Later in the game, you opponent will begin using MOABs (Mother of All Balloons). These are devastating balloons and you'll have to use specific Moab Maulers that shoot frag bombs to defeat them. There isn't much point planning ahead for the later game until it comes. You should focus on building towers that will defeat the enemies that you're currently fighting and then build the appropriate towers to defeat your enemies later in the game as they emerge.
Combine an upgraded ninja with a cluster bomb and you can easily defeat most opponents. Bear this strategy in mind in the later game and don't be shy about spamming some ninjas. They're not very effective against your average balloon, but their stopping power makes them super-effective against the more armored balloons later in the game.
Make sure that you've got a good mix of towers to defend against light and heavy balloons and you should be alright until the later levels. Just watch out for those MOABs!
Bloons TD Battles APK
If you want the game to go a little smoother, then try playing it with the unlimited money or unlimited medallions. This will allow you to unlock all the best towers as soon as you begin playing.