Evony APK 4.57.2
Download Evony APK Latest Version free for Android. Build your army together and claim your spot on the throne of multiple kingdoms.
If you're a fan of kingdom building and strategy games, this is definitely one for you. Evony: The King's Return is a game where you learn to build up troops and cities in order to reign supreme over other nations. You will need to select your origin and begin developing from that point, with the resources you have.
Sounds good to you? If so, go ahead and download Evony for Android now. If you are still a little skeptical, you can continue to read ahead to get more information.
Evony Features
There are a ton of different aspects of Evony – The King's Return to rejoice in. To that extent, it's better for you to understand every aspect of the game to be prepared. Better safe than sorry. If you don't have the necessary knowledge of building your kingdom and cities, you may end up losing everything to your enemies.
Remember, you are the diplomat, warlord, governor, and the monarch at the end of the day! With all of these responsibilities, there is much work to be had to maintain your status.
So, continue below to understand the characteristics of the game…
You have the option to choose between 7 different kingdoms to rule over. These civilizations take inspiration out of different nations. That being said, you will have the option to choose from: American, Russian, Korean, European, Japanese, Chinese, and Arabian as your options. Choose wisely and work from there with the resources given to you.
Make alliances with many other nations. There are various means of communication, all with auto-translation features, as to not confuse or miscommunicate. So, whether it's via texting or voice call, keep in touch and build up your alliances to become the strongest.
Experience intense battles all across the screen in real-time. Build up your troops from 4 different options. Additionally, you'll need to train them up for the ultimate siege against enemies. Make sure to expend your time and resources wisely.
There's one main way that will give you a strategic advantage over your enemies. That is, you will need to manage all of your resources and continue to improve upon your cities.
Legendary figures are scattered all across the game to help you in your development. You'll encounter such faces as Abraham Lincoln, Oda Nobunaga, King Arthur, George Washington, and many, many more famous figures all throughout generations.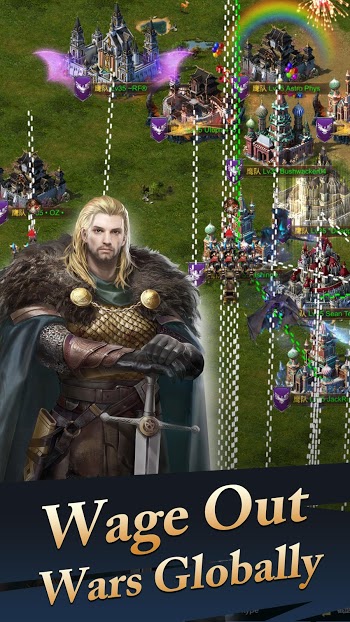 You can still find more features hidden all throughout your gameplay experience. That being said, you'll need to download Evony for Android devices in order to continue learning.
Evony APK Free Download
There's no reason to go to the Play Store for your downloads. So, go ahead and download Evony APK Android file located here. While you're at it, download even more games of the same or different genres from Techbigs.