Bead Sort APK 1.34
Download Bead Sort APK – latest version – Free for Android and try your best to sort out the beads according to color. Are you ready to satisfy your inner OCD?
Simulation games have become big over the past years. You'll see many simple games today that are focused on one single topic becoming a trend. Why? Because it's playable, easy, and addictive! Yes, once you've played one, you can't get out of the cycle!
Bead Sort is an odd game even for a simulation one. The goal in this game is to sort the beads by color. That's it! No crazy action scenes, no intense controls or whatsoever. But why does this game have over 1 million downloads in Google Play Store? If you want to find out, read on!
What is Bead Sort?
The obsession with OCDs have been going on for years now in social media. People seem to think that having this is just a minor inconvenience. But if you've ever had this, it could be extremely uncomforting.
Thankfully, games such as Bead Sort came into existence. This game from Supersonic Studios LTD allows you to sort beads according to color. This game is extremely satisfying to play especially for people who are obsessed with organizing everything! This is one of the reasons why this game is so popular right now.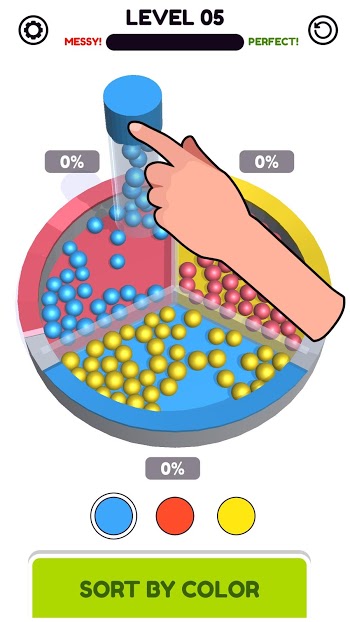 As kids, we've always loved to sort everything. If you're like this, then chances are, you'll love this simulation game! But this isn't just a simple game, it has more features than you might think. You just need to be open minded to play this game. Sure, it's not action-packed as Call of Duty Mobile or as beautiful as The Sims, but it has its charms!
Once you've played even just one level of Bead Sort, then you'd know why people are obsessing over this game. Nothing is as satisfying as playing a game that can make you feel satisfied. That's the power of this game. If you're still unconvinced, read on to know more about it!
Features of Bead Sort
Bead Sort is a game that isn't ordinary. Once you play it, you'll know why this one is special. But to help you with your curiosity, here are the features of Bead Sort:
Simple gameplay – What's simpler than arranging beads according to color? Probably none, right? But that's the beauty of Bead Sort. It lures you in with its simplistic gameplay but gets you hooked after just a few levels. Mobile games today are becoming simpler and simpler. These hyper-casual games are the trend nowadays as people are looking for something enjoyable to do without investing too much in the learning process. Bead Sort is one such game where you can play it anytime you just get bored.
Easy controls – Aside from the simple gameplay, the controls are simple as well. In Bead Sort, there's no complex controls to memorize. You just need to tap the screen and hold it to get the beads to their respective colors. That's how incredibly easy it is to play the game!
High-quality graphics – For a simple game, Bead Sort has incredible 3D graphics! That's what separates it from other simulation games. It looks stunning and the gameplay is smooth enough that you don't feel like playing a game at all. The graphics are top-notch and you can clearly see the colors of the beads. Even their motion as they are being sucked – it's fluid and realistic. Nothing feels off in this game which is why it's such a popular one! If you're still unconvinced, just play it and you'll see the difference in graphics from ordinary games.
Tons of levels – As with every other game, Bead Sort starts off with simple levels. As you progress, you'll encounter more beads and more colors. This is part of the challenge – you need to get used to it. This is the actual gameplay that makes many players addicted to this game. Once you play even one level, you'll want to do it again. You'll only realize that you've been playing too long when it's already late. That's how addictive Bead Sort is!
Offline gameplay – How many times have you played a game only to be disappointed that it's not available offline? Probably too many times to count, right? Thankfully, Bead Sort is available to play offline! Yes, you don't need to constantly have an internet connection just to play this awesome game. You can just download it one time and then play whenever you want! It's that easy. You don't need to use the internet so you can save on data and power.
Epic sound effects – We all know that sometimes, the sound effects can make or break a game. Bead Sort is an epic game with tons of sound effects that match your gameplay. Everything you hear on this game was chosen carefully so you can feel the realistic gameplay.
Tips for Playing Bead Sort
Bead Sort may seem like a simple game at first. But don't be fooled, it can get quite hard in the later stages! That's why we've compiled these tips for you:
Don't pick them all – It might be tempting to get all the beads into the tube. But don't do it as you might drop it anytime or send some flying. Instead, pick up a few at a time. After all, there's no time limit in this game! You just need to be careful and precise so you can play and advance to the next levels.
Sort smart – On some levels where there are multiple colors, you need to work methodically. This means that when you finish collecting all the beads in one color, then you will then fill that color with the beads. This way, the process is smooth and systematic. You can't progress in this game by being messy, you need to have a system in place!
Bead Sort APK
Want to play Bead Sort but don't want to get stuck in some levels? Download the no ads now!