Attack On Titan Tactics APK 1.10.02
Do you love the anime Attack on Titan? Then you'll love Attack on Titan Tactics today where you will battle against plenty of titans. Deploy many tactics today!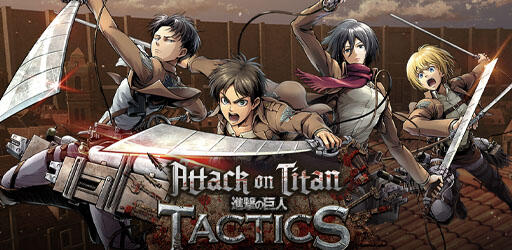 There have been thousands of anime shows that were aired over the past decades. These shows are all unique and they have real people voicing them as well as incredible animators. The quality of animation has increased drastically over the past years making the industry reach new audiences worldwide. One of the most popular anime shows today is Attack on Titan! In Attack on Titan Tactics, you will defend your wall against the titans.
Like in the anime, you'll go through the storyline here complete with plenty of dialogues and cutscenes. More than that, you'll need to defend your walls against the titans that will be attacking. Here, you have a variety of weapons under your disposal such as the cannons and the popular scouts! Enjoy playing with the different characters such as Eren Jaeger, Mikasa Ackermann, Armin Arlelt, Levi, Erwin Smith, and many more! You need incredible tactics to take down all of the titans in here.
Defend Against Titans
There are many anime shows that you can watch today that are all enjoyable. From horror to comedy to slice of life, there are many anime shows you can watch right now. The most popular ones today are Boku no Hero Academia, Haikyuu, Demon Slayer, The Seven Deadly Sins, Attack on Titan and many more. Attack on Titan rose to prominence thanks to its non-stop action, incredible storytelling and lovable characters! This anime show is one of the highest-rated as it also has millions of fans all over the world.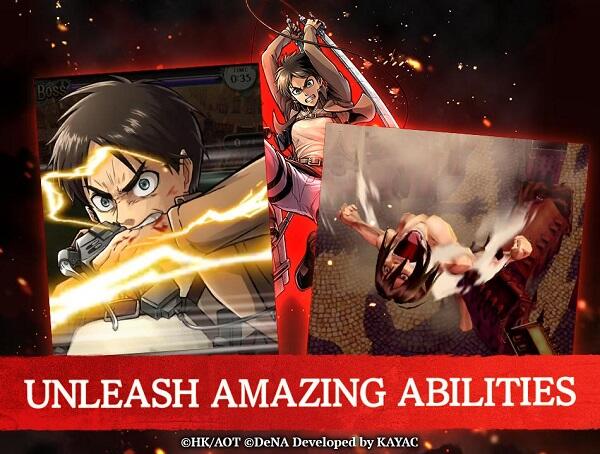 If you're a big fan of the show, then this is your chance to eliminate the titans! In Attack on Titan Tactics by DeNA, you can enjoy a fun game where you will need to defend your walls from numerous titans today. There are plenty of titans like the Armored Titan, Colossus Titan, Attack Titan, Armored Titan, Female Titan, Beast Titan, Jaw Titan, Cart Titan and the Founding Titan. Each of these titans are unique and they have their own powers and characteristics.
You can relive the story all over again in this game as you deploy your troops to fight against these titans today.
Attack on Titan Tactics Features
Titans are attack the city and it's your job to defend your walls! Thankfully, you'll have plenty of troops to deploy today.
Defend Against the Titans – In the Attack on Titan anime, the titans suddenly appeared in the world and the last civilization had no choice but to barricade themselves inside walls. These 50-feet tall walls were suddenly breached one day when the Armored titan and the Female titan got in. In Attack on Titan Tactics, you can relive the story all over again as you need to defend the walls from these titans! Face off against powerful titans as well as nameless ones as you try to defend the walls.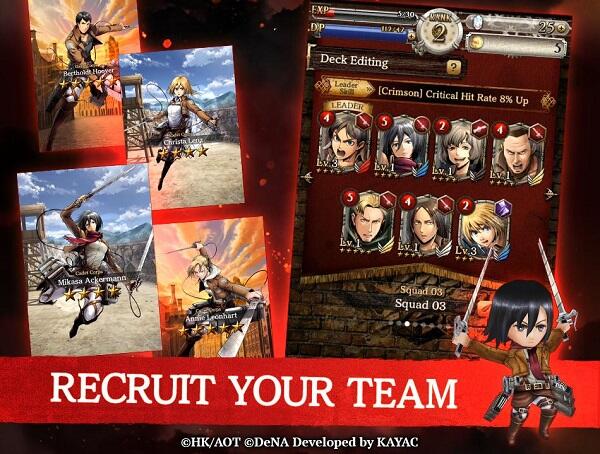 In this game, you'll be able to use different incredible characters such as Mikasa, Eren, Levi, Erwin, Armin, Connie, Jean and many more. You can collect these characters by playing the game and you can even upgrade them to become stronger. Here, you'll be able to enjoy the animations of the game as you'll see them fighting against the titans in real time.
Face off Against Titans – As you know, the world in Attack on Titan is riddled with titans. These are humans that have turned into titans and they are only looking for humans to eat. It's your job then to face off against these mindless beasts by deploying troops and even cannons! You need to defend against the if you don't want them to attack the city and the village. You will be able to defend various characters that are popular in the game.
Popular Characters – In this game there are plenty of popular characters that you can enjoy. These characters are from the show and they are all powerful in their own rights. You can deploy characters like Reiner, Eren, Mikasa, Armin, Levi, Connie, Jean and many more! This game also lets you upgrade the characters so you can make them more powerful and unlock more skills. There are plenty of characters to unlock today!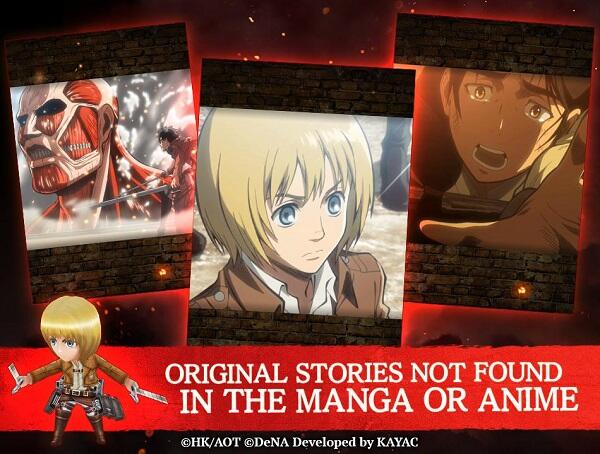 Enjoy the Story – If you're a huge fan of the anime, then you can enjoy the story beginning from Season 1. Here, you'll relive the story with cutscenes direct from the anime show. You will get to relive it but you'll be in charge of everything that happens.
Events, Episodes and Missions – There are plenty of events, episodes and missions you can enjoy today. Each of them is different and features unique enemies. There will be times when you'll face powerful named titans as well as in different locations.
Attack on Titan Tactics APK – Latest version
Love Attack on Titan? Be the one to fight against them in Attack on Titan Tactics! Deploy various troops now and take them down.