Alphabet Room Maze APK 1.10
Download Alphabet Room Maze APK and get ready for an addictive, fun experience. Cute 3D animations, funky alphabet characters, and much more!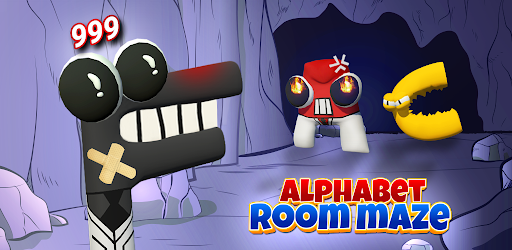 A Quick Intro to Alphabet Room Maze MOD APK
Newly released Alphabet Room Maze MOD APK is a maze-themed free-to-play puzzler and party game with a little pinch of mathematic strategy. Cute character animations, funky graphics, and colourful game colours make the game fun and exciting for audiences of every age group!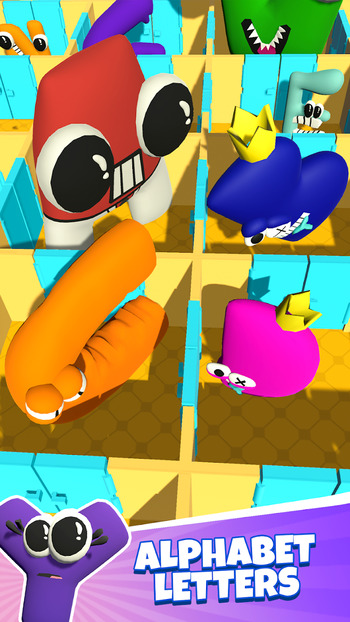 Alphabet Room Maze MOD APK for Android has a soothing theme of alphabets moving around in rooms with a single swipe. Your main goal at each level is to defeat the giant monstrous alphabet by constantly selecting the most appropriate space for your alphabet to move in.
So, don't close your eyes, as the fate of cute and tiny alphabet creatures is in your hands. You must devise the perfect strategy, as one little mistake will result in your favourite alphabet being smashed to the ground.
Each alphabet in the maze has a number written on it, which determines its power level. You must look for the perfect opponent for your character to defeat and acquire its power.
The monstrous alphabets in the maze may look cute, but don't let their sweetness fool you, as they will take no time to get the better of you. Defeat all the alphabets in the maze and move on to the next level!
WeMaster has managed to keep its fun-holding reputation in the gaming genre with its newly released title. Alphabet Room Maze MOD APK is perfect to kill time when you're bored and wish to have fun!
What To Expect When You Play Alphabet Room Maze MOD APK For Android?
Alphabet Room Maze MOD APK places you in a relaxing environment with a sweet texture but also forces players to devise a strategy to beat the level constantly. Here's a quick gameplay walkthrough of the newly-released WeMaster title for you to experience.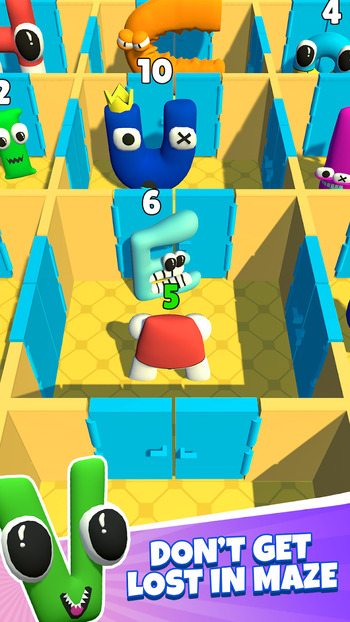 Joining the game, you can immediately start playing as alphabet "A" with a single tap. There's no sign-in procedure which adds to the overall playability.
Starting the game, your character will move towards a fun 3D maze filled with monstrous alphabets. Each alphabet will have a power written in funky and bright writing.
Players can move their beloved alphabets with a single swipe in one of four directions. The direction of the swipe will determine which evil character your alphabet will fight.
After the swipe, your character will move to one of four rooms in its surrounding. After entering the room, your alphabet fights with the monstrous alphabet one-on-one.
If your alphabet has a higher power than the evil one, it will defeat the character and acquire its power.
There's a story behind every evil character. Beat all the levels to reveal the true story behind the alphabet Fierce F, Amazing A, and Cool C.
Character animations are on-point, with no extra footage wasting your time or ruining your experience.
Your main goal is adding numbers to devise a perfect strategy for moving your alphabet. Keep defeating alphabets and emptying off the maze to move to the higher levels.
Alphabet Room Maze MOD APK offers a fun and exciting reward system. New alphabet skins are rewarded at the end of levels to keep the game interesting.
Moreover, you earn gold coins by completing levels. These coins can be used to purchase alphabet skins.
With a wide range of alphabets and skins to collect, Alphabet Room Maze MOD APK has offered its audience a perfect dose of long-term engagement.
Keep defeating the monstrous alphabets to rise to the higher levels and get the fun going. Collect character skins, alphabet letters, and more!
Features To Look Out For In Alphabet Room Maze MOD APK
The developer and designing teams at WeMaster have made every effort possible to keep the game interesting and fun for all age groups. Here are the most exciting and noticeable features in the newly released Alphabet Room Maze MOD APK latest version.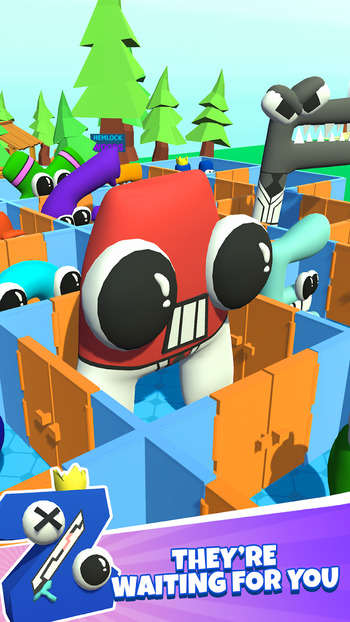 Engaging Animations and Sounds
Alphabet Room Maze MOD APK features simple yet engaging animations. Squeaky sounds and happy-themed background music add to this game's overall amusement.
Alphabet Room Maze MOD APK offers engaging, colourful, and funky animations throughout its gameplay. So, you won't get bored even if you consistently keep beating off monstrous alphabets for hours!
The Math Element
WeMaster has added a simple addition-oriented gameplay to keep the audience engaged. Any player won't like just to watch animations of little alphabets, no matter the quality of the animations.
That's why Alphabet Room Maze MOD APK for Android uses math sums in its gameplay to keep the excitement going while retaining the interest levels of audiences.
A Colourful Theme
Alphabet Room Maze MOD APK constantly brings new and funky colours to the screen. It helps boost the mood of the players while also adding replayability.
Diversified Alphabets and Skins
You can collect gold coins rewarded after each level to choose among various alphabets and skins. There are 26 alphabets and a wide range of alphabet skins, so you won't ever get bored of watching the same alphabet on screen.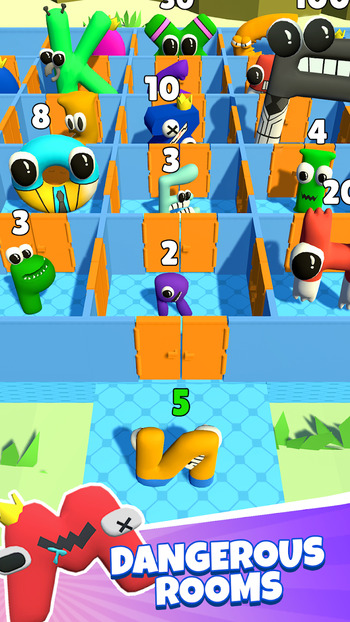 Useful Tricks to Keep In Mind When Playing Alphabet Room Maze MOD APK
Even with a simple game model and progression system, it's normal for players to get started on the wrong foot. Here are a few valuable tricks to read while clicking the Alphabet Room Maze MOD APK free download button.
Always Keep Looking at the Alphabet Numbers
It may come to a point where you won't know what to expect at your right. That's why keeping track of numbers on the monstrous alphabet is essential.
That way, you'll know which high-level alphabets are on which part of the room, and you can devise a strategy accordingly.
Don't Save Gold Coins
WeMaster has kept the game currency logic as simple as possible. You can unlock a random skin by spending 1000 gold coins.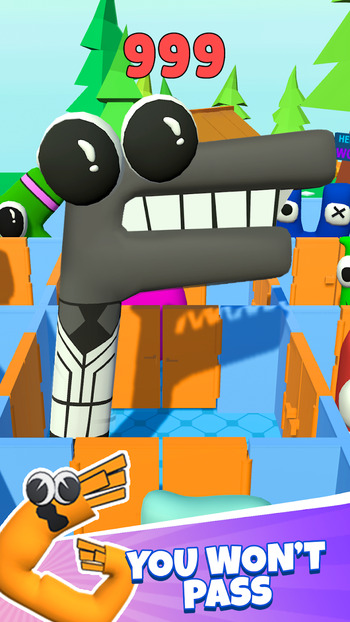 So, spend the 1000 gold coins as soon as you get them to keep the new character skins rolling in!
Alphabet Room Maze MOD APK Windup
Alphabet Room Maze MOD APK latest version is everything puzzler and party game fans wish for. It features cute characters, an engaging gameplay style, and adorable 3D animations.
So, waste no time and tap on the Alphabet Room Maze MOD APK download to hop into the world of endearing yet fearsome alphabets!