Yolikers APK 3.8 (No ads)
Want to get a lot of likes for your Facebook posts? With Yolikers, you can get thousands of likes instantly! Enjoy unlimited likes for your posts for free now!
| | |
| --- | --- |
| Name | Yolikers |
| Updated | |
| Compatible with | Android 4.0+ |
| Last version | 3.8 |
| Size | 7 MB |
| Category | Social |
| Developer | Yolikers |
| Price | Free |
Social media platforms have become inherently popular over the past years. These platforms provide us with a way to express ourselves, get updated and to communicate with everyone we know. It's also used by tons of businesses, brands and companies looking to connect with potential and existing customers. But aside from that, we've become highly dependent on these platforms now that they also serve as a way to validate ourselves. So, if you want to get a lot of likes on your Facebook posts, download Yolikers now.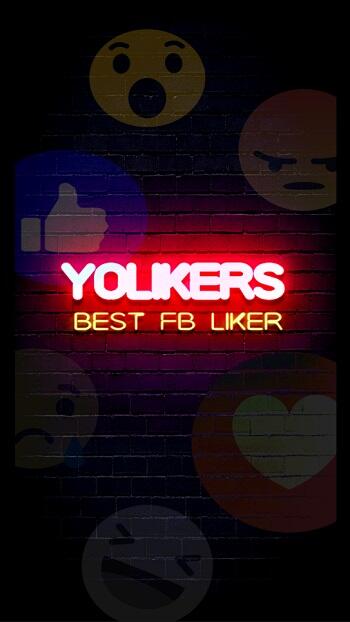 What this app does is that it allows you to get a lot of likes for your photos and videos on Facebook! You can easily request for any post to receive thousands of likes and then you can get these granted in minutes. Here, the likers are genuine people which means that you won't get banned by Facebook easily. With this, you can join many contests, impress your friends and followers and enjoy your new-found popularity!
Get Lots of Facebook Likes
We all know that social media platforms today basically rule the world. Many people today possess phones which allows them to browse the internet any time they want. There are many websites and apps right now that we use regularly via the internet. Because of this, we tend to get validation from social media apps that we use so that we can feel popular. Whatever your reason is, there's something so good about getting a lot of likes on your Facebook posts. But unless your popular, you won't easily get tons of likes.
Now, you can go the hard route of increasing your follower count overtime, or downloading Yolikers! This is an app that allows you to get a ton of likes on any Facebook posts that you have right now. You can also get comments and shares which should show that your post is popular and that people care about it. This app is completely safe to use as all the likers here are genuine people that manually likes everything. You can use this app for as much as you want as well!
With this, you can enjoy winning many contests, get your content in front of many people and enjoy the increase in your follower count. You don't need to spend any money on Facebook ads or to pay an app to do this. You just need this one and your problem will be solved.
Yolikers Highlights
A lot of Facebook likes is a sign of popularity. So, if you want to get a lot of them now, download Yolikers!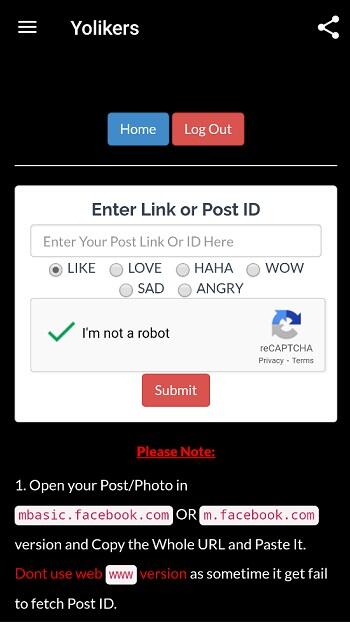 Auto Likes – It can't be denied that almost all of the people today are on social media platforms. A lot of people today have accounts on Facebook, Twitter, Instagram, YouTube, Pinterest, TikTok and many more. We enjoy these platforms today because it allows us to connect with people, enjoy content and express ourselves. Whether it's a text, a photo or a video, we can upload anything we want on social media platforms today. Because of this, a lot of people want to have tons of Facebook likes on their posts.
This is a sign that someone is popular and people should follow them. But in reality, getting a lot of likes takes a ton of effort and luck. So, if you don't want to rely on these, you can just download Yolikers! Use this app to get thousands of likes on your Facebook posts instantly today. The way this works is simple as you only need to login to your Facebook account in the app to use it. Submit the post you want and wait for the likes to flood in!
Get thousands of likes – With Yolikers, you can get thousands of likes per post! This app allows any types of posts whether it's a text, photo, video or a combination of any of these. With the app, you can see a lot of likes on your post in minutes without the need to pay anything. Now, you can become the popular guy at school, work or at your city!
Use it on any Facebook post – With this app, you can use it for any post you want. Although there's a cooldown period, you can theoretically use this app as much as you want. There's no limit to the number of posts you can use this app with and the likes that you can get. It can get into thousands which is good for you.
Get comments and shares – Aside from likes, you can also get comments and shares on your posts! This way, people will see that your posts are legit since people are engaging with it. This should give you a lot of confidence!
Safe to use – This app is safe to use as it doesn't contain any virus. The likes, comments and shares you get are all from real people with real Facebook accounts! This should keep Facebook from banning you and your posts.
Free of cost – You don't need to pay anything to get thousands of Facebook likes. With this app, there's nothing to pay but you can get a ton of benefits!
Download Yolikers APK – Latest version
Get a lot of likes on your Facebook posts now with Yolikers! Enjoy unlimited likes, shares and comments.