Wormate.io APK 4.0.15
Download Wormate.io APK – latest version – for Android to get a crazy fun worm game that will have you entertained for hours on end. Try it out now.
| | |
| --- | --- |
| Name | Wormate.io |
| Updated | |
| Compatible with | Android 4.4+ |
| Last version | 4.0.15 |
| Size | 70.01 Mb |
| Category | Action |
| Developer | Oleksandr Godoba |
| Price | Free |
| Google Play Link | io.wormate |
Want to play a game similar to Slither.io but with a twist? Download Wormate.io now to have a crazy and colorful adventure on mobile that will give you hours of entertainment. Help the worm to eat and get bigger – but watch out for the bigger worms who are hungry for you!
Online worm battles
This massively multiplayer online game will challenge you to fight other worms without getting eaten yourself. You can swim around in the pool of food and other worms – all of whom are being controlled by other players in real time. Try not to get eaten by one of the bigger worms as you play through the game and grow your worm to become the apex predator.
If you're smaller than other players, then it is still possible to catch them by surrounding them and making them crash into your side. This is the aim of the game when dealing with bigger worms – to encircle them and force them to crash into you so that you can gobble up everything inside of them.
Similar games: Worms Zone Apk and Little Big Snake Apk !
Eat candy to level up your worm and take on giants in epic battles. You can see some huge worms in this game that essentially become like the environment itself. You'll have to use them like tunnels and fight off other worms who are also travelling inside these behemoths. You don't stand much of a chance if a massive worm comes after you, so try to avoid these.
Design your own worm
At the beginning of the game, you get to design your own worm, with everything from the face to the stripes on the body able to be completely customized. This means that you can express your own personality when playing the game, and even design a worm with your country's flag on it so that everyone knows who just ate them. Have fun building your own worm and taking it out into battle.
Multiplayer action
Play against people from all around the world to put your skills to the test in this massively multiplayer online action game. There are thousands of other players joining in the fun. Team up with them or fight against them to become the biggest and baddest worm on the block. Pick off the other worms and take on giants to prove your worth.
Survive as long as you can
There is no end to this game. Simply survive for as long as you possibly can build up a higher score, then compare it to your friends' and become the worm king. There is no stopping a dedicated Wormate.io player from reaching the top limits of being a giant worm.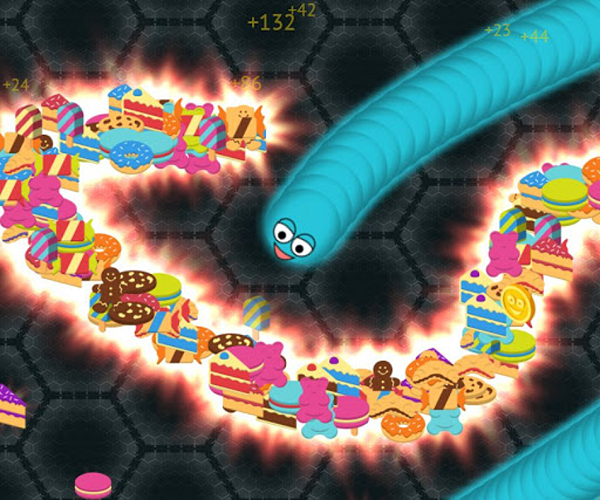 Epic worm battles
Get ready for some incredible worm action. There is no better way to spend your afternoon than fighting it out in the tunnel of a giant worm with a bunch of people from around the world. Make your mark on the global stage and fight to the end, dear solider! There are some incredible worm fights to be had – so, buckle up and get ready for the biggest and baddest worm battle you've ever seen.
Womate.io APK
Ready to take your worm into combat? Download the unlimited money APK for Wormate.io to have infinite funds to spend on upgrading and designing your ultimate worm. Destroy all other worms that stand in your way and become the ultimate apex worm predator now. Enjoy!