Wobble Man APK 21.08.02
Download Wobble Man APK – latest version – Free for Android and test your skills as a wobbly man with no arms and legs in escaping every room!
Casual games are very popular right now in the mobile gaming industry. It wasn't always the case though. Back when mobile gaming was even a thing, most games on the market were shooting, FPS, racing and puzzles. There weren't a lot of casual and hyper casual games like there are now. But some things changed and people are now into casual games more often.
Wobble Man by Ohyaoo is a casual game that focuses on the adventures of agent Wobble. He is to escape in the floors while avoiding being caught by guards! But there's a twist – you don't have any arms and legs. This makes the game funnier and even more entertaining! Excited to know more? Read on!
What is Wobble Man All About?
In the world of mobile gaming, there are every game of every kind! There are shooting, FPS, adventure, puzzle, crime and casual games like Wobble Man. If you're looking for something light and fun, you're in for a treat because that's exactly what this game is all about!
Developed by Ohayoo, Wobble Man has over 1 million downloads on Google Play Store. This game is popular among players as it re-introduces the escape game in the most unique way possible. In here, you play as Agent Wobble that has different assignments for every room. You need to do these and escape while trying to avoid getting caught by the guards! At first, the levels are easy but it becomes increasingly difficult as the levels go on.
As for the graphics, it has one of the best around. It has 3D graphics that allows you to see from the top all the excitement and the action. The sound effects and physics are also present to give you a sense of realism even though the gameplay is far from real. However, it gives you tons of fun and laughs as you try to escape and avoid being clumsy at the same time. It's hard at times because you don't have arms and legs but you need to escape safely so your creativity comes in. If you want to know more about this game, read on!
Features of Wobble Man
Wobble Man isn't your typical casual game. It involves a lot of fun and laughter. But there are more things that you don't know from this game from just a glance. That's why we're going to breakdown all its features in this article. Here are the features of Wobble Man:
Funny levels – In Wobble Man, you are to enter a room and do everything to escape it. But you have to do it without alerting any of the guards. This is quite easy as you'll see their field of vision represented by the color red in front of them. In most rooms, you need to get the key from one place to get to the other. As for the other levels, there are lasers and puzzles that you need to time well in order to escape. Hilarity ensues as you try to escape the room without arms and legs and you jump like a duck. Things get interesting really quick as you unlock new maps and machines to use.
Impressive 3D Graphics – Wobble Man boasts an incredible 3D graphics to satisfy your cravings for an entertaining game. In this game, the characters don't really have faces but that's not necessary because it just adds to the fun part of this game. All the characters in this game don't have arms and legs to make it more interesting and funnier. You can also clearly see the details into every room and objects as you go along the levels. Aside from that, the effects are also well-made as you'll experience them while playing. Overall, the objects and the rooms all make for a very interesting gaming experience of a lifetime.
Easy controls – A game this simple yet complex don't need complicated controls. The control is as simple as pressing anywhere in the screen and holding it while you move. You don't need to memorize any complex moves or controls just to move your character. You can just press and guide him to where you want to go. But be careful though, your character can be a little wobbly so you need to be efficient and patient when dealing with these puzzling rooms. You can't just waltz in and out without having to deal with complex puzzles all throughout the room.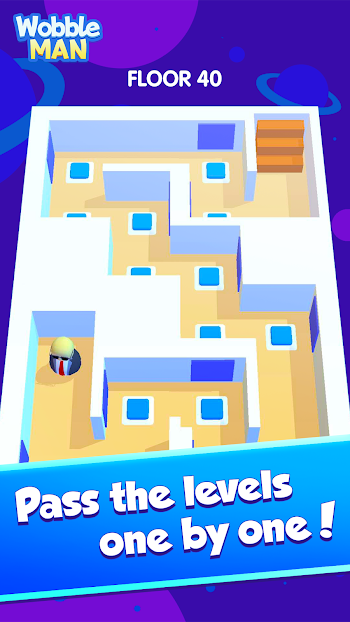 Puzzle gameplay – In this game, each floor is different from another and presents its own challenges. Of course, the higher you go, the more difficult it would be. There are levels where you need to knock out the guards and there are others where you simply need to evade their line of sight. In either case, you need to escape the room with any means necessary. This makes the game super interesting because you don't know what you're going to get as a puzzle. But you need to be able to solve it immediately to escape otherwise, you risk repeating the level again.
Offline play – Unlike most games today, Wobble Man doesn't need an internet connection for you to play. This makes it even more appealing for those always on the go and want to play some games whenever they can. This means you can also save on data as you don't need them when playing.
Tips for Playing Wobble Man
Wobble Man may seem like a simple game. But it has a lot of aspects that makes it challenging. As you go through the levels, you'll notice that the challenges become more difficult. Here are some tips to help you out: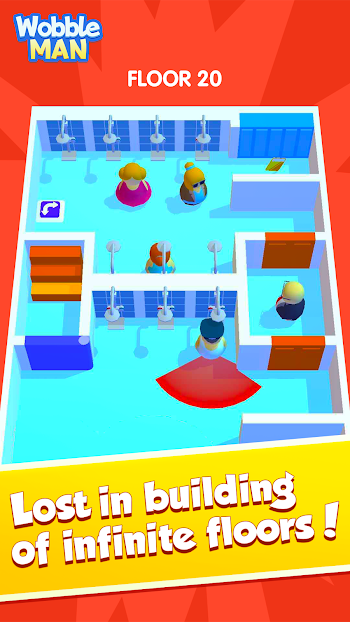 Be patient – In this game, being patient does a lot of good for you. You can't just waltz in a room and expect to escape without encountering guards or suspicious characters. That's why you need to be patient and let them pass or pass them out. You need to have a certain level of finesse in order to escape the guards and come out unscathed.
Wobble Man APK
Want to download Wobble Man but the lack of money disappoints you? Don't worry, just download the unlimited money mod now and enjoy!