W-Seen APK 1.0.3
Download W-seen APK Latest Version Free for Android to use the best last seen tracker. Use the latest version for better results.
Do you get curious sometimes when you notice that you can't view your friends last seen? A lot of people hide their last seen, which makes it difficult to know their online activity. Sometimes you need to see their last seen to know if it's the right time to leave a message.
People hide their last seen for different reasons, but what's certain is that the last seen feature is important. Therefore, leaving it public is equally important. Have you ever wished there was something you could do about people who hide their last seen?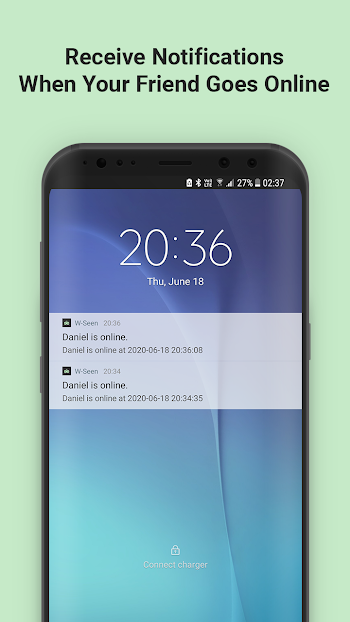 It is now possible to keep track of people last seen, especially on WhatsApp, and for people who hide it. WhatsApp is one of the most used online platforms in the world today. This app is widely known in different parts of the world today.
One of the most effective apps to use in keeping track of your friends last seen on WhatsApp is W-seen Apk. W-seen is also a social app for Android devices. This app is offered by Sinar Inisiyatif, and its content is rated for everyone.
W-seen Apk is readily available for download from Google Play Store, where it has more than five hundred thousand installs. It is important to note that the major interactive element in this app is the in-app purchases.
Amazing Features
There are so many amazing features in this app. Here are some of the features to expect when you use the app:
Online notifier, and online last seen tracker for WhatsApp. The app performs this function with an unmatched level of accuracy.
View online intervals and last seen of every contact
Accurate reports and information. As mentioned earlier, the level of accuracy is unmatched.
Get instant notification with this app
Reports can be sent directly to your email.
Customer support: The app offers 24/7 customer support services for its users.
Free Demo
Are you looking for the best online notifier and tracker? W-seen is undoubtedly the best WhatsApp online tracker and notifier to download. Download this app now to get the best and most accurate last seen reports.
Download W-seen Apk Free for Android
The efficiency and accuracy of this app is something you do not want to miss. Download the latest version of W-seen Apk on your Android device. Use this online tracker and online notifier to get accurate reports.