TutorEva APK 3.4.5
Download Tutoreva APK latest version and solve mathematical problems from the comfort of your Android device. It uses an AI to give accurate step-by-step solutions.
In-Depth Description of Tutoreva APK Download
Tutoreva APK is an Android application that you can use to learn mathematics. It uses an AI to give accurate step-by-step solutions to every mathematical problem you input.
You can also use it to improve your problem-solving skills by going through the solutions given by the AI. Its solutions are not aimed at giving you the answer but rather at helping you understand the steps involved in solving it.
As such, it is an excellent tool for students who want to improve their mathematics skills. It is also resourceful for teachers who want to find new teaching techniques.
Why Tutoreva APK Android?
Mathematics is one of the core subjects globally. It helps in the development of logical and reasoning skills. However, the subject can be challenging for some students. This is because it is often taught in a rote manner.
Tutoreva APK Android introduces easy-to-grasp concepts that can make the subject more interesting for students. It also allows them to improve their problem-solving skills by working through the solutions given by the app's AI.
Unlike other apps, this app is tailor-made for detailed explanations of the steps involved in solving mathematical problems. Students can even ask questions and get clarifications on the solutions provided.
This makes it an excellent resource for both students and teachers alike. It is also a great way for parents to brush up on their math skills.
How Tutoreva APK for Android Works
Once you download this app, you can input any mathematical problem into it. It has a scanner that can read the problem from a book or paper.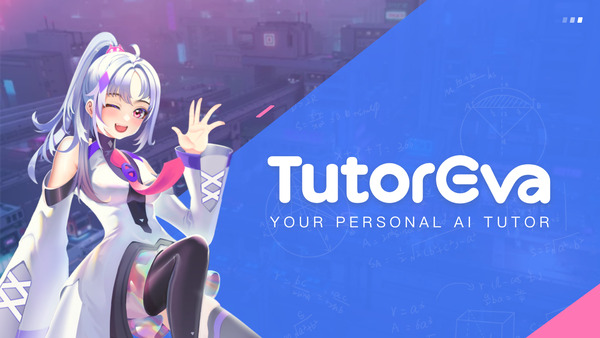 Immediately after you scan the problem, the app's AI starts working on it. It comes up with a step-by-step solution to the problem within seconds. Each step is well explained so you can understand how the app arrived at the solution.
What's more exciting is that you can scan word-based problems. Even when it is prose, the app will convert it into a mathematical problem you can solve. This saves the energy of internalizing the question before you start solving it.
Highly Interactive Sessions
The app's AI is called Eva. She is not only responsible for coming up with the solutions to the mathematical problems but also for interactively guiding you through each step.
She uses simple language that even a child can understand. Eva also has a charismatic personality that makes the sessions enjoyable.
You can ask her questions about the solutions she provides. For example, when you ask WHY, Eva will walk you through the reasoning behind it.
This way, you can be sure that you understand the problem and can solve similar ones on your own in the future. You will find yourself loving the subject you once disliked, the ultimate app's goal.
Solves Different Types of Mathematical Problems
Mathematics is a broad subject that is divided into different branches. The most common ones are algebra, calculus, and geometry.
Tutoreva APK for Android is designed to solve problems in all these branches. Whether you are stuck solving equations or finding the area of a circle, this app will come in handy. Here's a comprehensive guide on what to expect:
Basic Algebra. With this app, you can learn how to solve equations and how to draw linear equations graphs. You will also get tips on how to factor polynomials.
Intermediate Algebra. This section contains more challenging concepts such as quadratic equations, logarithms, and complex numbers. The app will guide you through each concept, ensuring you understand it fully.
In this section, you will learn about basic shapes, their properties, and how to calculate areas and volumes. You will also learn about more advanced topics such as coordinate geometry and three-dimensional figures.
This is the most difficult branch of mathematics. However, with Tutoreva APK for Android, you can understand concepts such as limits, derivatives, and integrals. The app will also show you how to solve problems in differential equations.
This section contains concepts such as mean, median, mode, and range. You will also learn about probability, data interpretation, and statistical methods.
Other Features of Tutoreva APK
Straightforward Working Rationale. This app is designed to provide solutions to math problems in the simplest way possible. The step-by-step approach is easy to follow, and the explanations are straightforward.
1v1 Interactions with Eva. This application is not like other math problem solvers where you input the problem and get the solution. With Tutoreva, you will be able to chat with Eva so that she can guide you through each step of the solution.
Fashionable AI Tutor. This application features Eva, the AI tutor. She is not only smart but also fashionable. You will enjoy spending time with her as she guides you through each concept. The avatar was designed to be attractive & draw 100% attention.
Quick Responses. This application is designed to provide solutions as quickly as possible. You don't have to wait for hours or days to get a response.
Affordable In-App Purchases. This app is free to download and use. However, there are certain in-app purchases that you can make to unlock additional features. These features include more difficult math problems and advanced concepts. The prices are affordable.
Tutoreva APK Free Download
Tutoreva APK unlocks all the advanced features, allowing you to enjoy its full potential. You can solve any problem, no matter how difficult it is.
Even better, the is 100% free. You don't have to pay anything to download or use it. Just get it from any reliable third-party website and start solving math problems like a pro!
Conclusion
Tutoreva APK for Android is an excellent application for solving math problems. It is designed to be simple so that anyone can use it. The app also features Eva, the fashionable AI tutor. She will guide you through each concept, ensuring you understand it fully.