Turbo Bomber APK version infiniti (Unlimited all)
There are tons of fun apps to download now. Turbo Bomber APK is a fun and free one to download where you can send many text messages to anyone today.
| | |
| --- | --- |
| Name | Turbo Bomber |
| Updated | |
| Compatible with | Android 3.0+ |
| Last version | version infiniti |
| Size | 6.45 MB |
| Category | Tools |
| Developer | Udit Karode |
| Price | Free |
Turbo Bomber APK – Send Many SMS
We all love to play pranks and games at times to our friends, family, lovers, and even co-workers. There are so many stressful things that we encounter daily, which is why it's essential to de-stress every once in a while.
One of the ways we can relax is by pranking the people closest to us! If you're looking for a harmless and convenient way to do so, then Turbo Bomber is the app that you should have.
This app is so simple to use and figure out that even a kid can do it. You can use this app to send hundreds and even thousands of messages at once to anyone!
You need to input the number of the victim in the app and select the number of fake SMS to be sent, and you're done! Your victim will receive many messages at once, which can be perfect for pranks and messing around with your friends.
Send Plenty of SMS
Every day, we face many problems at home, work, school, and other places. The world has an abundance of problems that they're throwing at us, which ruins our day.
This is why it's important to relax once in a while by playing games, watching movies, spending time with friends and others. Thanks to the internet, we don't even need to go outside to have fun and spend a lot of money. We can even play a prank with anyone with Turbo Bomber!
With this app today, you can enjoy sending tons of messages to your friends, family, or others as a prank! This is the perfect revenge for those times that you've been a victim to one of their pranks.
Here, you can input the number of victims in the app and select the number of messages to send. Then, you'll need to sit back and watch as the app does its magic! Your victim will have no idea who orchestrated this prank as you remain anonymous.
You can then record the victim's reactions and have fun!
Highlights of Turbo Bomber
If you're someone who loves to play pranks with your friends and family, then Turbo Bomber is the app for you.
A fun app to download – We all love to relax once in a while after a hard day at work or school. Today, we can enjoy many things to do thanks to the internet since it provides many websites and apps.
Most people browse their social media or play games during their breaks or after their shifts. Others download unique apps such as Turbo Bomber to play pranks with their friends and family! This is a fantastic app that you can download today for free.
This app doesn't do anything too fancy other than that you can use it to have fun! Here, you can send multiple messages at once to any contact today so you can watch their hilarious reactions.
You can remain anonymous as you prank your friends, co-workers, classmates, and other people here. The only thing you need to do is input the victim's number and select the number of SMS you want to send. Then, you can watch as your victim's phone is bombarded by alerts of fake SMS that you sent!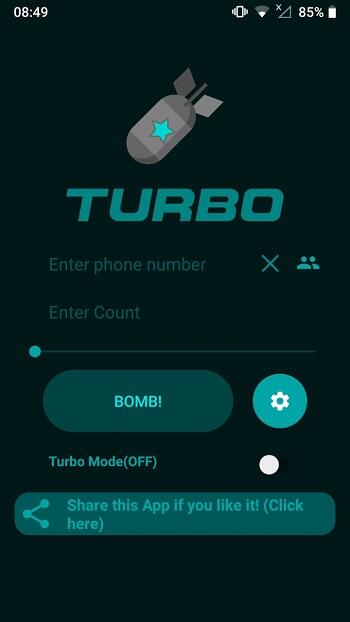 Send multiple SMS – There are many apps available that you can download today. But how many of them can do what Turbo Bomber can do? Here, you can send multiple SMS to just about any person on the planet today.
This is perfect for pranks since it's harmful and can be done anywhere you are. The app is also untraceable, so you don't have to worry about being caught even if you didn't intend to do so as a prank. Best of all, it's free!
Easy to operate – Turbo Bomber is so easy to download and use today. You need to know the victim's mobile number, and you'll input it on the app. You can also import from your contacts so you can conveniently prank your contacts.
Then, you can select the amount of SMS to send thanks to a slider. You can send more than 1,000 SMS at once if you want! But be careful as that will mess with your victim's phone.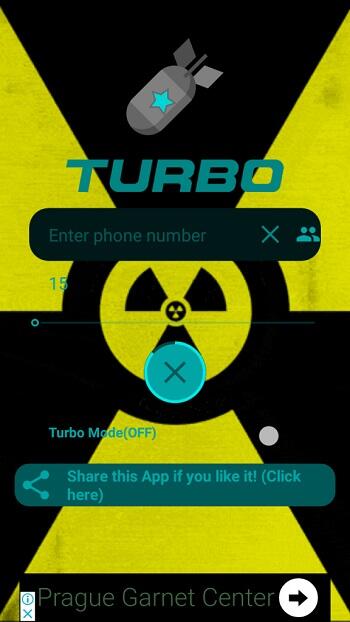 Send SMS to multiple contacts – With this app, you can send multiple SMS to different contacts simultaneously. You can send them to various contacts at once to prank a lot of people.
History – The app also has a history of the people you bombed with, so you can use it any way you want.
Download Turbo Bomber APK
Playing pranks has never been this fun and convenient! Download Turbo Bomber and send multiple SMS to anyone.