Tiger TV APK v10.0
Download Tiger TV APK latest version to access more than 1000 live TV channels & 500 on-demand movies & TV shows. It has a powerful in-built player for guaranteed fun!
In-Depth Analysis of Tiger TV APK Download
Tiger TV APK 2022 is a streaming app that offers diverse content for your enjoyment. It supports live streaming of your favorite TV stations without buffering or lag issues.
You can also navigate through its extensive movie banks. You will have an easy time accessing the content as it is arranged in categories.
Due to its simplicity & reliability, the app has gained numerous users over a short time. Its rating is favorable, a testimony of its dependability.
If you are looking for an all-inclusive platform for all your movies, TV Shows, and live TV needs, download Tiger TV APK for Android today! The app is approximately 4MB and works optimally with Android 4.0.3+ devices.
Why Download Tiger APK?
Are you a fan of IPTV content? If yes, you ought to download Tiger APK. This is one of the most dynamic entertainment apps in the market. It has a long list of features that make it outstanding.
Access to Over 1000 Live HD Channels. The app provides access to over 1000 live TV channels from different countries. You can watch your favorite movies, news, sports, and more without hitches.
Multiple On-Demand Movies and TV Shows. If you are not in the mood for live streaming, you can always catch up with your favorite movies and TV shows. The app has a library of over 500 on-demand titles.
In-Built Player. The app comes with an in-built player that supports all media formats. You don't need to download any other media player to enjoy your content. It also works with external media players, such as MX and VLC players.
It Supports Uploading URLs & M3u Files. When it comes to IPTV, it is all about the URLs and M3u files. The app supports both of these file formats. You can enter the URL or upload the M3u file to create a unique playlist.
Child Lock. The app has a child lock feature that allows you to restrict access to certain content. This is a great feature for parents who want to protect their children from inappropriate content.
Detailed Electronic Program Guide (EPG). This app is designed to help you navigate with ease. You can view the detailed electronic program guide and find out what's next on your favorite channel.
Built-In Subtitles. The app supports subtitles in different languages. This is a great feature for users who want to watch their content in their preferred language.
High-Quality Streaming
Tiger TV offers undeniably high-quality streaming. The app supports HD content, ensuring that you enjoy your movies and TV shows in the best possible quality. It also doesn't buffer or lag, a common problem with other streaming apps.
However, this application requires a steady internet connection for seamless streaming. You need a minimum of 5 megabytes and 12 megabytes for streaming HD channels in SD format.
It is a perfect alternative to other high-demand IPTV, including Amazon Prime Video, Hulu, and Netflix. The app is highly affordable!
Highly Dynamic Content
It doesn't matter what you are looking for; Tiger TV has got you covered. The app offers an extensive content, including:
Live Games. This app provides access to live games from different parts of the world. You can catch up with your favorite sports, including football, cricket, basketball, and baseball. It also allows you to stream professional leagues such as EPL, NBA, MLB, NFL, and NCAA.
TV on Demand. This is an incredible feature for users who want to watch their favorite shows at their convenience. You can choose from numerous titles, including sitcoms, soaps, and reality TV shows.
Diverse Channel Types. The app offers a wide range of channel types, including news, sports, movies, and music. You can find channels from different parts of the world, including Saudi Arabia, Egypt, India, and Tunisia. Even better, you can get children-friendly channels, including Cartoon Network and Disney.
Overall, you can get everything you need with Tiger TV. The app is designed to provide an all-in-one solution for your streaming needs.
It has a friendly support team that offers proactive customer service. You can reach out to the team through the app's official website or social media platforms, such as Facebook and Twitter.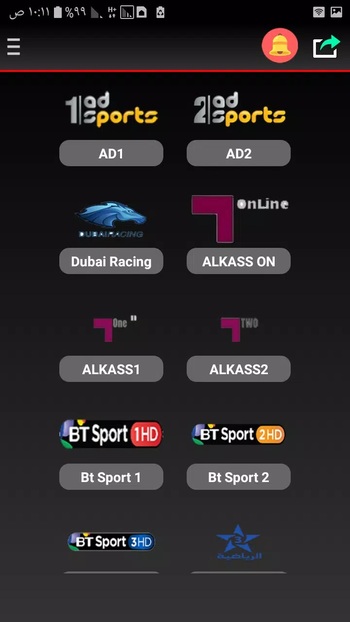 The app is available on Android and iOS devices. You can also access it on Firestick and Smart TV if you need a large screen.
Accurate Recommendations!
Tiger TV offers personalized recommendations based on your watching habits. This is a great feature for users who want to find new content to watch. The app's algorithm is designed to suggest similar content that you might like.
You can also add channels and movies to your favorites list. This is a great way to keep track of the content you like. The app also allows you to create different watch lists for different needs.
Simple User Interface/ Categorization
The home page of this app contains different sections such as channels, movies, and shows. You can also find a kids section.
You can also filter the content by language, genre, or country. This is a great way to find the right content for you.
The app also allows you to search for specific content. This is a great way to find your favorite shows and movies.
How to Download Tiger TV APK for Android?
You can download this application from a trustworthy third-party provider. Once you have downloaded the APK file, you need to follow these steps to install it on your device:
Go to Settings and Activate/ Enable/Toggle Unknown Sources
Find the downloaded APK file and tap on it to start the installation process.
Once the installation is finished, you can launch the app and start streaming your favorite content.
Conclusion
Tiger TV is a great streaming app for users who want to watch their favorite content on the go. The app is highly affordable and offers a wide range of channel types.
It also has a simple user interface that makes it easy to navigate. You can also get accurate recommendations based on your watching habits.