The Simpsons Tapped Out APK 4.63.5
Download The Simpsons Tapped Out APK to help Homer rebuild Springfield however you want it. Tap your way to rebuilding the town any way you like.
Homer has caused a meltdown at the power plant. Download The Simpsons Tapped Out APK to help Homer rebuild the town of Springfield in any way that you want. Unlock all of your favorite characters and build the town up again by tapping to reconstruct it.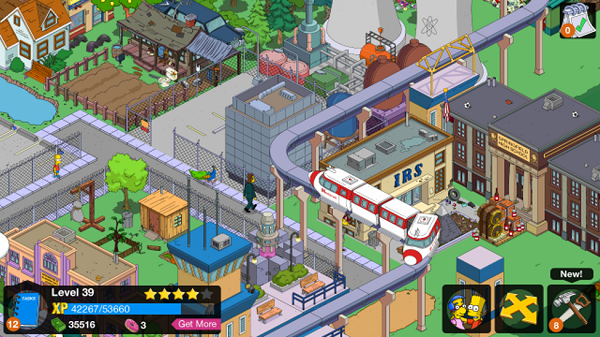 Do you think that Homer should be able to live right next to Moe's Tavern? Or should he move in next to the school to make sure that Bart isn't skipping? You get to decide where all the characters of Springfield will live, and how the town will look.
Finally, you can rebuild that song-inspiring monorail around the city – and turn it into something more reminiscent of a roller coaster if you'd prefer…
Rebuild the town after Homer's deadly reactor meltdown – make sure that the Stone Cutter's Masons have somewhere to call home, as well as the conniving Mr. Burns and the annoying neighbor Ned Flanders.
Should Homer move back in next door to Ned? You decide! The whole fate of the future Springfield is in your hands – you get to decide how the town revives after the deadly incident that almost destroyed it.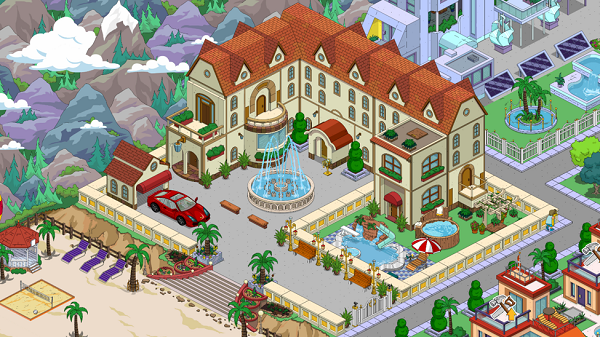 How to play The Simpsons Tapped Out
When it comes to playing the game well, there are some tips that you'll want to follow to ensure you're getting the most out of your gameplay. Here are some of our top tips for you to employ when playing The Simpsons Tapped Out.
Don't do cash reward missions
There are some daily challenges to complete in the game – and you can get rewarded in cash or donuts. Donuts are obviously the preferred currency to be receiving (I mean, come on, it's Homer we're talking about here…). Oftentimes, the challenges that give you a cash reward are basically just you collecting money in tax or something that you would otherwise do anyway. The donuts are more valuable, so make sure that you're not wasting daily challenges on cash.
Do the events first
Much like the TV show, the Simpsons game will make special events during holidays like Halloween, Christmas, and Valentine's Day. These events can give you a lot of bonuses, and they're only there for a limited time. Ditch your interest in the main plot of the game at this point and prioritize these special events to ensure that you're getting the maximum bonuses possible all the time.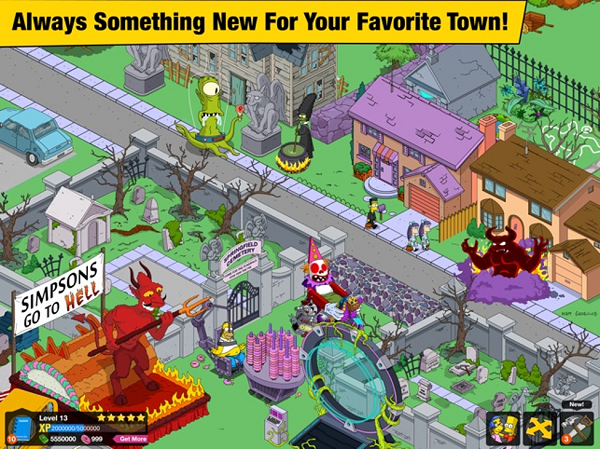 Avoid Springfield Heights
The glamorous and much hyped Springfield Heights functions much like any desirable shopping district in a city: the prices are exorbitant and the payoff isn't really any better than any other neighborhood in town. In short, avoid Springfield Heights. There is nothing that you can build here that you can't also build somewhere else. Save the money and hassle and just focus on building up the areas of Springfield first – then maybe go into the Heights to build Krustyland or something.
Never rush jobs. Ever.
The whole premium point of this game is to get you to buy donuts so that you can rush jobs and unlock things quicker. There are only so many donuts and these can be quite hard to get your hands on. You'll have the option to rush all of your jobs for a sizable amount of donuts. Don't ever do this. Those donuts come in very handy in special missions, and you'll certainly regret wasting them all early on in the game rushing construction projects. Just leave these projects to complete overnight.
The Simpsons Tapped Out APK 2021
If you want to play The Simpsons Tapped Out without having to wait hours for all your projects to finish being built and you want to be able to complete missions easily, then download the unlimited donuts and money APK. This will also allow you to unlock all of your favorite characters and dress them to a tee without having to spend days playing the game beforehand. Enjoy!