TapTap APK 2.22.0
Download Taptap APK Latest Version Free for Android to discover superb games on your mobile device. Find interesting games anytime and everywhere.
Are you a gamer who enjoys playing games on your phone? Maybe you used to have issues finding an ideal game to play on your Android device and need a solution. Here's a long-lasting solution to find all the titles of your choice.
Taptap is a platform that is used to recommend a plethora of different titles for you to play on your Android or iOS device. It has a gaming community that features game enthusiasts across the world. This community will offer you suggestions to get the best experiences possible.
Download Taptap to join this gaming community. You can discuss, chat, and have fun with over 60 million gamers across the world through this app. This app will offer you all the updates you need, and you can rest assured that you won't be left out. The interesting thing is that you'd no longer find it difficult to find an appealing selection to keep you busy.
Additionally, you'd only find that have been carefully selected by the editors. The roster has also been independently reviewed by app editors. Therefore, you can confidently purchase, discuss, review, and download them. And, discovering newer ones is very easy, thanks to the gaming community.
Players across the world can recommend varying games on the platform. This is why you'd find it easy to discover new titles. Communication is highly valued on Taptap, and you'd notice that players are always talking about what they've played and more.
With Taptap, you'd be given all the information you need, as well as the ideal recommendations to play on your mobile device. However, only official packages are accepted. This implies that not every game will be available for your region.
Some of the games on Taptap are only available for specific regions due to local restrictions placed on them. This tool offers them without sharing any benefit with the developers. Download Taptap now if you want to purchase a variety of copyrighted Android applications. This is a pioneer third-party platform located in China.
Other Offers for You
Taptap provides developers with a multilingual back end. This is in addition to its open and instant data analysis and the convenient system for advertising. Developers can create accessible games with the help of Taptap. This will also help them to offer professional services at a low cost.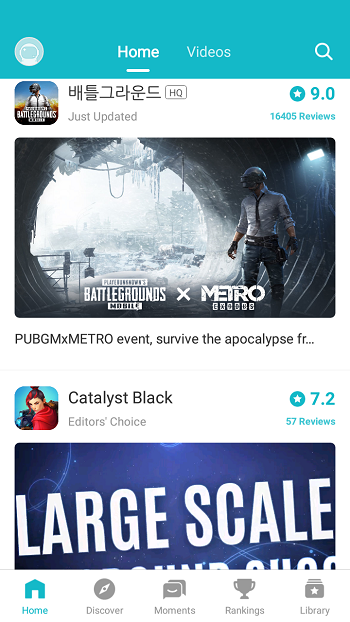 Taptap is a platform you can trust because of some of its policies. It does not tolerate hired ratings and untrue reviews. Therefore, all the game reviews you'd get on this platform are real and trustworthy. You'd only find genuine feedbacks from real players on Taptap.
Taptap community is characterized by developers, media personnel, and players. This helps the platform to constantly publish updates about high-quality UGC and game content. The aim is to attract more players to communicate through the platform.
Another key thing you must know is the Pre-registration and beta-test system of this app. This is for players to experience new games before they leave their reviews on the game. The aim is to improve the performance of each game.
Brand Recognition
You are probably wondering how this amazing and useful platform was created. The Android version was released online in 2016, after which the Reviews section was launched. Users can access the homepage leaderboard through this and select diverse games depending on their ratings.
The first paid game on this platform is The Swords, and it was successfully published for Android users. Interestingly, this platform can also be accessed by iOS users. Also, there is an upgraded developer platform where real-time data results for games are displayed.
This is a platform you'd like to join, and all you have to do is download the app. Interestingly, you can download it on any Android version, thanks to its relaxed software requirements.
Taptap Apk Free Download
There are so many amazing things to get from this app. It goes beyond the community of players across the world and access to games. The updates you'd receive through this platform is unmatched. Taptap is the app to download on your mobile device.
Interestingly, you can download this app for free, use it on any Android device to enjoy its features. Join the community of more than 60 million players across the world by downloading this app.
Conclusion
Taptap is undoubtedly an amazing platform where you'd get access to several games. This is the right place to get trusted reviews and download access as well. If you are confused about what game to play, you can use the recommendations of the platforms. Rest assured that you'd like every recommendation you get.
Download the latest version of Taptap to join the community of enthusiastic gamers.
Taptap is a famous app among Chinese gamers. It features a community of gamers, and it only promotes based on interactivity and playability. The application is very safe to use, and you'd not have to worry about the games you download from it.
Is Taptap a Chinese App?
+
Taptap is a useful app, particularly for people living in Asian countries. This is a platform where you'd find popular games with much ease. The amazing thing is that these selections are all adapted to suit your needs. There are so many contents for you to enjoy on this platform, and there are available in multiple languages. This includes Korean, Japanese, and Chinese.
How do I download Games from Taptap?
+
There are different forms of entertainment for you to download from this platform. This includes popular names like PUBG, Call of Duty, and many more. Interestingly, the steps to download all of these are easy to follow.
Furthermore, to download games from Taptap, all you need is to install the app from the official site. Use the search bar to find the game you are looking for and then select the download button.